Engineering and Transportation students win big with world-changing entrepreneurial ideas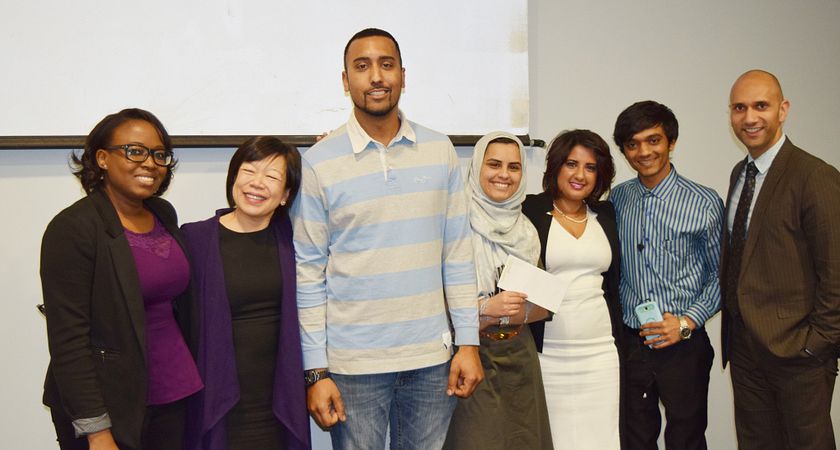 One of Centennial College's loftiest commitments is to create students who are global citizens, and who can use their education to create a positive impact in the world. It does this by incorporating global citizenship concepts into its programs and courses, and also by offering students opportunities to make their ideas for global change a reality. One such opportunity was the third annual Global Academy competition, held on April 8 at Progress Campus.
The theme was Social Innovation for Social Good, and focused on "social entrepreneurship," or business ideas with positive social impact. The forum saw eight groups of Centennial College students present their ideas for social change initiatives to a team of judges, Dragon's Den-style, with the prize being funding. Each school of the College was invited to participate in a way that connected to the year's theme. After a vote by the judges and audience, the winning team was presented with a $5,000 cheque to get their project off the ground. 
This year's winners hailed jointly from the School of Engineering Technology and Applied Sciences and the School of Transportation. Latifa Nasari, Adhip Patel and Dario Ramsarran proposed using kinetic energy to create a power source that's clean and affordable, beginning with a pilot project at Centennial itself. 
"From 2008 to 2011, the global consumption rate for energy increased 11 per cent," Latifa said to the crowd, explaining the social need for the project. "In Toronto alone, we had two power outages, and that's because we could not handle the demand. In an ideal world, we would like to have an endless supply of energy with no impact to the environment, but can we also have it for free?"
"Kinetic Energy is the motion of an object," she explained further. "So if you can harness that motion, that energy, you can put it back into the supply. It's free to produce, and it has less of an impact on the environment." 
Two Harvard students have already done something similar using a device made from a soccer ball to power a LED light for three hours, as this Boston Globe article outlines. Dario then explained how they could expand on that to power buildings, or even cities. "Imagine what we could do with 30 people in a spin class, a cycling class, or on treadmills," he said. "Our concept is a cycle. We're going to substitute it for a car engine. The second model we have is a treadmill."
"We want to use Centennial College as a pilot gym," he said. "There's a lot of treadmill running, a lot of cycling, and everyone here looks like they're in good shape." 
"This idea can be implemented very easily with little cost, and is a very practical approach," Latifa said, concluding the presentation. "We're using two ideas and marrying them together."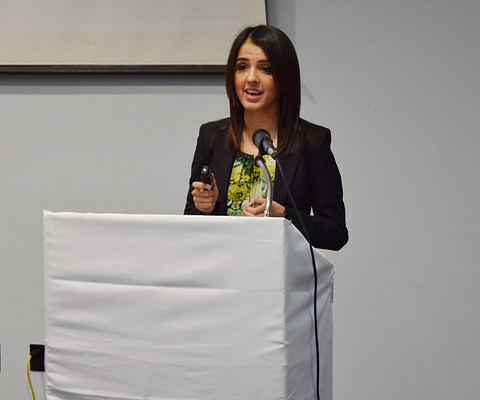 Before the competition, the audience was treated to a keynote speech by Rumeet Billan, PhD. A social entrepreneur and educator, Rumeet has twice been named among Canada's Top 100 Most Powerful Women by the Women's Executive Network. She invests the profits of her ventures into the developing world, in the form of school-building projects. She explained how entrepreneurship could be used to fix global problems for social good. 
"Social entrepreneurship opens the door for students to understand that they don't have to make a choice between non-profit and for-profit,"she said to the audience. "Social entrepreneurship encourages us to think about the possibilities in a space where it can be both. Our institutions can help them develop the analytical tools that support social action, and nurture the solutions that they create." 
"From world hunger and poverty to healthcare and education,"she continued, "the principles of entrepreneurship are used to help create solutions to social matters by reframing the issue and focusing on context – and this is where entrepreneurship education can help with the process." 
Centennial's Kinetic Energy team appeared to take Rumeet's words to heart with their innovative concept. Now they have $5,000 to make their idea a reality.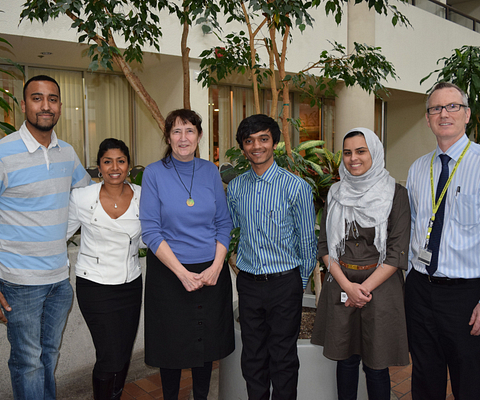 By Anthony Geremia