Early Childhood Education teaches students to spread their knowledge on child abuse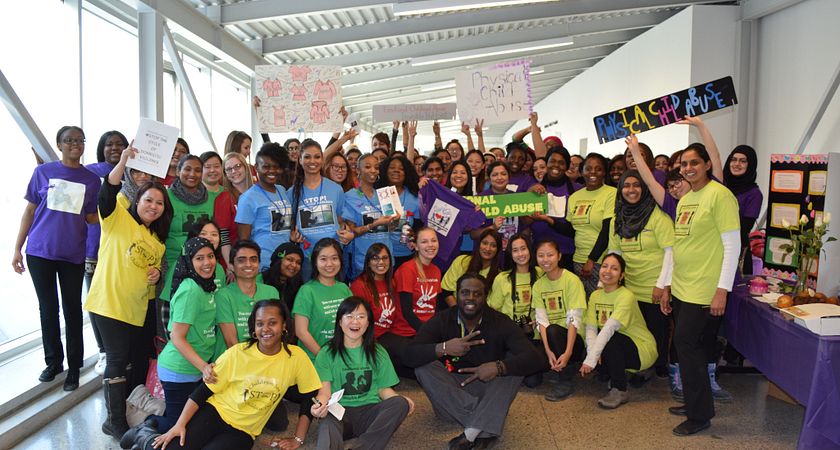 Centennial College's programs can inspire passion in students, drive them to do more, and give back to the community. Early Childhood Education is one such program. Based out of either Progress or Ashtonbee campus, the program provides students with the tools they need to provide care to children and families. As part of a final project, students in the program shone a light on child abuse by organizing a public awareness campaign both on campus and in the local community. Their efforts not only helped the community, but helped students develop their careers as well. I spoke to professor Dwayne Locke, and students Hannah Eelleza, Patricia Eurha, Sandra Kinder, Monica Menard and Jessica Santaguida to learn more about the program and their efforts. 
The Program
"These are fourth semester students," Dwayne explains, "so they're ready to graduate, and are presently doing a child abuse course. Over the course of the 13 to 14 weeks, we discuss things like different types of child abuse, causal factors and prevention strategies, duty to report, etc."
One thing the program emphasizes is learning about different types of family structures. "Understanding different families, understanding the culture, and what our roles and responsibilities are as teachers and educators is important," Jessica says. "Not just to help the victim, but also to help the perpetrator. We want to stop that cycle."
Their education is further developed by field placements that provide each student with a real hands-on practical experiences tailored to their area of specialization, whether it be working with preschool children, school-age children, or children with special needs. "It was a very positive experience just to be out there," Dwayne says, "and be a teacher working a regular shift, interacting and learning with children on a consistent and regular basis.
"I learned the real value of connecting with families, and that there's so much more that we can learn and share with family members," Patricia says. "Having placement consistently helped me build that rapport with parents and build confidence so that I can talk to them. How do you tell a mom that their toddler keeps biting kids? They might get defensive, but you have to learn how to word it, and how to approach that parent."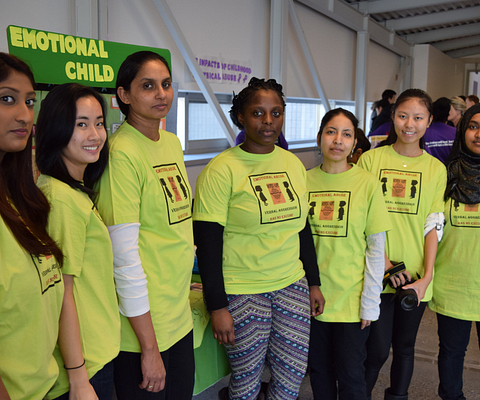 Awareness and Charity
"We were trying to bring awareness about the different types of child abuse, how to see what's going on, what might be some identifying factors and also raise money for different organizations or charities," Sandra explains. 
An important aspect of this is something Dwayne describes as "the ability to express themselves in 100 different languages. It wasn't just the interpersonal aspect. We had students creating different media, videos, animotos, poetry and creative arts. They would use those 100 languages to express themselves in a way where an abundance of people can realize and empathize."
Some groups held their events at Centennial College campuses, based on the idea that students would be inclined to offer help to children based on the programs and facilities at the school. "With the two daycares here, there's a lot of people that are around children," Monica says of her group's decision.
"My group did physical abuse, and we campaigned at the Progress Campus bridge," Hannah explains as an example. "We did a bake sale, and the proceeds went to an organization called Boost. They have a number of services for kids who have experienced abuse. They have a witness protection program, camps, and a youth advocacy centre."
Other groups took their message outside the college, into the community. "We actually went into Morrish Public School, and we held a presentation for grade one kids," Patricia explains. "The event was also facilitated at Morningside Campus by one particular group"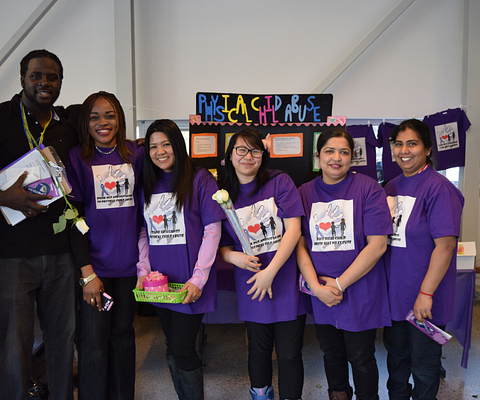 An opportunity for the future
"One reason I'm so proud of these women is that they were able to think outside the box and take some risks. It didn't just stay here at the college," Dwayne says, proudly. "That's risky itself, working with the public and not really knowing what kind of response they would receive." 
"We're being put outside of our comfort zone," Sandra says of her learning experience, "so when we do go out into the work force, and we become passionate about a specific case or child, we can actually know what to do, how to advocate, how to have some ideas and be creative and not be shy about it. We can go out knowing we've done this before and can do it again." She plans to use her experience to become a teacher, and applauds both the assignment and the program itself for prepping her. 
"The program has provided me with strategies I can use," she continues, "but also having an understanding of where the children are coming from, and where the families are coming from, and how to help them."
"As a professor, it's heartwarming for me to see the progression," Dwayne says. "I know that it's promising out there for the people that are here now. They have this enthusiasm, this drive for learning. Again, it's not just going to better themselves, it's going to benefit families and the community they serve."
By Anthony Geremia