Five ways to make the most of school during summer classes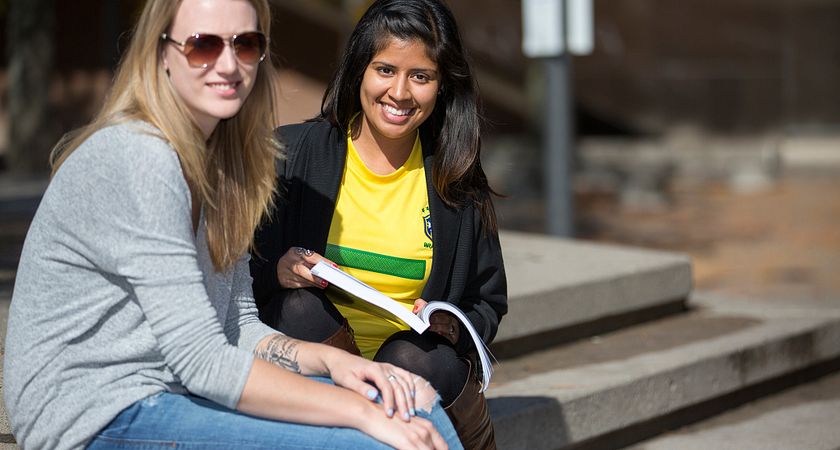 At Centennial College, taking classes over the summer semester can be very productive. Some students take a few classes during the summer to lighten their workload in September, spacing things out so they can tackle their subjects in smaller clusters. Other students choose to take a full course load, eager to finish school and get out into the workforce faster. Either way, summer classes can be a bit different from the rest of the year, and this can be used to a student's advantage to help develop their career. If you're taking a few courses to save time or lighten your load in September, this means you'll have a lot more free time than in another semester. Similarly, while plenty of students take summer classes, there's still going to be far less people on campus. This means you'll have both time and space you can use to your advantage.
1. Explore the area
Tempted as you are to head home when your classes are done, you should use the extra time to to go for a walk, and explore the area around your campus. In particular, if you're an international student, it's the perfect time to get to know Toronto. There's typically plenty to do around a campus, and the weather finally being nice is the perfect time to explore a bit. For example, the Story Arts Centre is right next to the Danforth, a street famous for its shops, restaurants and culture, which is nicknamed Greektown. I took summer courses there, and would spend my time between classes on the Danforth, along with my classmates. Speaking of that….
2. Get to know everyone
There's fewer people on campus in the summer, so you can expect to have the run of the place, making it the perfect opportunity to get to know your classmates. There are reasons for this beyond just making friends, though. An important element of career success is networking, and the students in your program can form the beginnings of that network, since you're all looking to become professionals. So, the social investment can pay off in the long run. Similarly, take the time to get to know your teachers, since they're frequently industry professionals with similar experience, perfect for that growing network. Here's a guide from Undercover Recruiter on the hows and whys of networking to help you out with this.
3. Look into your school's employment resources
The extra time you'll have is perfect for using Centennial College's Employment Resources to advance your career. Between the workshops and information offered at career services, and the slew of career fairs and informational sessions that will take place, there will be numerous opportunities to get ready for entering the workforce, and you'll have far more time to seek them out. 
4. You have time for independent research, too
At the same time, the extra free time can also be used to independently advance your career. You can research companies you'd like to work at, and the specifics of the job you'd like to be working (I discussed in an entry last week why this helps you). You can even look for an internship or field placement during school, or maybe after, since there's a few weeks between the end of the summer semester and the start of the fall one. Here's an excellent article from U.S. News about what else you can do on-campus to help advance that career.
5. Look into employment
That extra time also means you can pick a job up on the weekends, or maybe some evenings during school. This is, firstly, good for your finances, but it's also good for your career, especially if that part-time job is somehow relevant to your career. At the very least, you can add it to your resume. And even if it isn't related to your ideal career, more workplace experience with even a shred of responsibility is still worth it. 
Ultimately, that's the theme of a summer semester: You have access to the same people, tools and opportunities that you do during other semesters, but with more time and space to make use of them. You're given a chance to develop your career, room to make it happen, and the warm weather to make it a relaxing, happy experience. 
By Anthony Geremia