Five ways your communications skills are central to career success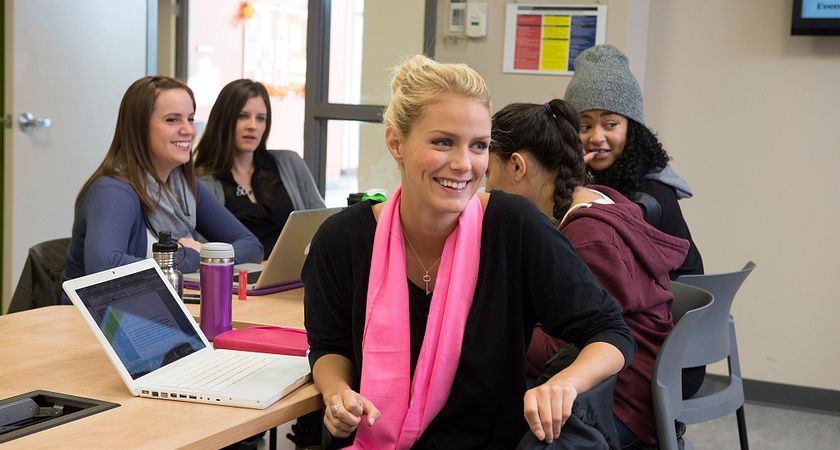 Communicating effectively is a critical skill in your professional life, and learning to finesse your talents through Centennial College's Public Relations and Corporate Communications program can be the career leverage you need.
The ability to convey information in a way that's clear, concise and relevant to your audience is as important as the message itself. If your information is misunderstood or misinterpreted, it can lead to confusion, decreased trust, lost business and missed opportunity. But when mastered, your communication skills can be highly beneficial. Below are some of the advantages of being a great communicator:
1. You're able to convey meaning in a way that promotes understanding
You wouldn't talk to a group of senior citizens the same way you'd talk to a bunch of high school kids. Good communication skills mean knowing what to communicate and how to communicate. Depending on your audience, you need to understand timing, tone, demographics and the best communication vehicles to get your message across.
2. You know how to collaborate and therefore build trust
Communication is a two-way street and one of its most important aspects is listening. As a good communicator, you apply the 80/20 rule–that is, you listen 80 per cent of the time and speak the other 20 per cent. By listening to other's ideas, you demonstrate you value their input and therefore allow for greater teamwork. With ongoing collaboration, relationships are strengthened and trust is gained. This is crucial in advancing your company's goals and objectives, not to mention your own career within that organization.
3. You can quickly adapt to any situation
With strong corporate communications skills, you're able to quickly gather information and assess the needs of any situation, including crises. You can think quickly on your feet to develop a plan, provide pertinent information to those who need it, deal with the media and work with your various stakeholders to rectify issues.
4. You're able to see the big picture
It's easy to get tangled up in the intricacies of daily tasks, but being able to see the big picture gives you the ability to refocus on what's important. You're able to strategize and plan for the future, quickly see patterns and adjust business efforts, and if you're able to consistently contribute to the long-term goals of your company, you stand a greater chance of being promoted.
5. You just might find your dream job
Most people don't end up staying with the very first job they get out of school. In fact, according to a Workopolis poll, frequent job changing has become the norm with 51 per cent of people staying in the same role for less than two years at a time. So if you're a great communicator that means you're a great networker, which means the connections you gain along the way just might work to your advantage.
So if you're looking to spruce up your skillset or switch entirely into a new career, then why not give the PR a go? You've got so much to gain and nothing to lose.
By Ashley Breedon