This weekend, grab a taste of Toronto food and culture on the Danforth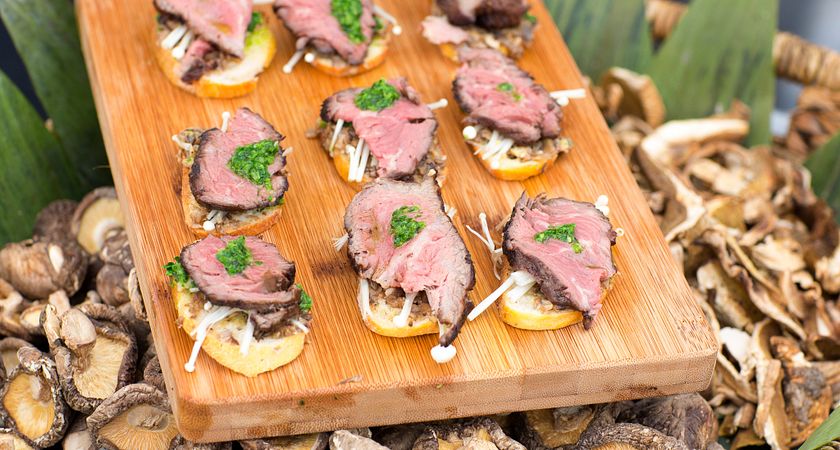 Centennial College is a leader in culinary arts and hospitality, so it makes sense that we'd be near a Toronto hub of both those things. If you're a student down at Centennial College's Story Arts Centre, home to the School of Communications, Media and Design, there's a wealth of food and culture right in your backyard, thanks to Danforth Avenue. Located a short walk south from the campus, it's the home of Greektown, and offers food and shopping for those times when you're not in class.
Centennial College has been a strong member of the Danforth community since the 1980s. The school even publishes the "On the Danforth" magazine twice a year, made by students in our Publishing - Book, Magazine and Electronic program. Personally, though, when I was at the Story Arts Centre, a guilty pleasure during my long lunch breaks was just to head to the Bite Me Grill for a Canadian Omelette.
If you're on or near campus this weekend (August 7-9), you'll have the chance to participate in something a lot bigger, the yearly Taste of the Danforth festival, offering a wealth of food and plenty of free activities. Centennial will be represented there, handing out information, but there's a lot more to the festival than us.
The History of the Festival
One of Canada's largest street festivals, the Taste of the Danforth has been around for 22 years now. Toronto's Taste of the Danforth webpage has a full list of activities, but in brief, it's a weekend full of food, culture and free events for all ages. Mostly food, though.
The festival began in 1994 specifically as a celebration of Greek cuisine, created by a group of restaurateurs who wanted to set up tables for people to taste their wares, hence the name. It's since grown to celebrate both Greek culture and Toronto's multicultural makeup itself, with its events and audience growing more and more culturally varied. There's a charitable side to the festival, too, as the profits from it go back into the community, including over $2 million in donations to the Toronto East General Hospital over the years.
This year's events
Firstly, there's going to be booths selling food all the way up and down the Danforth, from a host of cultures, so be prepared to eat. Outside of the culinary angle, the festival features three different stages with full performances all weekend, including both modern and traditional music, dance, comedy, and live performances that even include a stunt show.
That stunt show is part of Hollywood on the Danforth, a series of live events that involve dance, music of all types, comedy, the Fantastic Four, Hitman: Agent 47, The Maze Runner, and The Martian. There's also a Sports Zone, with activities and challenges from Toronto sports teams like the Maple Leafs, the Raptors, Toronto FC, and the Argonauts, and a Kids Zone to keep younger festival-goers entertained. Finally, there's going to be a pair of attempts to break the Guinness World Records for Most Olives Eaten and Most People to Score a Penalty Kick, which anyone can help participate in.
Whether you're a long-time Toronto resident or a new-to-Canada international student, make the time to come down to the Danforth, as it's a great slice of Toronto culture, with something for everyone.
By Anthony Geremia