How to change gears on your career: Jonathon Russell, powersports, and coming back to school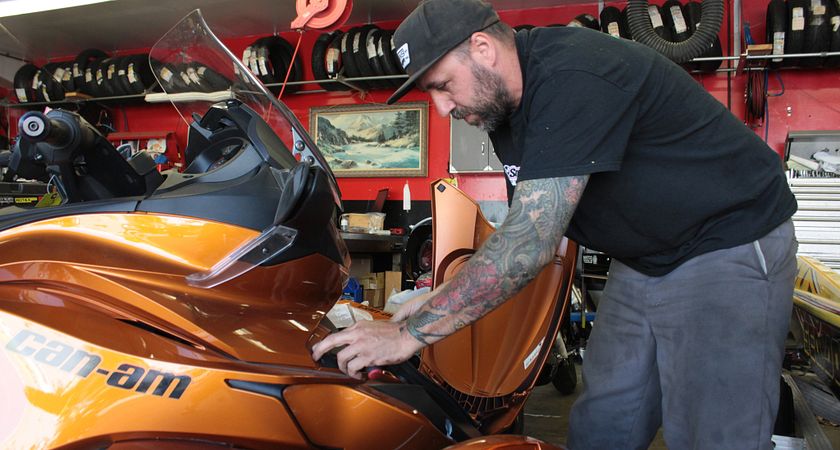 One of Centennial College's missions is to connect you to a career no matter where you are in life. This was the case with Jonathon Russell, a long-time machine shop owner. In his 40's, he decided to come back to Centennial College to learn about the vehicles he was making parts for. This would lead him to the school's Motorcycle and Powersports Product Repair Techniques program, teaching him how to repair everything from motorcycles and boats to lawnmowers. In the end, the program would connect him to a career at Snow City Cycle Marine. Here's how it happened.
Changing paths
"I'm a little older than the rest of the people here," Jonathon admits. "I was a toolmaker for 20 years. I was always a motorcycle lover, always had motorcycles, always fixed my own and my friends'. A lot of these guys, they like the more modern bikes, and I'm more of a greasy, oily chopper guy."
It was his desire to learn more about the tools and parts he was manufacturing that led him to pursue more education. "I had my own machine shop, and I found that I was doing a lot of custom fabrication for motorcycle and car guys," he says. "My schedule was pretty flexible, so I was able to take some time in my day to go to school because I wanted to learn more about how they worked, and get into more of the nitty gritty as opposed to the fabrication side of it."
A practical program
While he was at Centennial College, Jonathon's time was split between class work and practical experience in the labs at Ashtonbee Campus, facilities he was impressed with. "It's actually a very nice shop there, it's really well-equipped," Jonathon says. "They have a partnership with a lot of the factories that are here in Ontario, like Kawasaki, Suzuki, Yamaha and Honda. So they have a bunch of bikes that manufacturers have donated to the college that are not for road use, they're for learning purposes. You can rip apart motors and suspensions and all sorts of things on motorcycles to gain a greater understanding of how these things work. We have to put them all back together, and they have to function."
One of his instructors in the program was Scott Szollos, who also worked at Snow City Cycle Marine. Under his encouragement, Jonathon would start apprenticing at Snow City, before eventually being hired. "It wasn't with the plan of going to work," Jonathon admits, "because I already had my own business, but there were parts of what I was doing that I wasn't entirely happy with. And when I had the opportunity to come to Snow City and work, I took it, because it was a lot of fun."
"I was lucky as well," he admits, "because I don't think a lot of places would be willing to take on someone who was 40 and starting an apprenticeship. But Scott knew me previously."
On being a mature student
"It's a pretty steep learning curve working here," Jonathon says about his apprenticeship, "because we don't just do motorcycles, we do all powersports. There's a lot of commonalities amongst all the products, but there's a lot of differences as well, so you have to be really paying attention."
Having to juggle multiple types of vehicles and motors was Jonathon's biggest challenge, but it's also something he enjoys, partially for the novelty of learning something new. "That's probably the best part of working here," he says, "because instead of just doing something you already do, you're learning something new, and for me that's just a lot of fun, and I like that. And because I was a tool maker for 20 years, I already know what it takes to start out at something and then progress to the point where you've become an expert in something. So for me to start that process again is pretty cool."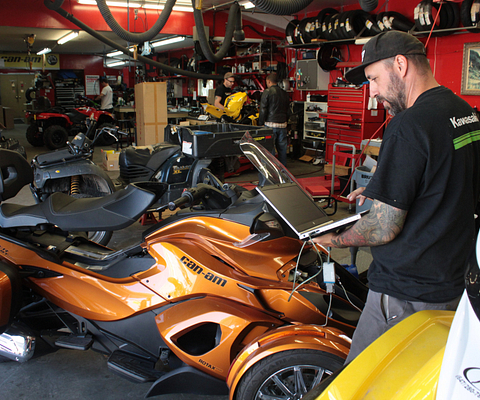 The future
Jonathon's apprenticeship would connect him to a career in the most direct way possible: The shop hired him, before the apprenticeship was even formally finished. "It was in the middle of the program, just after first semester and the Christmas break," Jonathon narrates. "Scott, being one of my instructors, just pulled me aside and said we need a guy, and I think you'd fit in really well. Would you be willing to give it a shot? So while I was in school, I came in two days a week, until the program was done, and then they hired me on full time here." He plans to continue working at Snow City, while he works on his machining job on the side, frequently supplying parts to Snow City itself.
Jonathon is satisfied with how the program turned out for him, but cautions students coming into it that they'll be put to work. "My advice for them would be: The more you put into the program, the more you're going to get out of it," he says.
By Anthony Geremia