One powersports student's road to a career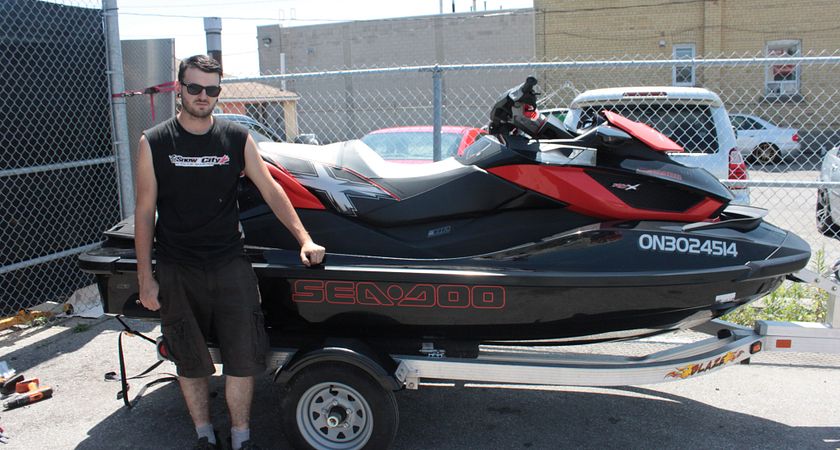 There's more to transportation than planes, trains, and automobiles. Motorcycles, boats, and even lawnmowers all have engines and all need repairing. When one of those breaks, you need to see the experts.
There's currently a shortage of these experts in the workforce, so if you're studying to become one, it's a straight path to a career. That's why Centennial College has its Motorcycle and Powersports Product Repair Techniques program. It teaches students how to repair and maintain a broad variety of small-engine vehicles. It also works to connect them to a career, and can be used to branch into an apprenticeship program. Snow City Cycle Marine, a powersports repair and supply shop in Scarborough, is home to several Centennial apprentices and alumni, including Jesse Chatten. Here's how the program helped him get his career moving.
Coming to Centennial
For Jesse, getting into powersports was an extension of interests he'd held since his childhood. "Ever since I was young," he says, "I would tear apart the lawnmower and the weed whacker. Growing up, I had dirt bikes and ATVs I'd fix myself, because I couldn't afford to pay anyone to do it, so I'd always had an interest in fixing bikes and small engines."
He had already been working in the field before he came to school, but was looking for something more. "I'd been working in a scooter shop for about four years," he explains. "I'd always loved fixing bikes, small engines, and things like that. But I'd always been told there was no money or jobs in it." Eventually, he'd come to Centennial, which would prove that notion wrong.
The Program
"It made a lot of things very clear," Jesse says. "I had been working in a shop for a few years, but there were things I didn't really understand, like electrical diagnosis. After I took the pre-apprenticeship course, I knew everything, and understood the concepts a lot better."
When it came time to do an apprenticeship, he decided to work at Snow City under Scott Szollos, one of his teachers. "Once I took the pre-apprenticeship program and came here, I got registered under Scott to become his apprentice," Jesse explains. "The greatest part was having Scott as my journeyman. It was nice to have someone who was teaching the course and who clearly understood everything so well, and who really wants you to understand it."
"It alternates between the apprenticeship and school," he says of the program. "There's a training course you have to take in school, and here in the shop, you have to perform specific tasks, and they have to sign off and say you're competent in that specific task."
"The most difficult thing to me was coming to a shop like this and dealing with the volume we have to put out," he admits. "You never stop working, you're always moving, there's always a time crunch, so that's probably the biggest challenge."
Despite that, the experience he's had has been well worth the difficulties. "Being able to draw on their knowledge," he says, "it was night and day compared to the shop I was at before. Here, there's a lot of support if you need it."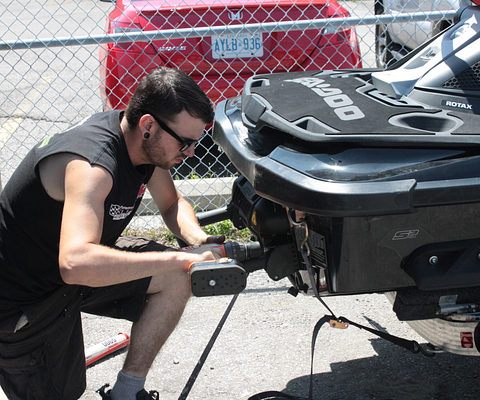 The Future
When I spoke to Jesse in late July, he was on the final day of his apprenticeship at Snow City, but with employment following. "Tomorrow, I'm writing my test, and I'll be fully licensed," he says, proudly. "They're encouraging me to do it. They said, you know what you're doing, get your license, you'll get more money and get hired."
He's thrilled to be able to keep working in the profession. "It's something you do because you want to do it, because it's something you enjoy," he says. "I've worked in a lot of jobs, I've been miserable, and until I started fixing motorcycles I was never really happy with what I did. A job like this is the only time where I didn't dread knowing I have to go in the next day. It's a lot of fun."
By Anthony Geremia