Bringing Education to the International Stage: Centennial and Panama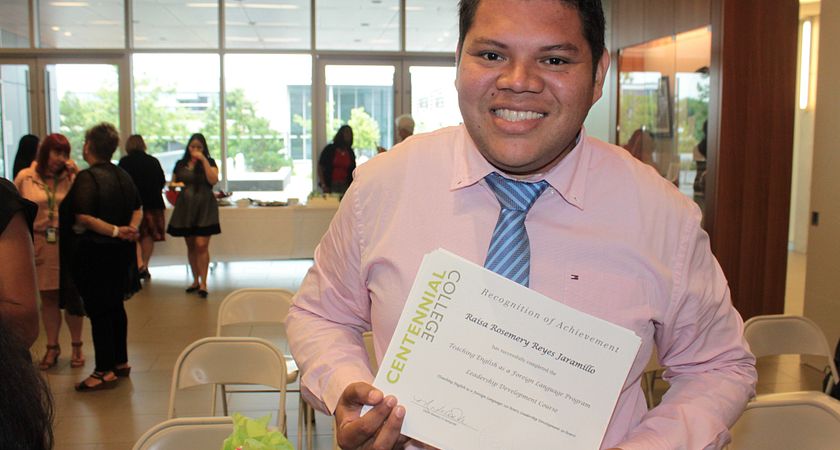 The Pan Am Games have wrapped, and the Para Pan Am Games are currently on, as crowds of athletes from all over the Americas descend onto Toronto to demonstrate their athletic skills. But in the middle of the games, another ceremony was taking place. The first group of 30 international students from Panama graduated from the Panama English Language Learning Program at Centennial College.
The program is a special partnership between Centennial and Panama itself, part of the college's efforts to bring education to the global community. As part of the graduation ceremony, Maryorie Bravo, the Consul General of Panama in Toronto and a former Centennial College student herself, spoke to the group as they prepared to take their knowledge back to their home country.
How the program came to be
Melida Renkwitz is Centennial's Manager for International Office projects and recruitment of international students from Latin America, Spain, Portugal, Italy and the US, and the one responsible for bringing the program to Canada. "I have been negotiating international business in Panama for more than 15 years," says Melida, "As a result I have a lot business relations with many organizations and educational institutions, which allowed me to bring the project to Canada."
The program is a special project developed by the President of Panama, appropriately named "Bilingual Panama," with the purpose of training professors from Panama to become fluent in English as a second language, and to acquire teaching skills with leadership in education.
The first group of professors were sent to US and England. Centennial College has been chosen as the first college in Canada to be the lead educational institution and an integral part of this important project.
"We have received the first group of 30 professors," Melida says "They came to study for eight weeks of TEFL (Teaching English as a Foreign Language) training to improve their English language skills."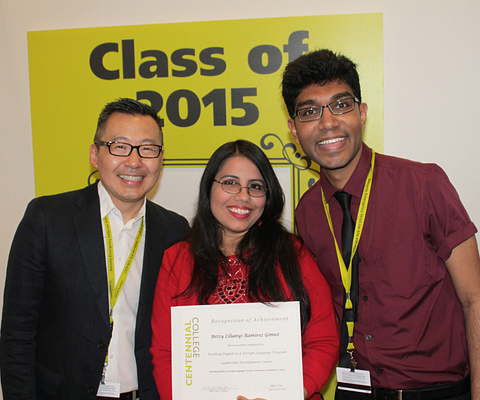 The Centennial Connection
Maryorie Y. Bravo is the Consul General of Panama in Toronto. Delivering a speech to the graduates held a particularly special significance for her, as she is a Centennial College graduate herself. Maryorie studied English and business at Centennial, in between her schooling back home in Panama. Ironically, it was Melida herself that led her to the college.
"I talked with my friends about English programs," Maryorie says, "and they took me to one of Melida's presentations in Panama." This would prove to be the experience that got her her current position as Consul General in Toronto, appointed by Panama's president himself.
"When I went back to Panama I also did diplomatic training," she explains. "The President decided to send me to Toronto because I knew the city and how it worked and I had studied international relations."
"The professional experience I had at Centennial College helped me a lot," she says. "I came here when I was a teen. I didn't know anything about the country, I didn't know English, and it was very hard for me. Centennial College made me work harder for what I want, made me more mature."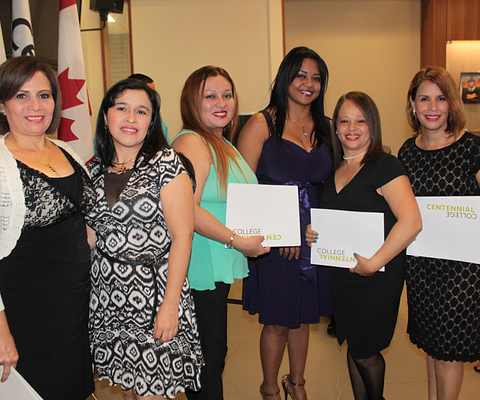 Where it's going
Maryorie did more than just speak at the students' graduation. "I was in charge of the activities that they had while in Toronto," she says, which included watching performances, and a special Father's Day lunch. "I always keep in contact with them," she adds. Overall, she's impressed at how far they've come since their arrival.
"When I came to the orientation," Maryorie says, "it was like they were scared. Everyone was quiet. At the graduation, everybody was happy, and I know they were satisfied with the program."
"Now they go back to Panama and start working," she continues. "They have to apply all they learn here to their students."
The program will continue in Toronto with the next wave of students starting in September. "They are teachers already, and they are coming to improve and learn more literacy from teaching," she says of the next group. "They are here for four months, and they just graduated from the School of Education in Panama. They're coming to learn English, and to practice and learn more about teaching English."
Meanwhile, Maryorie's going to keep working with Centennial to help each group adjust to life in Canada. "I'm going to be there for the teachers."
By Anthony Geremia