Putting your career in motion: Scott Szollos gets students working in Powersports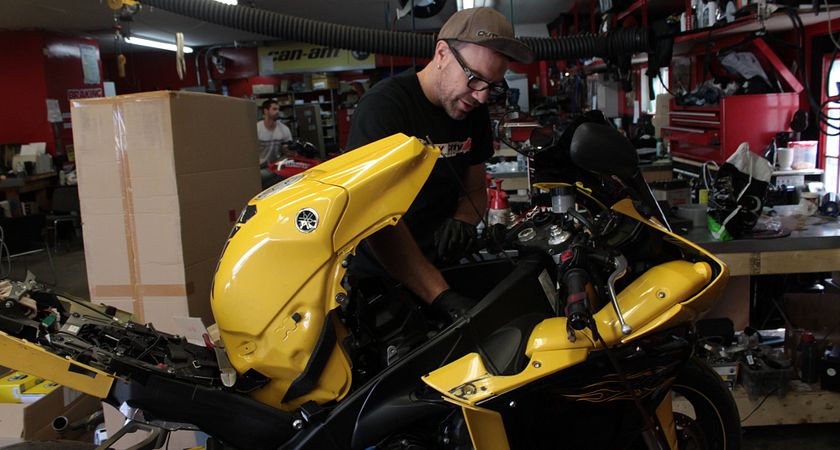 The most direct way to learn a trade is through practicing it, which is why the programs at Centennial College aim to get students on their feet and working, letting them get hands-on experience. This is the case with the Motorcycle and Powersports Product Repair Techniques program, which teaches its students how to repair and maintain a broad variety of small-engine vehicles, a skill that few know, but everyone needs. But the college doesn't just get students on their feet to teach them hands on experience. It also makes sure the ones teaching them are professionals, like Scott Szollos.
Scott Szollos is a teacher in the Powersports Repair program at the college, and when he's not teaching, he's still active in the field, working at Snow City Cycle Marine, a powersports repair and supply shop in Scarborough. Not only does he work there, but most of the employees he works with are graduates of the program, having been directly hired by him.
For Scott, Snow City isn't just a part of his current career. It's also where he started. "I got in the business in '93, working at this place," he says. Since then, he's been a bike mechanic and worked for a race team. He started working at Centennial College in 2003 as a night school instructor. Now he teaches both night school and the day school program for powersports, in addition to taking on apprentices at the business.
Powersports
"The program gives people a basic knowledge and a general idea of the industry as a whole," Scott explains. "They give you parts, customer service, resume writing, mechanical science, all of the things you need to work in a dealership, not just being a mechanic."
It's important to teach students these skills, because Scott stresses that the powersports industry is vastly different and more complicated than a traditional automotive background. "I've worked in the automotive industry for almost 20 years, and in the automotive industry, you go into work, you fix a Honda, then you fix another Honda, they're all the same, and that's your job," he says. "Whereas here, there's seven product lines. There's sea-doos, snowmobiles, ATVs and motorcycles, so you need to know a little bit about everything. It's a lot harder, because you need a wide scope of knowledge to be able to fix a sea-doo in the morning and then a weed trimmer in the afternoon, or a motorcycle and then a boat. So the scope of knowledge you need is so much greater in this industry."
In order to provide this knowledge, the college gives students real life experience with facilities and equipment at Ashtonbee Campus. "Everything is there," Scott says. "Small engines, motorcycles, watercraft, everything."
A lot of that equipment comes from strategic industry partnerships. "All of the manufacturers are on board for support," he continues, "so there's service manuals, computer software support, all of the stuff that we would use at the dealership is available at the school because the manufacturers are in partnership with the school. And those manufacturers come in and they give presentations on new products and things pretty regularly. Yamaha's a big partner, Suzuki's a big partner, and all that training is offered at the college."
Pathway to Careers
The direct goal of the program is to connect students to jobs, and Scott frequently contributes in the most direct way possible: By hiring graduates at Snow City. "I wouldn't hire anybody that didn't take the program," he says. "And if they come to me for a job and we don't have it, there's four other companies that do have it. But it's the only thing I look for on a resume. If we're looking for someone, that's our first source."
Even when he isn't hiring students, the program helps set them up with jobs, through those industry partnerships. "There's a big partnership between the industry and the college, because there isn't a program like this around," Scott says, "So there's numerous times where a dealership will call in and say, do you have someone that can do this? So we're in contact with numerous dealerships throughout Ontario."
Inspiration
For students looking to pursue a career in Powersports, Scott says that a genuine love of the profession is the most important thing. It can be a hard job, with long hours, but if you genuinely enjoy it, it's very rewarding, particularly because of the people you meet. "It's kind of cool when you get to meet people," he says. "One guy that was just here, I've been fixing his bike since '97. You just get to know people, and that's the appeal to me. It's a hard road, but once you get a licence under your belt, and can work independently, it becomes a lot more fun."
"It's a lifestyle, like anything else," he says. "I got involved because I love the industry, and it turns out I was good at it, so I went with it. Ask anybody in the shop, and they all love the industry. I wouldn't trade it for the world."
By Anthony Geremia