Connect yourself to a career in Transportation at Centennial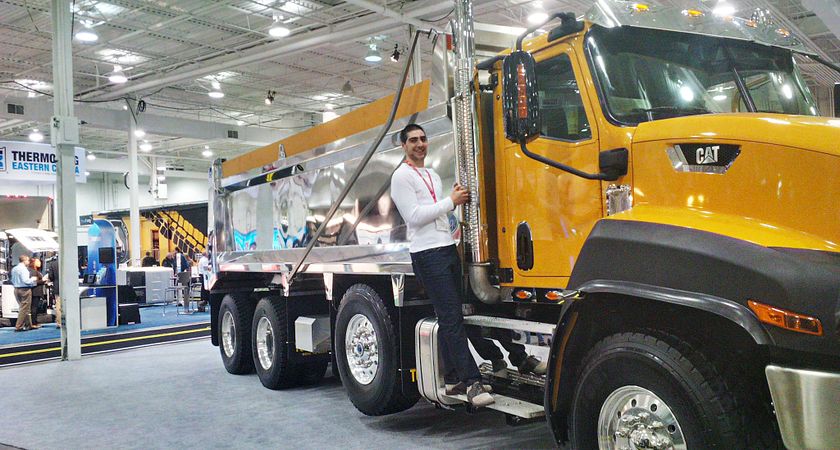 At Centennial College, we connect students to careers by teaching them the specialized skills they need. This is the case with all our programs, including those from the School of Transportation. Our programs are also known both locally and internationally as the thing to take if you want to launch your career. Christopher Joachimides knew it when he took our Truck and Coach Technician Co-op Apprenticeship program, which would eventually net him a job working at Toromont, a heavy vehicle company.
Coming to Centennial
"I just like to be a hard worker, I just like getting dirty," Christopher says about his choice to enter the transportation field. "I started off with Motorcycle and Power Sports," he continues. "Someone recommended the Truck and Coach Diesel program, and said I could make a lot money."
As for his choice of Centennial, it was a no-brainer. "It's well-known and it's close to home," he says about the college. "There's not too many of these programs offered by other colleges. I'm from Scarborough, so it was just easier for me to come here."
His choice of Truck and Coach was also motivated by his desire to eventually enter a management position in his career. "When I first came to the college," he says, "they told me you can take the one year program and it's all technical, or you can take the two-year co-op, and it will go further into management roles," he explains, "so that way when you progress at the company, you'll have your diploma and be able to go up into management."
Put to the test
A benefit of Centennial's transportation programs is how they put students to work, giving them practical experience in our laboratories, as well as field experience. But beyond that, we offer students the chance to put their skills to the test in special competitions, with the chance to move on to the Ontario Technological Skills Competition (OTSC).
"The first year I did truck and coach, we had a skills competition," Christopher explains. While he didn't place in that first year, he doubled his efforts in the second one. "This year, I took a much greater initiative," he says, "coming in early with [instructor] John Murphy each week, studying every night."
His efforts would pay off, and he'd win the Centennial competition. "I didn't think I was going to win," he admits, "but then they announced my name, and I went on to OTSC, which was like a whole different league."
He's place seventh in that competition, but more importantly, gain a valuable bit of experience for his career. "Placing in the skills competition was definitely a valuable asset," he says, "because it shows that you're really interested in that field. That's why I really strived to do it." It would pay off when it came to the job hunt.
Going to work
For the co-op portion of the program, Christopher worked for Penske, a truck rental company. "I didn't have any experience in diesel," he says. "I'd only worked with motorcycles. It was all the same aspects, just different components. The co-op was an amazing stepping stone, because without it, I probably wouldn't be where I am today, working at Toromont."
Aside from his co-op giving him work experience, the program itself also gave him the necessary job-hunting tools to secure his position. "We had classes that told you how to structure your resume and how to act, especially in technical environments," he says. "Not having any experience in a technical environment or with interviews, I didn't know what to expect."
Christopher graduates from his program at the end of this month, and will start his position at Toromont in September. "There's so many options in there," he says about the company. "Right now, I'm just working on the floor, but maybe in five or 10 years, I hope to be in a management position, or in field service. I'd really like to be an advanced technician, that's where I see myself."
By Anthony Geremia