Women in Transportation: Victoria Austin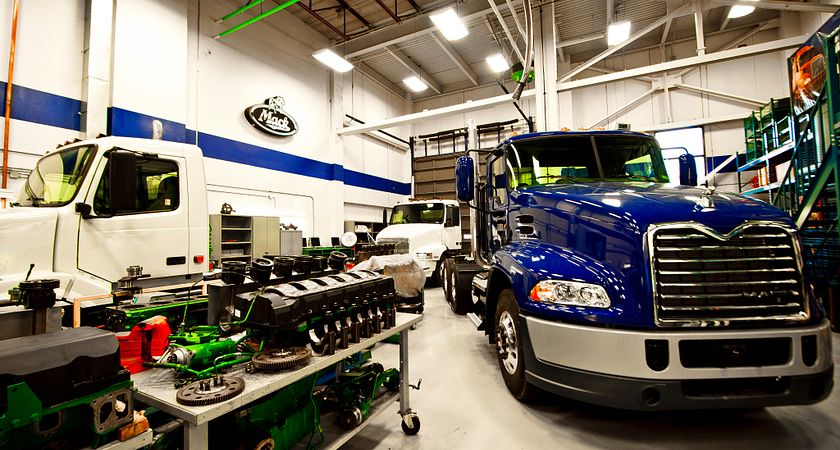 Even if you don't own a car, you rely on automobiles to function. Maybe you take the bus, or taxi, or even a plane. Our world runs on these motors, and the people that maintain them are responsible for keeping our world going. At its School of Transportation, Centennial College transforms students into transportation experts and connects them to careers in the industry through skills-based, practical training. More importantly, anyone with the right drive can become a tradesperson with the right education. This was the case with Victoria Austin. A graduate of the College's Truck and Coach Co-op Apprenticeship Program, Victoria would go on to work for Ryder, a truck rental and supply company. Here's how it happened.
Coming to Centennial
Victoria's decision to enter the world of transportation began in high school where she found she had a knack for mechanics. "We had a little auto shop," she says, "and I worked on people's cars and painted them. I did Auto Body, and then I found out about Truck and Coach at Centennial."
"It was relatively close to home," Victoria says of the School of Transportation's Ashtonbee Campus, "and it was one of the few schools that offered the program I wanted."
Centennial College's Truck & Coach Apprenticeship Program aims to give students a blended education that gets them on their feet, practicing the job they want before they enter the workforce. The first four months place students in special labs at the Ashtonbee Campus for hands-on learning. The next four months are spent at a co-op placement in a heavy equipment facility before returning to Centennial College for a final four months.
"We learned things like how to use measurement tools," Victoria adds, "what every part is and how it works; we got to work on coaches and stuff too, which was cool."
"We had different lab classes," she continues, talking about the Ashtonbee Campus facilities. "One for welding, and a couple for looking at the parts of engines and transmissions. We worked in a lab on trucks, to learn how to do adjustments and basic repairs and how to hook up to a computer and scan for diagnostics." That last one is something she considers particularly valuable.
Co-op and the Workforce
For her co-op component, Victoria went to work at Ryder, where she learned skills like oil changes, how to diagnose vehicles, and other minor repairs. "I did my co-op after I did my schooling," she admits, "so I did it a bit late. They hired me but let me do the co-op portion of the program while I was working."
Even before Ryder hired her, her instructors were working to connect her with careers. "My teachers helped me a lot," she says. "They told me which companies were hiring, they forwarded my resume to certain places and they gave me references."
Advice for the future
"It's difficult getting a job sometimes, but it's enjoyable – I love it," Victoria says. "I actually get to do something that matters, and I'm good at what I do, so I train the new people at my job, and it's pretty cool."
"Don't get discouraged," she says as encouragement to other women in the transportation field, "and try to outdo all the guys in your class. Go get noticed, and you'll really get somewhere."
By Anthony Geremia