Students find creative ways to keep cool in the summer with Heating and AC Capstones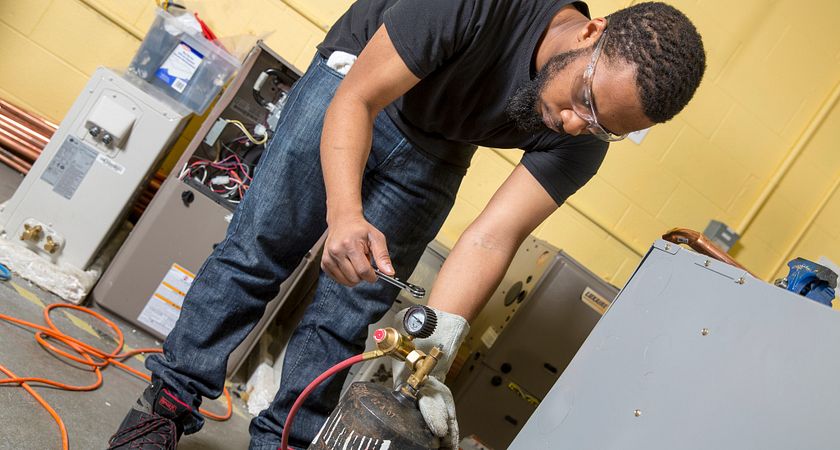 When things get hot in the summer, air conditioning professionals come into demand. Becoming one of these professionals as part of Centennial's Heating, Refrigeration and Air Conditioning program (HRAC) is a surefire way to connect you to one of these careers. One doesn't usually think of it as being creative, but you'd be surprised. At the end of the two-year co-op program, the students get into teams, and engage in a capstone project with a simple goal: Create something. It's the culmination of their education, taking everything they've learned and applying it to a practical project. This year's capstone projects are supervised by David Archer, an industry veteran. Here's what the students created.
"This is what they're in here for," David says. "Let's show you how to actually accomplish a dream, put it together, and then figure out how to take it to the marketplace. You can think you're going to build a better barbecue, but how are you going to sell it? Have you seen the competition?"
David is in a unique position to help the students with this, because of his pre-college background. "I come from a business background, after being a contractor," he says, "So this is to help them learn to do this, but more on the marketing side, because that's where my experience is."
There's also a green angle to the projects, with many of them offering environmentally friendly ways to heat or cool. "We're looking for something that specifically fits into the big scheme of things with regards to fossil fuels and the changing environment," David says. "We need to find something green, and they need to be able to build something that will save energy."
"They start at the beginning of May," he says of their schedule, "but they've already come here with these ideas, so now they need to learn how to prepare, put together their scope of work, their budgets, and organize everything on a week-to-week basis." Here's a few examples of what the students created: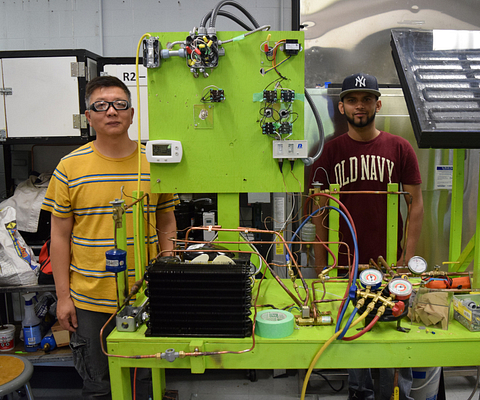 First up is a miniature solar-powered pool heating unit, created by Afraaz Shah, Hongtao Chen, Dara Yan, and Christian Bandayrel-Tufino. It's a hybrid design, made to be powered through both electricity and solar power.
"We can run this when there's no sun," Afraaz says. "When there's sun, it'll shut off, and the panel will come on."
Like most of the other capstones, it was almost entirely custom built, including the solar panel. "Everything here, we built from scratch, except for that," Afraaz says, referring to a heat exchanger, which was built by a previous team. "We even went to Home Depot and purchased the wood to make a stand for it. We built everything."
"I love doing hands-on trades," Afraaz continues, "and I wanted to get into this field because it's a great opportunity to get your hands on different types of refrigeration systems and heating systems. Everything that I learned in school from the co-op, and the knowledge that I gained from doing this, I can take into my career."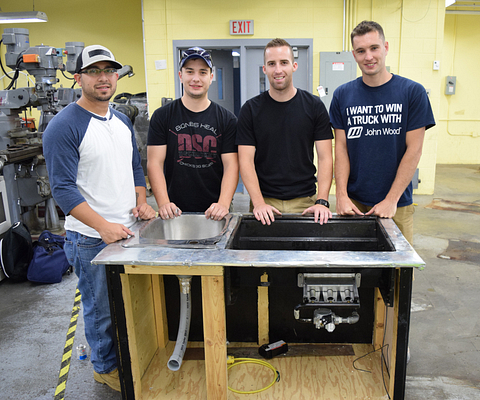 Next up, the talented group of thought provoking males, the creators of "The Bro BBQ," comprised of Matthew Callaghan, Kelsey Servinos, Paz Argenis and Trevor Johnson. "We decided we wanted to make a natural gas barbecue using parts from an old furnace," Trevor Johnston explains of his team's creation. "We have the HVAC element in it with the natural gas and furnace pieces."
"The gas valve and burner was the hardest part," he continues, "so we had to do a bit of welding, and we had to look up safety concerns. The most important thing we learned was teamwork. With any project, you're going to run into hiccups, and you just have to take an idea, and run with it, and when you have good teammates, it makes things easier."
"I knew that the trade was in demand," he says about joining the program, "so I looked online at the Centennial College website, and it seemed very intriguing because it had the apprenticeship, and that's what sold me on the program." The program's apprenticeship offerings let students take their skills directly into a workplace environment before they even graduate, giving them a foundation of real-world experience as they launch their careers.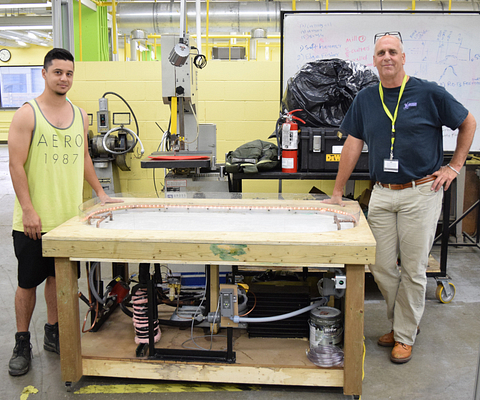 Meanwhile, Tamim Ahmavy and Andrew Daigle decided to put a new twist on a well-known concept: Air hockey. "It's a miniature ice rink," he explains. "It's the exact same concept as a real ice rink. We have a coil going through the floor that brings the temperature down in the water. So you can throw about half an inch of water in here, and it'll freeze over completely."
"Me and my partner had this idea for last semester," he continues, "and we decided that instead of just making a fridge or something, we'd do this. We found a cool way of showing the refrigeration side of it."
"We built the table from scratch," he says. "we could have easily gone out and bought a table and put the pipes through it, but we decided to do it from scratch."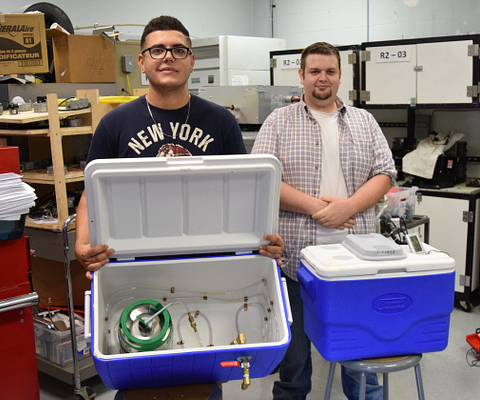 In an appropriate twist for summer vacation, Thomas Chapman and Cory Latino's project is a new, electric-powered way to keep your drinks cool. View their proto-type cooler website to keep up with their projects.
"This is a thermo-electric cooler," Thomas explains. "It takes the heat from inside the cooler, transfers it into the heat sink, and then brings it out. You can plug this into a car, or a wall. What we're planning on doing is making it solar powered."
"We already used it ourselves a couple times, and its great," says Cory. "That mini-keg stayed cool down by the dock with the sun on it for three hours. Ice was still in it, and the beer was still cold."
The two specifically plan to take it to market, and designed it with that in mind. "It's simple, it's cheap, and we tried to make it cost-effective," Thomas says. He also hopes to use its success to advance his career. "Employers will look at it and say this guy has some ideas in his head," he adds, "because I've never seen anyone do this before, and I think people will like it."
What's next
All of the student's projects are presented to faculty in the last week of the semester. "We bring down the chair, the faculty, and anyone else we would invite," David says, "to say this is what we've done, this is what our program has done, and they present to their other students as well."
"They've come a long way, and we're really proud of them," he adds. "These came from nothing, from a piece of paper that some gave to me on a napkin. They put it together, and as they go, things changed, it didn't always go according to plan, but it's resulted in what you've seen today, the culmination of 12 weeks of work."
By Anthony Geremia