Light the world up with Electrical Engineering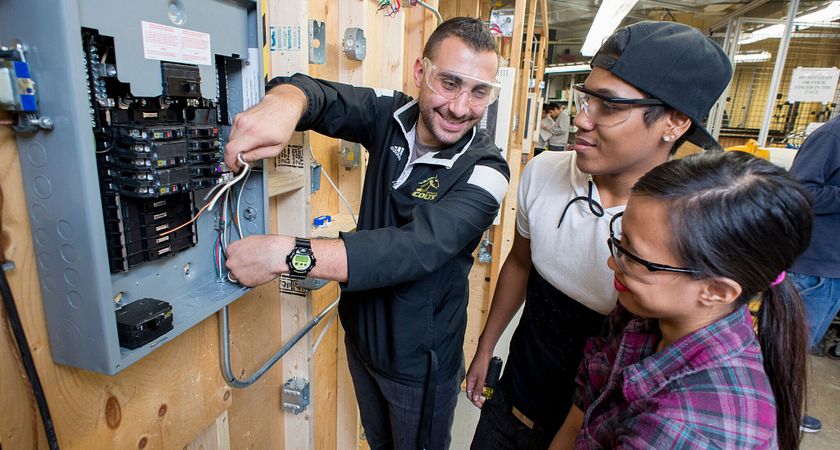 What makes the world run? Energy and power. Without it, everything would grind to a halt. Before any leader, scientist, doctor or writer can get their job done, they need the technology they use to work. Electrical engineers keep the lights on and the machines moving, and electrical engineering is the trade of power.
That's why electrical engineering is so important in the modern world, where every business runs off electricity. If you're talented in math or science and want a profession that's practical, or if you like to work with your hands and want to do something challenging, Electrical Engineering fills both of these wants. It's a growing, increasingly important market, and if you're looking for promising, practical long-term careers, Electrical Engineering Technician and Electrical Engineering Technology are it.
What is it?
Our world runs on technology, and that technology is powered by electricity. Before everyone else can use that technology, electrical engineers have to make sure that power is flowing. That's what you're doing in electrical engineering. As Master's Portal explains, you're designing, developing and testing equipment, and solving problems with the equipment that already exists. You'll work with your hands, but you'll also make use of the math and physics that goes with electricity.
It's a broad career field, which, Study.com, could see you applying your skills to automation, robotics, instrumentation, communications and power generation and distribution. For example, if Toronto makes it through this coming winter without another blackout, you have electrical engineers to thank.
Why you want to do it
Simply put, it's a growing industry with plenty of jobs around and more coming. Service Canada's data reveals that the industry boomed in the 90's, then shrank in the 2000s. Now, it's booming again, and there's a need for students to become electrical engineers, especially since the old guard is retiring. The next few years will be the perfect time to enter the industry and secure a solid career for yourself, plus there's room to move around and grow, especially considering renewed interest in alternative energy sources like wind and solar. Similarly, every industry, from transportation to communications to the government, is going to need electrical engineers, meaning you can specialize in whatever field suits you best.
How we can help you get it
Centennial College's Electrical Engineering Technician and Electrical Engineering Technology programs will help you enter the field by grounding your learning with real experience. Centennial's Progress Campus features laboratories that give you the chance to work with the same equipment your eventual career will have you working on. Expanding on that, the Electrical Engineering Technology program also contains a co-op component, which has you working for three terms as a paid employee in the field. It'll help you get further paid experience, and allow you to sample the job market before you even graduate.
Electrical engineering is a growing career field that continues to be essential in our modern, technology-driven world. You're providing the important foundation for every digital and machine-driven industry that exists, which is essentially all of them, so you'll always be in demand. To get into the field, take the classes, and learn how to power the planet.
By Anthony Geremia