Pop-up shops give the gift of learning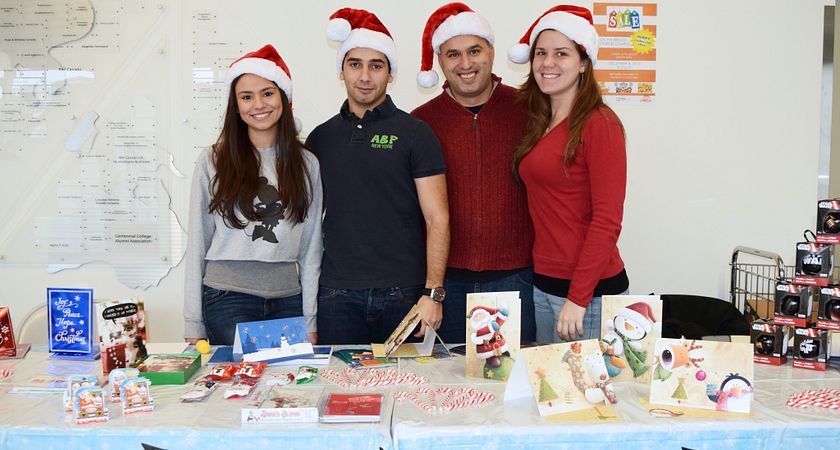 While the winter season is a time for relaxation, school isn't over yet. But instead of making us panic with exams and finals, Centennial College uses the season to give some of its students one of the most useful gifts possible: Practical learning experiences. Last week at Progress Campus, a series of pop-up shops were opened by students, selling treats and raffle prizes to students, many of them themed around the holiday season. While it seemed like it was just being done for fun, it was actually an important entrepreneurial learning experience for the students, an example of the type of on-your-feet education the college focuses on.
The course is called New Venture Startup, and it's focused around giving students the skills they need to start and run their own business, through simulating the day-to-day affairs of the job. The course is taught by Kerri Shields, and can be taken by students from the Business Administration - International Business, Marketing and Entrepreneurship program. Kerri developed the course two years ago, and this project has been a part of it since day one.
"What students do for the first part of the course is run a business simulation using BizCafe software, where there is no risk of losing real money," she says. "At the end, students set up a pop-up shop, something real, where they apply the skills they learned in the course and in other business courses to the successful operation of the shop for a day" Kerri says. Students have to apply their business, marketing and customer service skills to make money. The funds will ultimately be used to give back to Centennial students in the form of a special scholarship called the Entrepreneurial Spirit Award.
"Each group of students has their own booth, and they have to come up with their own business concept, they have to track their expenditures, get inventory or create something from raw materials," she explains. "They have to track their revenues, and submit the accounting tracking sheets and various reports, in the similar fashion to that of a real business."
Each student contributes $20 of seed money to help purchase materials, and attempts to recover these costs and hopefully make a profit. "There's always a risk, as with any business, of losing that money," Kerri cautions. "It's a real life experience, but thus far no student has ever lost their seed money. It appears the professors have been doing a great job teaching these students how to run a business successfully."
Each pop-up shop also sourced its own materials, and this included approaching real businesses and individuals for donations. Cineplex and Shopper's Drug Mart were among the donors, as were faculty members who donated gift baskets for raffles.
The ideas for each shop varied, with some of them getting into the spirit of the season. "One group is doing waffles and popcorn with coffee and tea, and they're running some raffles as well, where you can win free movie tickets," Kerri says. "Another is doing a Christmas theme, recognizing that not everyone celebrates it. They have cards, ornaments, wrapping paper, and a raffle for Christmas mugs and other items."
Experiential Learning
"In New Venture Startup, we try to bring all the business skills together," Kerri says, "so we talk about packaging a product, attracting customers to your booth, designing your pop-up shop, inventory costs and product markup, as well as tracking expenses and revenues. Students are graded on all these components.
Everything they've learned has led to the pop-up shops. "They've been preparing all semester for this," Kerri says. "This is their capstone project, and they have to use all their business skills: How to market, how to manage inventory, how to design the shop to attract customers."
Each semester in the New Venture Startup course, the semester ends with student operating their pop-up shops for a day. Students enrolling in this business course have their business skills put to the test in a real-life experiential learning activity. It's a great simulation that students will be able to discuss in job interviews or any time they are asked to provide examples of applied learning—this project is proof that students have applied their business skills and knowledge to a real-life scenario.
By Anthony Geremia