Enjoy kids? Here are three possible careers for you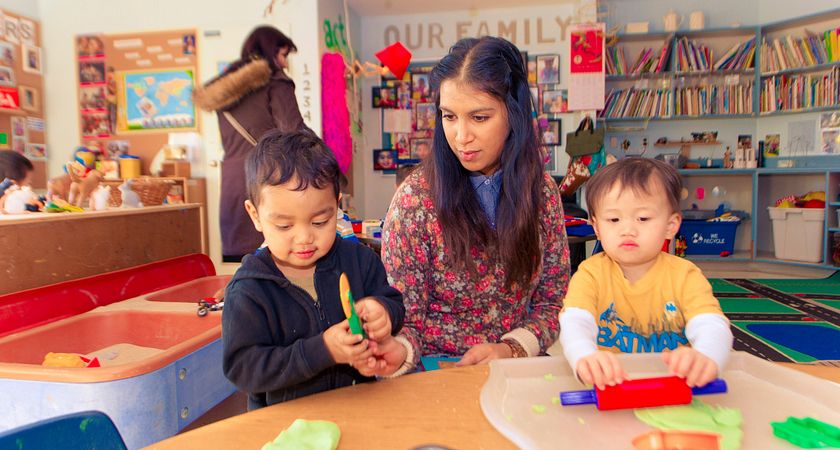 It's been discussed here before, but it's important to find a job that you love. When your enjoy your job, you perform better, and lead a better life. In fact, here's an article from inc.com that points to the signs that you love your job, something you should be looking out for in life. A part of this is identifying your interests, what makes you happy, and building outwards from there to discover what careers line up with those interests. While literally anything can be an interest, I'll be looking at a specific, common one here: Children, along with their care and education
Maybe you really want to be a parent, or maybe you already are one, and you've found it a rewarding experience. Perhaps you've already spent time taking care of kids, and it comes naturally to you. Or maybe you love the idea of working with children as a social responsibility, and view it as important to help nurture the next generation of human beings. If you'd like to build a career out of it, here's some examples of what you could become, and how the college can point you towards those careers.
An early childhood educator
There's a lot more to being an early childhood educator than simply being a teacher. This article from Early Childhood Teacher, for example, outlines a typical day in this career. As you instruct children at an early phase of their life, you're part educator, part babysitter (though only part, it's not your job) and part secondary parental figure. It involves playing an important role in the early stages of a child's development. It can be very rewarding, and as this Globe and Mail article notes, it has very high rates of job satisfaction. At Centennial, you can take two-year programs at both Ashtonbee and Progress campuses, as well as a one-year fast track variety. An advantage to these programs is that they involve community field placements, giving you one-on-one time with children as part of your education before entering the job market.
Producing children's media
Ever think toddlers are spending too much time watching TV or playing on the iPad? Worried what's on there is affecting their brains negatively? One thing you can do to remedy this is help produce and create that media, and ensure it's friendly and enriching. Centennial College not only has a post-graduate program in children's media, but an entire media centre dedicated to studying and creating children's media. There's numerous articles on the site, like this one from the Chronicle of Higher Education, that point to the positive impact media can have on children, and the need not to restrict it, but to ensure the creation of positive, mentally enriching children's content. Centennial's program, the first of its kind in Canada, can help a student become a positive content creator through exploring children's media itself, the business and marketing side of media production, and the relevant social issues that come with children's entertainment. The program also comes with access to industry events, and a field placement for the sake of networking.
A Social Service Worker or Developmental Services Worker
This career field is tough but rewarding if you're up for it. It's not just for people who love children, but those who want to help those in need, and make a positive social change. Social workers are dedicated to helping the vulnerable segments of society, and can specialize in children and families. An upshot of the profession is that the Government of Canada has named social work as a growing career field, meaning that there's a need for individuals with the kind of motivation to affect real social change. Not only that, but I've also previously cited social work as being a career with high levels of job satisfaction. If it's a career you wish to pursue, Centennial College offers both a Community and Child Studies Foundations course, and a Child and Youth Worker certificate program, perfect for preparing you to assist the growth and development of kids and their families in a broad range of contexts, including social services.
Regardless of the career you choose, it's important that you pursue something you enjoy. If maternal or paternal instincts come to you naturally, then these are just some ways to turn them into a satisfying career, which will lead you to a satisfying life.
By Anthony Geremia