Knowing what's under (and over) the hood: Automotive careers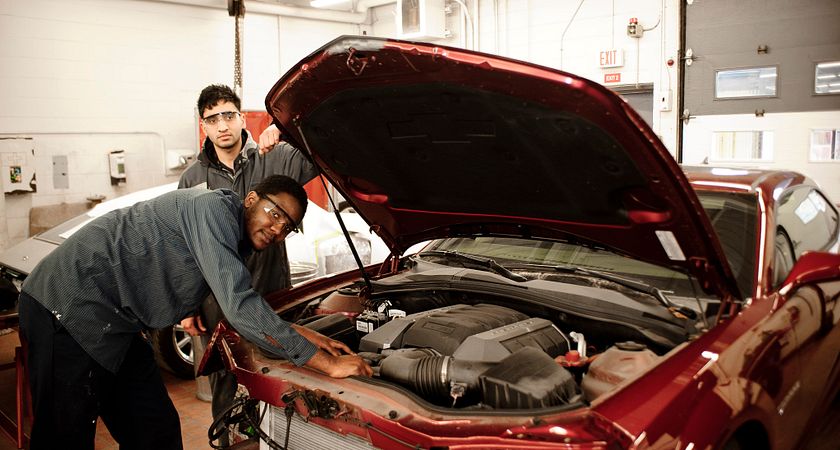 In case you haven't heard, the Canadian International Auto Show starts tomorrow in downtown Toronto with the media day for high school students commencing today. I went last year, and as someone who isn't a gearhead, my reaction was  "that sure is a lot of cars." But it did get me thinking: Automobiles are practically a culture of their own, and if you're not a part of it, it can leave you at a disadvantage
Pop quiz for any car owners out there: Let's say you're on your way to school, or work, or your friends, or anywhere, and you come to a red light. As soon as you come to a stop, your radio shuts off, your lights go off, and your engine stops running. No amount of key-turning can make your car live again. It's completely dead. What do you do? I'm betting that most of you have no idea beyond maybe "call the CAA"
And the thing is, this is a universal experience. Sooner or later, your car's going to break down, and you're going to have to get it fixed, and yet the number of people that actually know what to do are becoming scarcer. Maybe, just maybe, you could become one of those people, and do it for yourself. Or even better, you could become the one that others come to when faced with that stalled car. The brilliant thing about Centennial College's auto-related programs is that you don't even have to be a gearhead, to begin with, as they're designed for people with no previous experience. The college contains extensive auto labs, thus ensuring that you'll spend time outside the classroom working on actual vehicles, gaining hands-on skills. So, if you want to become someone who fixes cars instead of someone that has them fixed by others, here's what you can be doing:
Over the Hood
During the heavy snowfall last winter, I had the misfortune of being involved in a minor accident, spinning out on the road and hitting a guard rail (the lesson: Spend the money and get four winter tires). While both myself and my vehicle were fine, my back bumper got dented up. Sure, my car still ran, but now everyone that saw it assumed I was a bad driver, and backed off. 
Damage on the outside of a car is just as important as on the inside, and there are people who specialize in fixing it. At Centennial College, you can enter the Auto Body Repair Techniques program to learn how to become the one responsible for erasing the dents and scrapes that inevitably come from car ownership, even if you're a perfect driver. It only takes 36 weeks, can link to an apprenticeship (more on that later), and contains heaping amounts of practical experience.
Under the Hood
Pop your car's hood open right now, and have a peek at the engine. If you're good, you know how to check your oil, and fill your wiper fluid. But aside from that, do you know what any of it does? When that breakdown occurs, could you have a look inside and figure out what went wrong? If you want to be the one that knows what's happening in that engine, you could take the Motive Power Technician and Automotive Service Technician programs, and find the answers there, as well as being set up to become a licensed technician in the process.
Apprenticeships
The best way to learn is by doing, and while all these programs will teach you the practical side of things, there's no better way to learn than being out on the field, which is what apprenticeships are for. We've talked previously about apprenticeships, the most direct way to acquire industry-specific job skills and head into employment. You participate in on-the-job training with an employer that's essentially hiring an unskilled employee, and supplement it with college classes. With Canada's largest transportation technology school, Centennial College takes part in a large number of automotive apprenticeships. They're aimed at turning you into an expert in either general automotive repair, or a specific brand and model, like Honda or Ford. It's the best way to pick up practical skills, and the most direct route to a rewarding career. There are too many auto-themed apprenticeships to list easily, but here's a link to a full list. 
Ultimately, the goal of all these career paths is the same: To make you the expert in something that few people know, enabling you to help both yourself and others, and more bluntly, forge a well-paying career out of it. When you have a skill everyone needs but few have, that puts you in a position that can set you up for life, and is worth pursuing both for yourself and for others. 
By Anthony Geremia