Alon Ozery passes his success onto Centennials young entrepreneurs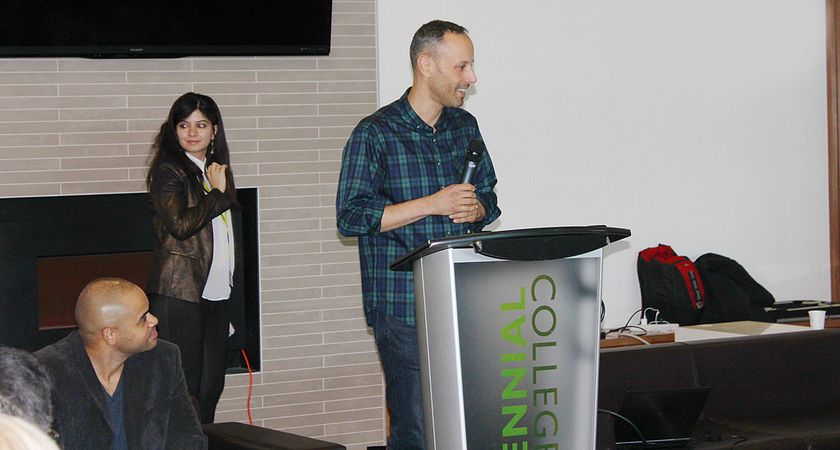 Centennial College is always looking to set its students up for success, no matter the career field they wish to enter. One such effort is ACCEL, the Accelerator for Centennial Community Entrepreneurs and Leaders, designed specifically for young entrepreneurs. The program connects young businesspeople to resources and professionals in the GTA, enabling them to take their business ideas to the next level. One such professional is Alon Ozery, founder and creative force behind Pita Break, a family business that creates and sells fresh, healthy pita breads. For Alon, success was taking something he already loved and making a business out of it. He's been at it since 1996, and hopes to share some of the wisdom he's picked up along the way with ACCEL's young business people
    
Inspiration
For Alon, making pitas was a family tradition. "I'm half Israeli, half English", he says, "and the Israli side is Yemeni, so in family events, we always made pita breads at the get-togethers. I always loved the process of making bread, and I love making pitas." While in school, he decided to turn it into a business, writing up a business plan for one of his classes. "I was thinking of different opportunities and businesses," he explains, "and it came to me to create a store that sells sandwiches with hand-made pita breads." From the beginning, health was important. "We came up with about 12-15 different breads, all with no chemicals," he continues, "all natural, but with a shorter shelf life because of that."
After completing school, Alon opened the business with help from his father. Within two years, the company saw good success, and decided to take things in a different direction. "At first we thought that we'd open more stores," he explains, "but it turned out that selling the bread to health food shops in the downtown core worked well." Eventually, he decided to industrialize the company for large-scale production. Pita Break continues to grow, and now employs close to 200 people, delivering product to both Canada and the U.S.
Alon has been an entrepreneur for a long time now, and still gets bewildered at how far he's come. "I never expected to reach the size we are today," he confesses, "or to have the North American footprint we do." Some things have changed during this expansion, namely the competition. "It's changed for us by size," he explains. "Today our competitors are much larger, with much deeper pockets, and longer in the market. We're a fairly young company for the size we are. It's easier to be an entrepreneur when you're smaller, because you're able to come up with new product, either succeed or fail, and move on. Today, when we develop something, if it's successful, we need to be sure that we can make a hell of a lot of it, so you have to be very strategic."

Giving back with ACCEL
"I've known Donovan Dill for awhile," Alon says of ACCEL's director. "I volunteered with his previous employment with YES, Youth Employment Services, for years. I was a board member involved in BizStart, which was their program for 20 young entrepreneurs launching their business each year. They got office space, they get mentorship during the year, they write their business plan, and they launch their business." It was a result of this prior involvement that he was called up to work with ACCEL, something he says came at the right time in his life. "I was ready to do new things in terms of non-for-profit and in terms of helping the community," he says, "and then Donovan called."  

Words of wisdom
"I wish I knew branding better," Alon says of the early days building his business. "To this day, we're still fixing our branding." It's advice like that Alon hopes to pass onto the next generation of entrepreneurs. "I'll see if there's glaring voids in their knowledge that can be filled relatively easily when they're starting out," he says, "and help them avoid going through costly fixing in the future. I'll plant the seeds for the importance of brand. Think about who you are, who is the company, what are the messages, and what it stands for. That will determine the decisions you make down the road."
He also wishes to stress the importance of practical work as being key to success. "I wasn't great in school," he says. "I want people to know that they can achieve success if they do certain things. It isn't for everyone, so they should find out if it's for them. Grades are not important. Where you find your passion is where you'll do well."

A healthy society
Alon says having professionals to turn to for advice helped him out immensely earlier in his career. "When we went from restaurant to commercial bakery," he narrates, "I met Martin Connell. He's a very wealthy guy, one of Toronto's richest people, who started Ace Bakery along with his wife, Linda Hanes. I just gave him a call, out of the blue." Connell's advice on starting a bakery and expanding the business would prove to be essential to Alon's success, and he now hopes to give that sort of advice to others.
Alon sees his involvement with ACCEL as being a public service in the name of fostering a healthy community. "If you believe in something and value something," he explains, "then you'll be successful with it. People will notice it, and you'll get results. I do believe that people who see success should be involved."
"I want to see people succeed," he continues. "I want to see potential maximized. A healthy society is a society where people are able to both give and give and receive and receive." By passing his knowledge along to ACCEL candidates, he hopes to continue creating that healthy society.
By Anthony Geremia