Three ways you can turn your sweet tooth into a career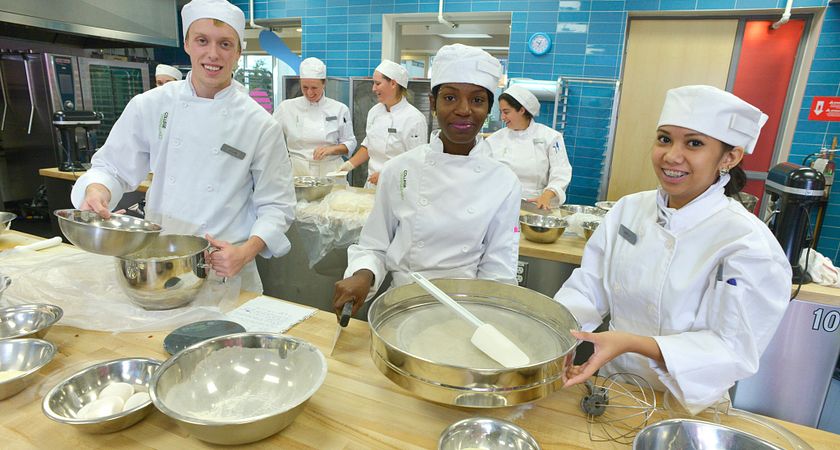 It's something that's always worth repeating because of its importance: When you pick your career, you need to find something you love. If you can get up in the morning and love the idea of going to work, then you know you've really made it. To do that, you need to know your interests, and then figure out how to turn those interests into a job. Even the most basic interests can be turned into a career if you look hard enough.
For example, do you have a sweet tooth? Are cakes, pies and pastries one of your favourite things? Maybe you like baking them. Or maybe you don't know, but since they're a thing you love, you want to know how to make them for both fun and profit. Some people, when referring to food preparation, say you should never see how the sausage is made. Well, if that doesn't bother you, and you want to participate in the creation of some sweet things, there's a career out there for you, and Centennial College can help connect you to it. Regardless of what culinary program you take, an advantage of the school is that learning will happen at Centennial's Culinary Arts Centre, which houses commercial kitchens, a baking lab, and a real restaurant to give students the real-life experience they need to master the craft of creating confections.
Commercial Baker
If you like baking, the most obvious career path for you is to develop that talent, turn it into a career, and become the baker situated between the butcher and candlestick maker. Aside from preparing tasty pastries for yourself, you can also turn it into your skilled profession. Here's a fanciful story courtesy of The Guardian that takes a look at a day in the life of a baker, and discusses its highs and lows. If baking is of interest to you, but you worry you don't have the skill at the moment, Centennial can teach it to you, with its Commercial Bakeries program. Not only that, but you can also learn it in two semesters, becoming a skilled professional, ready to enter the industry. But suppose baking isn't all you want to do. Fortunately, there's room to expand your interests.
Bakery Manager
Let's say you want to do more than just bake. Maybe you want to run the bakery, or even go down the path of entrepreneurship and start your own. Bakery management led a lot of people to job satisfaction, like the subject of this profile from All Culinary Skills. If this seems like the path for you, that's why Centennial has a Baking and Pastry Arts Management program. Not only do you learn practical baking skills, but you also spend time learning about the business aspects of the profession, including managing resources both material and human. You'll also learn how to bake commercial quantities of the things you already know how to create. If you already complete the Commercial Bakery program, then you're eligible to enter the program in its third semester, turning it into an enhancement of the skills you'll already have. The program ends with an internship with one of the school's industry partners, perfect for networking your way into the industry.
Nutrition Management
Of course, if you feel the need to help people, you can use your foodie abilities to fulfill a social good, as well. With an aging population, there's a growing need for professionals who know about nutrition to assist hospitals, homes, healthcare, and other organizations dedicated to helping the vulnerable with ensuring those nutrition needs are met. In other words, someone's got to ensure everyone's fed properly, and that someone could be you. Centennial's Food and Nutrition Management program can teach you to do that, as the longest established two-year program of its type in the Greater Toronto Area. It's a combination of administration, healthcare, and an understanding of nutritional principles and needs. It's a career with an up-and-coming need, making you a valuable commodity as you work to promote health in whichever healthcare institution hires you first.
If the creation of delicious food is your thing, there's plenty you can do with it. Most basically, you can learn how to make that food. And if you want more, you can learn how to manage the production of that food, or ensure it's delivered effectively to the most needy. Anything can be a career, even a sweet tooth. You simply have to identify it, and figure out where it can take you.
By Anthony Geremia