You don't have to start over: Finishing an education with Pathways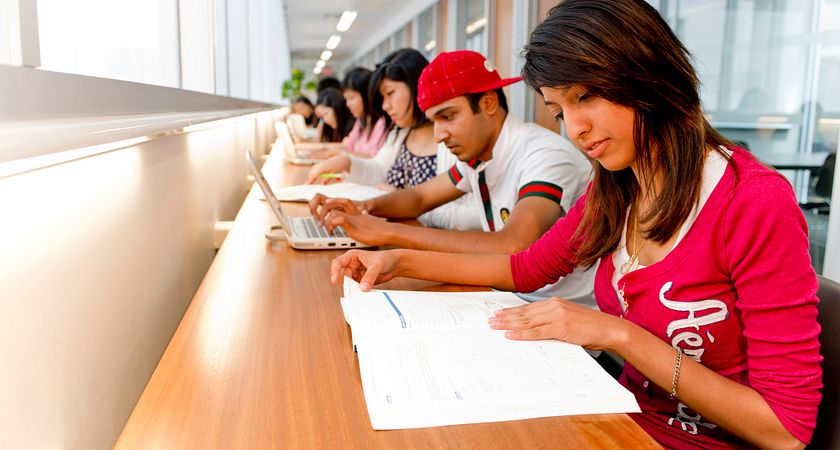 We all have different paths we take through education. Sometimes they're planned, and sometimes life itself has unexpected twists. If you're determined to get your career moving, and are getting a post-secondary education to make it happen, it can be frustrating when that education is diverted or delayed.
Maybe you already attended college or university and were unable to complete the program, or you're looking to jump ship to another school. Or maybe you're a mature student who's already learned practical things relevant to your career from life or job experiences, and it would be repetitive to take classes on things you already know. Either way, you want the credit, but don't want to repeat steps you already took.
That's why Centennial College has its Pathways to Credit options, designed to allow students the chance to transfer credits from another school, or prove that they already done the learning from other experiences. I spoke to Rachel Oh, a Pathways Advisor at the Centre for Academic Quality. The most important message of Pathways to Credit is simply that you don't have to start over. Your old education wasn't a waste of time, and Centennial can help you finish what you already started somewhere else, instead of starting over. So, you'll be advanced to your proper place, with all the time and money savings that come with it.
Pathways into Centennial
The idea behind the Pathways to Credit program is to acknowledge the education you already have, and allow it to count towards your program at Centennial College. You get what's called a transfer credit, letting you skip a course in your program due to previous knowledge.
"If you get a transfer credit," Rachel explains, "you're getting advanced standing, and you're getting further along in your program. The benefits, aside from not having to repeat what you already know, include potentially saving your money and finishing school faster, perfect if you're anxious to complete your education and get your career going."
If you have enough education before taking your program, you can even use transfer credits to skip up to 75 percent of a program. Even if you only manage to skip a single semester, this will still give you a break in tuition. Because of this, Rachel recommends applying for all your transfer credits at once, because of the potential savings that come from eliminating multiple credits at once.
What can be transferred
Any education from a recognized college or university route is considered fair game for a transfer credit. What's important is that the content is similar to a course at Centennial College. According to Rachel, a course has to be 80 per cent similar to the learning outcomes of the Centennial course. General education classes are a common source of transfer credits, as are communications courses. You'll need to have passed your courses with at least a C grade in most cases.
International students can benefit too, since the courses you use for transfer credits don't have to be from Canada, though you'll need to get your education evaluated. "If anyone has an international credential," Rachel explains, "we ask that they get that credential evaluated through World Education Services or International Credential Assessment Service of Canada. That report will tell us if it's a recognized institution, and will also convert the GPA to the Canadian system."
One exception to the transfer credit system is private career colleges, or other bodies that run courses, which can't be credited through transfer credit. However, if you've come out of such an institution, you're not out of luck. Instead, you can get credit by participating in something called Prior Learning Assessment and Recognition, or PLAR.
How PLAR works
"It's for everything else," Rachel says of PLAR, created to give students ways to earn credit for anything from courses at private career schools, to independent study, to plain old-fashioned work experience.
"Previous post-secondary education can also be included in PLAR, for example, credits from a private career college," she explains. "Or, if you did your schooling internationally, and then it came out as an ineligible institution, you could go through PLAR instead. Otherwise, some other potential candidates are people who have work experience or personal interest, like someone who has read up everything on computer programming and maybe took a Java workshop and now they have some basic knowledge of the program. All learning that you have gained from previous experiences can fall under PLAR."
That being said, you will be tested on your knowledge, to prove that you have it. "A big misconception with PLAR," Rachel explains, "is you get credit for your experience, and that's not the case. You get credit for demonstrating your learning. With PLAR, you have to do some type of assessment. It could be an exam, it could be an interview, a portfolio assignment or a combination of these things. But at the end, you're getting an assigned grade based on your learning." There's also a fee associated with taking a PLAR assessment, though it's less than the price of a course itself, and aside from the money, there's no other risk, even if you don't pass the assessment. "If you fail," Rachel says, "it doesn't show up on your transcript, you just have to take the course. If you pass, you'll get a grade assigned."
Don't delay, but also don't worry
If you think you're eligible for credit for previous course or experience, it's important you start the process right way, since there's a deadline each semester, which you can view on the transfer credit and PLAR FAQ pages.  "We encourage students to apply as soon as they're accepted to Centennial," Rachel stresses. "The sooner you get your transfer credits, the sooner you can potentially change your schedule. If you wait until you're in class, you've probably missed the deadline." This is particularly important for PLAR, where the process, including the assessment, can take some time, so it's better to start it early. If you're a current student, and are only becoming aware of this now, don't worry, you can still participate. You can get transfer credits any semester, so long as you meet each individual semester's deadline.
More information
"The whole transfer credit application is online," Rachel says. But if you need more information, you can contact pathways@centennialcollege.ca for some advising.
"One of the largest problems that we have," Rachel says, "is that students don't realize Pathways is an option. They find out when they're in class, or from a classmate that says they got out of a course, and by then it's too late, or people don't think that their university courses will transfer to college. We just want students to know that these are options available to them." And with the potential to save your time and money by making use of what you already know, it's certainly worth trying for.
By Anthony Geremia