Four essential jobs that make the world go round (that you should get)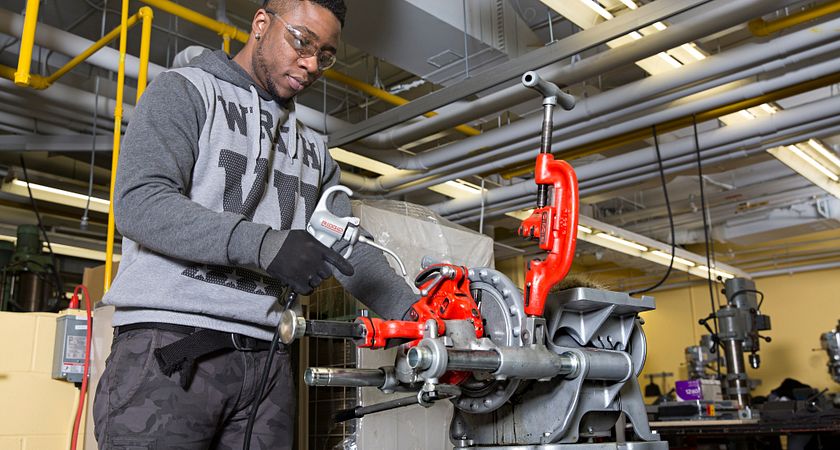 When attempting to gain a foothold in the job market, a winning strategy is to identify the jobs that, in one way or another, everyone needs in their lives. Think about the services in your own life that you've come to rely on, like power, heat, and the Internet, and the professionals that maintain them. If you can become one of those professionals, you'll access both a permanent job market and a reliable opportunity for financial gain.
What are these jobs? Frequently, they're hands-on technical careers that involve practical skills, which is why a lot of them involve apprenticeships as part of their training. At Centennial College, many of these careers are taught through the School of Engineering Technology and Applied Science, thanks to its laboratories full of equipment to practice on, not to mention its partnerships with outside organizations. Here's a look at four of these essential positions:
Keeping you warm (or cool) Heating, Refrigeration and Air Conditioning Technician
So, how cold is it right now? These last few weeks, we've seen temperatures so low that staying outside is a legitimate medical hazard. It's cold enough that we see articles like this piece from the CBC about how to stay safe in that same weather. In temperatures such as this, proper heating isn't just a comfort, but a genuine life necessity. Of course, Canada is a country of extremes, and we spent this last summer going through a heat wave of similar proportions, making air conditioning a similarly life-saving necessity. Naturally, sooner or later everything breaks, and when you lose the ability to regulate the temperature and become victim to the elements, a Heating, Refrigeration and Air Conditioning Technician is who you'll be calling. As a technician, you'd be the one to install and maintain these units, an important public service any time of the year. Centennial College's Heating, Refrigeration and Air Conditioning Technician program involves students being taught both practical knowledge and fieldwork at a paid co-op work placement, thus ensuring that you've already spent time out in the workforce before you even graduate, and are taught the necessary skills to keep the people of Canada warm (or cool.)
Keeping the lights on: Electrician Construction & Maintenance
Speaking of the weather, remember Christmas 2013, when the Toronto blackout happened and many of us were left in the cold with the lights out? Here's a story from the Huffington Post about the early days of that blackout, which stretched until after Christmas for some. One thing you'll notice is the dedication of Toronto Hydro workers, who were responsible for getting that power back up and running.
If you become an electrician, you won't need to work such demanding hours, but you will be responsible for ensuring such a situation does not happen again. And if you're an electrician in the field of construction and maintenance, you'll work to ensure that the structures you set up are as blackout-proof as possible, to begin with. Centennial's Electrician Construction & Maintenance program gives you the ability to take on this role through a three-year program that combines the college experience with on-the-job training from an employer. At the end of it, you'll write a special exam that qualifies you for a certificate of apprenticeship from the Ministry of Training, Colleges and Universities, signifying that you are certified in your occupation, and that the lights will stay on in your career.
Keeping the 'net running: Networking Professional
They say no force is more powerful than a couple of techies that have lost their Internet. The funny thing about modern life is that most of us aren't really techies, and yet almost all of us rely on the Internet and computers for life and work. And nothing is more of a psychological blow than having that Internet go down, realizing all the things you can't do and don't know how to fix. If you're one of those people that's already technically inclined, you may be the one your family and friends call up when that situation happens. Getting into the networking business formally means you'll do what you already do, but make money at it. Not only that, but you'll be doing it for businesses and the government, instead of your family and friends.
Of course, that's only the most basic application of computer technology, and our Bachelor of Information Technology (Computer and Communication Networks), Honours degree program can show you how to do much more. There's a critical need in the province for networking professionals in a formal setting, and the unique-to-Centennial degree program exists to support that need. The program teaches both technology and business, and will enable you to manage technology and networks for both the public and private sectors.
Literally building the foundations of the city: Construction Management
There's an adage in Toronto: We only have two seasons, winter and construction. It's true that as soon as the snow and ice is off the ground, road cones, yellow signs and hard-hatted workers pop into existence. While drivers and commuters may grumble, it's necessary work to keep the roads and the city itself in shape. But if you stop and think about it, the ubiquity of construction in Toronto means there's always a need for workers to get the job done. And if you want to do a bit more than just lay bricks, it's possible to become a Construction Manager. Centennial can help you make this happen with its Construction Project Management, designed to show you how to manage a large project's construction environment, including financial, administrative, human factors, with an additional focus on protecting the environment. Who knows? You may be able to make that lengthy construction season run more effectively than it does now.
By Anthony Geremia