School of Business leads students to win at Ontario Colleges Marketing Competition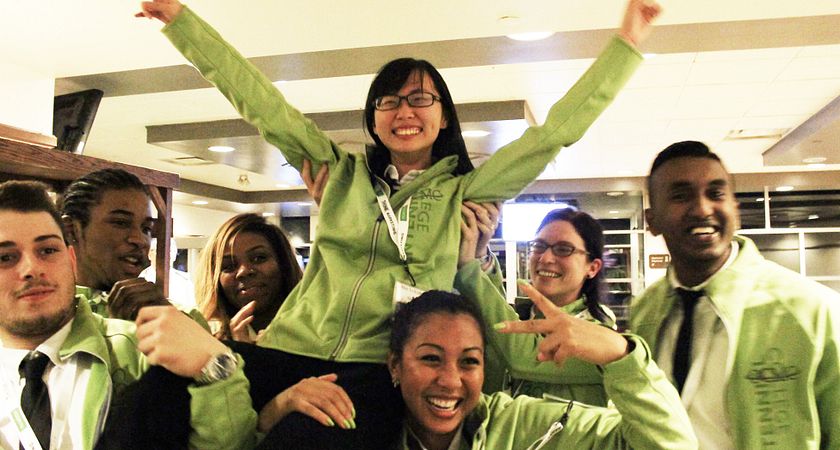 Centennial College is constantly striving to connect students to careers. Centennial's School of Business does this by offering relevant programs based on input from business experts and leaders, organizations, and alumni, connecting students to jobs through hands-on experience, co-op, learning placements, and degree partnerships. Students use their classroom experience to create tangible achievements which they can use in the future to advance their career, such as in the annual Ontario Colleges Marketing Competition (OCMC).
This previous OCMC was held November 20-21 at the Blue Mountain resort in Collingwood. The OCMC is a competition that sees marketing students test their skills in a series of competitions which simulate the business challenges they will eventually encounter in their careers.
This year Centennial College's team, CENARGY, proved their mettle by taking home two first place spots. A marketing team consisting of students Kogul Balachanthiran and Shane Pilon snagged first in the Retail portion of the challenges, while Cathy Lieu won first in the Quiz Bowl. But it was a long, hard road before the students even got to the competition, and it was up to the faculty from the School of Business to select and train candidates for the challenges. Here's how the School prepared these students for success, and how their win will pay off for them in their eventual career.
Preparations
Kathleen Leslie teaches marketing and business courses in the School of Business, and has coached Centennial's OCMC team for the past four years. While anyone in marketing can volunteer (and is encouraged to), not everyone is going to make the team. "Students have to interview for the position," she explains. "Scouts meet with the coaches and decide which students work best for each challenge." From there, the preparations begin.
"If they get in," Kathleen continues, "they are trained by the coaches starting in September or earlier. They are required to do anywhere from four to eight hours of training per week." It's not for everyone, and students have to be willing to commit that significant chunk of their time, a challenge while still balancing a full course load.
As a coach, Kathleen's job is to teach students about areas they haven't studied in school, including retail marketing, her specialty. "My job is to help them understand how retail operates, and train them in that. Some of the students had not yet taken courses in those areas. You almost have to teach them the course, as well as how to do the event."
Another component of the preparations was research into the area the competition was held, Collingwood in this case. "Cases can often be about the sponsors or the businesses in the area," Kathleen explains, "so we looked at what major and small businesses are located there. We also did some research into the demographics."
Building a team
While the knowledge provided by the training is important, it's equally essential that the students in CENARGY learn to work together, both for the competition, and for their future. In the world of business, it's important to be comfortable with who you're working with, particularly when the pressure's on. "You're often paired with a total stranger," Kathleen explains. "They don't know each other, they've got to learn to trust each other, and step in to help each other."
In order to prepare students for this, they participated in Performance Enhanced Training Sessions, or PETS. "It's group training," Kathleen says. "Everyone's new, no one really knows each other. The first one even involved an improv actress. By the end of the night, students are exhausted, because they've been running around all night, but she pulls them out of their shells, and it's great fun. We have this great group of 24 students or so, and by the day of the competition, they've really gelled together."
 The Competition
OCMC consists of 11 events, including a Jeopardy-style quiz bowl, a sales presentation, and a mock job interview. The centrepiece of the competition, however, are eight case studies, which each of the 13 participating colleges assign a pair of students to tackle. Each case presents the students with a business problem, and tasks them with inventing a solution under a time limit. Kathleen explains more of how it works.
"The students are required to go into a room," she says. "They're given a case they've never seen before, they're given a laptop, a USB, paper and pencils. They have 30 minutes to read the case, analyze the problem, come up with a SWOT (Strengths, Weaknesses, Opportunities, Threats) analysis, alternatives, a recommendation, and an implementation. They put it into a slide presentation consisting of about seven slides, and then they're escorted to the judges' room. There are typically three or four judges, and they have 15 minutes to present the case to the judges, using their own knowledge. There are five minutes for questions and answers. So, it's pretty intense." Shane and Kogul's business case, for example, was coming up with marketing strategies for a diner that was rapidly losing business.
What's in it for the students
The most important aspect of the win is what it will do for the future careers of the participants. "I tell every student," Kathleen says, "that the first thing they should put on their resume when they finish this competition is that they were a participant in the OCMC, especially if they have placed. That speaks volumes, because you're competing against 13 other colleges in Ontario. If I was hiring a student from Centennial, I would really look at that as a great accomplishment. If I was looking for someone to market for me and sell for me, then I would want to know that they had those presentation skills."
Aside from that, it gives students real-world business experience, since, as future marketers, coming up with business plans while under a time crunch will be an inevitable part of their career. "The biggest thing for them is the experience," Kathleen gushes. "When you think about marketing, it's coming up with new ideas, and great ways to promote or sell a product, and that's what students are doing, coming up with new ways to grow or develop a business. Because it's a marketing competition, I believe it really helped bring a broader understanding of what's out there in the industry today."
Ultimately, it was the education and training received at the School of Business that made the wins possible. "It gave them enough background on marketing, and understanding the concept of marketing," Kathleen says. "It gave them that base. The competition is an amazing opportunity for marketing students to really build upon their schooling, what they're learning in marketing, and be really proud of themselves for how much they accomplish. By the end, they are so very, very happy that they did it."
Next Time: A closer look at the winners of the Retail competition, Kogul Balachanthiran and Shane Pilon, how they won, and what the college did to prepare them.
By Anthony Geremia