How two business students found a path to success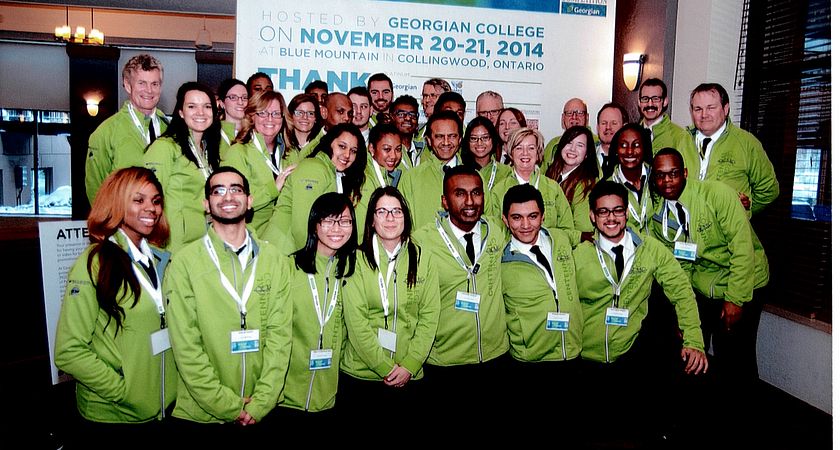 When it comes to developing skill at any career, hands-on practice will always be the best way. Last entry, we talked about how the School of Business gives students the chance to practice their business skills competitively as part of the Ontario College Marketing Competition, but to bring you up to speed, it's a two-day marathon event where 13 colleges compete in a series of marketing challenges. Teams are created from the best and brightest students, and they're trained to be ready to come up with creative business solutions in a short span of time. Centennial College's team was known as CENARGY. Kogul Balachanthiran and Shane Pilon, a pair of marketing students, were among the Centennial College competitors to take home the gold, winning first place in the retail segment of the marketing challenge. 

The Competitors
Both students are currently enrolled in School of Business programs at the college. Kogul Balachanthiran is in a Marketing co-op. In his own words, he enrolled in the program because "a lot of experience in marketing is based on connections and networking, and the school teaches so much theoretically, in application and with hands-on experience. It's just at a whole other level." He hopes to turn his education into a job as a brand manager for an auto company, since he has experience in the field. Shane Pilon is a fifth-semester Business Administration student. He initially studied entrepreneurship, but decided to transfer over to marketing in his second semester. He hopes to attend university after Centennial, and become a venture capitalist.

Call to action
Both students volunteered to become a part of this year's OCMC team based on the encouragement of their instructors and peers. Kogul was also drawn to the possible experience he'd gain in presentation skills, an area he felt he was lacking in. "One thing about it is the fact that you prepare a presentation in 30 minutes," he says, "so a lot of it involves enhancing your currently known skills, toning and honing them, making sure they're pristine and ready for when you enter the business world. So in 30 minutes you'd better have good analytical skills, and know how to work in a group."
There was more to joining the team than simply signing up, though, including a series of interviews to determine if they had the right stuff. Shane walks us through it. "The initial interview was with Linda Traill and Brian Press [two marketing instructors]," he explains, "and they were just trying to see where your strengths were, and to fit you with a partner. So they see if you're good at math, if you're analytical, if you're critical, and try and find the best match for you."
In the end, the pair were selected for the retail category, something that took Kogul by surprise. "Unlike Shane," he admits, "I had no retail experience, and when I was called and told I made the retail category, I said that's interesting, because I'm only taking the course now, and I feel so underprepared."

Prep work
Fortunately, that inexperience would be fixed by the preparations the coaches, consisting of faculty from the School of Business, would give them. For Shane, the most useful aspect of this training was learning how to come up with business solutions while under a time crunch, a solid business skill even outside of the competition. "The most useful course for this competition was the Case course," he explains, "where we learned to analyze cases and come up with alternatives, which is just what we do in the competition. Also, Brand Management and Retailing, which I've also taken. Those helped especially because I was taking the Retail case. You get a really good fundamental aspect of marketing all around."
Training was tough and time-consuming, especially since the pair were going to school full time, and in Shane's case, balancing a part-time job. Despite this, Shane credits Kathleen Leslie, their Retail coach, as using that toughness to better the both of them in ways that will give them skills for their future career. "She'd tell us: Does that actually increase your customer base, what does that really achieve, does that solve your location strategy?" he says. "And most of the time, it doesn't. And now, if I was to do it again, and do other cases, it's totally different, and I'm a lot better at retail strategy."
A final, equally important bit of training was team-building exercises, both with their partner, and with the rest of the CENARGY team. "We were all very segregated at first," Shane admits. "No one was really talking to each other, everyone was kind of just shy, and by the third meeting, we were all talking and laughing." These skills would prove essential when it came time for the competition itself. "A lot of the other groups were stressing," Shane says, "and we were cracking jokes. That's what really set us up, we didn't have that nervousness, we kind of just let it go with laughter."
Next: How the duo won their event, and what their victory gained them.
By: Anthony Geremia