How two business students found a path to success, part 2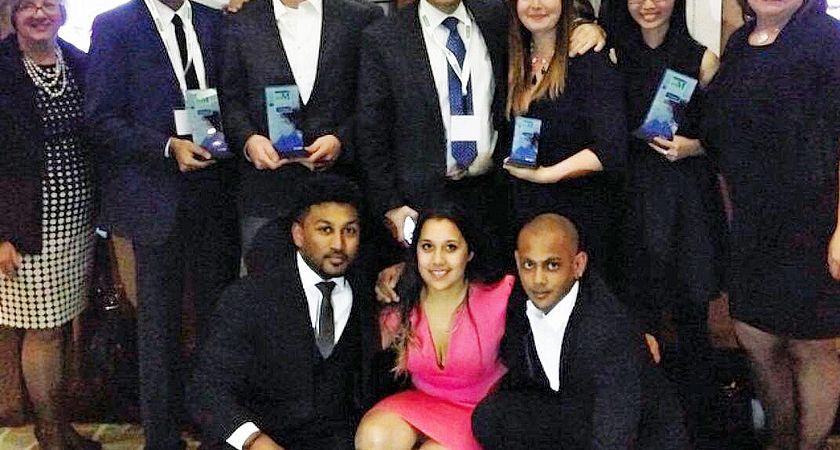 Centennial College's School of Business has been connecting students to relevant business skills for years, and students get a chance to both use those skills and develop new ones as part of the annual Ontario Colleges Marketing Competition (OCMC). Among the awards received by Centennial's team of students, called CENARGY, were first place in the retail marketing challenge, where students Kogul Balachanthiran and Shane Pilon competed to create a business solution for a company losing market share. We previously talked about the preparations the pair did with the School of Business, but after that prep work came the actual event, a chance to use the skills taught by the school in a competitive environment.
The Competition
The centrepiece of the OCMC competition are eight case studies. A two-person team from each college is given a business problem, and 30 minutes to solve it, with only a computer and paper to guide them. They then have to create a Powerpoint, and present their case to industry judges, who can and will grill them over it.
Kogul and Shane were presented with the case of a diner in the Collingwood region (where the competition was held) that was losing business. "The problem was that their market share was going down," Shane explains. "Older seniors, their previous target market, were leaving and going to Tim Horton's and McDonalds for breakfast and lunch." 
Despite the simplicity of the premise, the two of them were immediately taken aback, due to having practiced on problems involving larger retailers. "We were freaking out," Shane confesses. "We've never done a diner before. We'd always done big retailers like Costco, so we were used to having SKUs and other retail things like that, so we had to be really creative."
How they won
"What we had to do was think of something outside the box," Shane explains. "Our alternatives were a food truck, targeting a new segment, changing up the menu to healthier options, and renovating the store, because it was hinted at in the case that it was a bit of an older establishment, so we assumed it was kind of run-down." 
More important than their strategy was the hard data behind it, though. One of the School of Business's tips given to the pair for preparation was researching the area of the competition, and thanks to that, they were aware of Environics, a market research tool for demographics based on postal code. Kogul credits that understanding of the market with locking in their victory. "The thing about marketing is that a lot of it is just connecting with people," he says, "and once you understand your target market, it kind of expands your opportunities to understand what can be done and what can't be done." 
"Based on the Environics," Shane adds, "we can tell you exactly what the customer wants to eat. And it just elevated our presentation from 50 per cent to 100 per cent. We made a better presentation by bringing numbers into the case. The judges loved it too."  
Rewards
For Kogul, an important reward from the victory was simply confidence that he'd chosen the right program, school, and life path. "Winning gives you that sense that my investments are worth it," he says. "Not to say I had to win for it to be worth it, but it gave me that confidence. It's a kind of sign saying you're able to do this, you're able to beat out this many schools." More importantly, the skills he picked up during his training will be ones he'll carry for life, and into his future career. "Going forth," Kogul continues, "if I was going to do a presentation, I would know how to do it well. I know what works and what doesn't work, and I know how to carry it out."
Shane echoes this sentiment. "Presentation skills, analytical skills, and learning overall marketing concepts through one-on-ones with professors, that's the most valuable experience," he says. He also passes along the message that the experience was of incredible value for a marketing student, and that anyone looking to enhance their career qualifications should look into it. "Marketing students should at least try to make the OCMC team every chance that we can," he adds.
By Anthony Geremia