Another path to your own success: Martin Chan, New Pow Inc. and ACCEL
This past year, Centennial College launched ACCEL, the Accelerator for Centennial Community Entrepreneurs and Leaders. The goal of the venture is to connect enterprising youth in the eastern GTA to an entrepreneurship eco-system that will provide the resources and mentorship needed to start their businesses. As part of the program, entrepreneurs with history at Centennial were invited to take part, one such entrepreneur being Martin Chan, the Chief Marketing Officer of New Pow Inc. Like many students, Martin was connected to success through Centennial's programs, and now hopes to give back to the community that helped set him up.
Education and Connections
Martin's career began at Centennial College, where he studied environmental science. It was the networking opportunities the college provided for him that allowed him to connect with New Pow Inc., since one of the company's founders also created the Chinese Canadian Student Association at the college. "The founding partners were all from Centennial College," he explains, "and they reached out to me and asked if I wanted to be a part of this team, so I said yes. Centennial College provided me with this wonderful platform, so that I had the chance to meet all the partners that I'm working with now."
Martin became a part of New Pow because it fit his previous interests and expertise extremely well, and he saw an opportunity for personal growth. "Because of my background in environmental science, I decided to join," he says. "It was something that catered towards my interests, and what I originally took at Centennial College. It also promoted what I wanted to do. New Pow has since been a learning experience for myself, and my whole team. It's something that's close to my heart, because I have worked on it very hard in the past, and it's always been a passion of mine."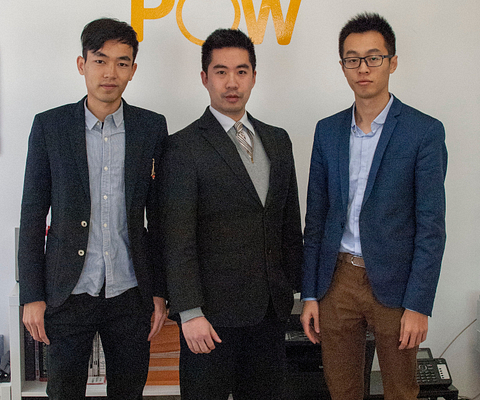 New Pow Inc.
New Pow is all about energy-efficient LED lighting, with an eye towards saving money on the consumer end, and saving the environment along with it. The purpose of the company is to do retrofitting for commercial and multi-residential complexes around the GTA. Martin explains better: "We saw a growing need for sustainable energy, so New Pow decided to provide a safer, greener and more environmentally friendly approach in the light and energy efficiency industry. We help clients achieve better cost and energy savings in the long run by switching over to LED lighting."
Paying it Forward
Thanks to Centennial College's ACCEL program, Martin has a chance to give back to the school that helped him get started, by passing along his experience to the next generation of entrepreneurs. It was Donovan Dill, ACCEL's leader, who helped facilitate this. "We met Donovan through an entrepreneur event," Martin explains. "He mentioned to us the possibility of participating in the ACCEL program, and that's why we're here today. We hope that by participating, we'll not only help ourselves, but other entrepreneurs as well into becoming a better part of society, giving back what we can and just learning from everyone else as much as we learn from ourselves."
Some of that giving back comes in the form of advice for upcoming student entrepreneurs, which he's eager to give out. "The two things that I'd like to pass on to starting entrepreneurs out there," he says as an example, "are time management and following your own passion. Without these two things, you would have nothing to fall back on. Understanding where you stand, understanding what you like, what you love and what you need to do to achieve your goals is the most important part. Having time management is something that's not emphasized enough, because knowing your own deadlines and setting your own guidelines is every bit as important as having that passion. Without a proper timeline, any passion you have is just a dream."
"I'll say to any students currently at Centennial," he says as words of wisdom, "always, always focus on what you want to do for yourself, not what you want to do for other people, because part of my decision to participate in this New Pow experience was to better myself and discover what I really wanted to do. It's just a lot of understanding and self-discovery. To any current students or alumni, it's all about taking chances- but always understand and be prepared to take a leap of faith when it counts."
By Anthony Geremia