How Centennial helped rising star Kadeem Daley save lives and heal communities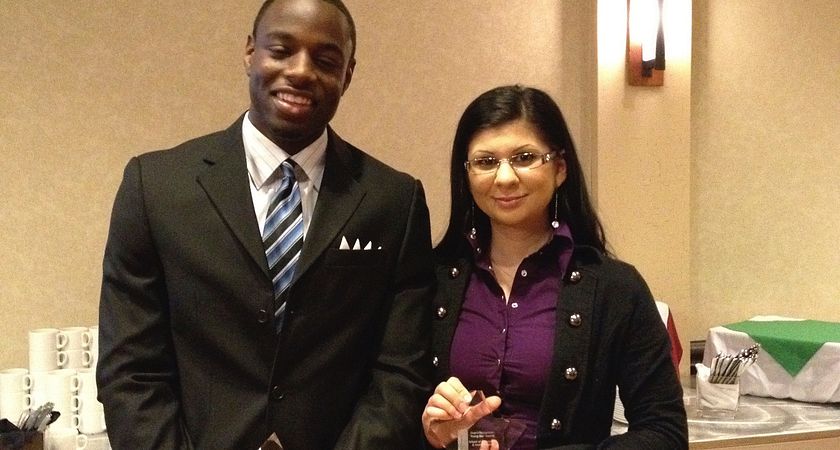 Centennial College encourages its students to excel, and the college isn't shy about students that embody the college's standards of excellence and social responsibility. The Rising Star award is given out to students in the School of Community and Health Studies who have accomplished special things, and Kadeem Daley was among the first winners. The award was actually created because of the story of Kadeem and his classmate Diana Pahl, and the Child Studies program wanting to acknowledge their tremendous efforts. It has been given to students every year since. A graduate of the Child and Youth Care program, Kadeem used his quick thinking to save a young person's life while at his second-year field placement. Here's how it happened, and how the program made his successes possible.
The Placement
Kadeem views child and youth work as a challenge he wants to dive head-on into. "I wanted to work with the most difficult kids since I was 16," he says, "so I had to expand my horizons." This desire for more knowledge would bring him to the school.
"I decided to go to Centennial," he explains, "because it was an opportunity to learn more about how to actually engage with kids. I knew I wanted to work with kids, but not necessarily teach them. I wanted to be a part of the process of developing them in the community, and engaging them in a better aspect of life and making them see through different lenses." Part of the program involved a field placement at a group home for troubled youth.
"They have an extensive amount of programs available for students to practice, so Centennial College is closely knit with them," he explains. "That's one of the reasons why I went to this placement, because it was a second-year residential treatment program, and as part of the course in the Child and Youth Care Program, they have to experience a residential treatment program." It was at this placement that the incident would take place.
Call to Action
While at field placement, Kadeem would have to use his quick thinking to save a life. "One of the kids working at the group home tried to hang himself," Kadeem says. "He was unconscious, with no signs of life, and I had to bring him back with CPR." Fortunately, Kadeem is also a CPR instructor, knowing how to perform it from the age of 14. "The individual was a 16 year old boy living in a group home going through a lot of struggles in his life," he continues.
Fellow award winner Diana Pahl had her own role to play as well. "During the CPR process," Kadeem explains, "she was making sure that kids were not running around the house, because they were panicking, and she helped call the police."
Crediting the school
Kadeem credits the Child and Youth Care Program with helping him prepare for the incident "It was ironic, because a week prior to the incident, I was in class, and my professor spoke about things that could happen like this, and then it happened," Kadeem says. "She said it can happen, and if it does happen, what are we going to do about it. And we had to do scenarios, brainstorming about possibilities, and things that we need to do in that case."
Since graduation, Kadeem has been working at North York General Hospital as a mental health counsellor, and is going to Ryerson University to study social work. Despite the seriousness of the incident, Kadeem remains dedicated to his profession. He recommends the career to students looking to make a difference, but warns them to be prepared. "Know what you're getting into," he says as advice. "You're not going in for yourself, you're going in to work with a community, to work with kids."
Despite this, he still loves his career. "The reward is seeing the progression in the child," he says. "The reward is knowing you're making a difference."
By Anthony Geremia