Make your resume competitive with one test: Microsoft Office Specialist certification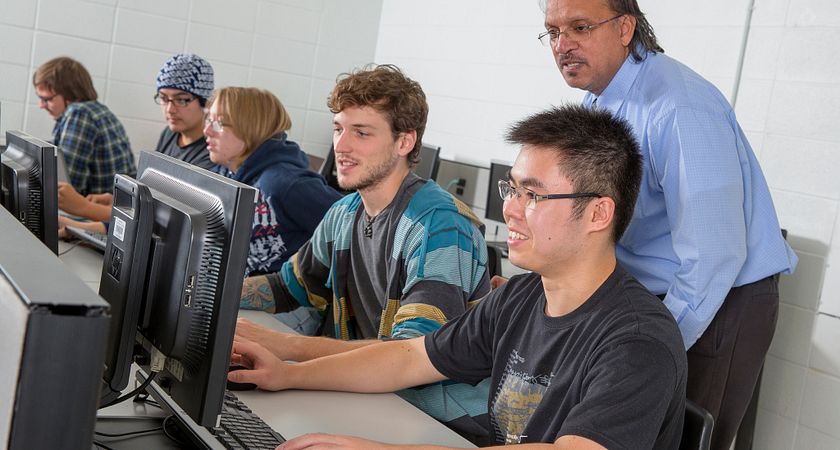 Today's job market is very competitive so anything that can help you stand out from the crowd is an asset. Microsoft Office, including Word, Excel, PowerPoint, and other apps are almost universally used across all businesses. Learning them is easy, but mastering them takes a bit of skill. If you want to show an employer that you have that extra skill, then an industry certification will give you that competitive advantage. One such credential is the Microsoft Office Specialist (MOS) certification, and you can get it at Centennial College, out of the School of Business' Certiport Authorized Testing Centre (CATC). It's a great way to build your credibility, and make you stand out in the job market.
Why you want it
Kerri Shields is a professor at the School of Business, and coordinates MOS certification. She explains what a student needs to bring to the table when writing one of these certifications. "You should have some skills in Microsoft Office," she says. "You should have either taken a course, such as the computer courses we teach in the School of Business, or an Office Administration course. That's the first thing, you have to know the software."
Centennial College aims to teach its students useful job skills, and because of this, most of its courses involve Microsoft Office in one way or another, making a large majority of students applicable for the certification. "At the School of Business, we have lots of students that take those kinds of classes as part of their program," Kerri explains. "The Schools of Engineering Technology, Hospitality and Tourism, and Continuing Education offer similar desktop computing courses, so I wouldn't say the certification is for any one group of students in any one program. It's for everyone."
The reason for this is simply that it's a valuable job skill, no matter what career you're in, and getting certified in it will help set you apart from most other applicants. "We all need it before we step out there on the job, because these tools are used in everyday business," Kerri explains. "In every job position these days, a basic foundation is knowing desktop computing, and Microsoft Office is the standard."
How it works
One of the most important things that sets Centennial's Certiport Autorized Test Centre MOS certification apart from most test centres is that access to practice tests is included when your register for an exam. Kerri recommends students register at the Hub or by phone at least one month in advance of their test date, to give themselves time to complete the practice tests and prepare for success. "When they sign up for one of the Microsoft exams," she says, "they also are given a practice test. And those usually cost extra money in the industry, about $75 alone, but we're packaging it with the exam itself, because the practice is a valuable preparation tool."
In fact, the price is another huge advantage that Centennial's Certiport Test Centre offers. The cost is only $70 for each exam (including practice tests) and these are the same Microsoft exams delivered in every Certiport Test Centre around the world. "It costs about $125 to $150 per test at most other Certiport Test Centres." Kerri continues, "and this does not include the practice exams. So the benefit for our students taking these exams and getting MOS certified right here at our college is they save money, they gain access to practice tests, and they can do it all in one convenient location."
Getting credit
"Once students pass one MOS exam," Kerri says, "they get the Microsoft Office Specialist credential. Obtaining your MOS certification builds self-confidence, heightens your earning potential, and enhances your professional image among peers and managers."
While any level of certification can be put on a resume, there are eight exams in total that students can take to obtain Expert and Master levels of certification. "I recommend to my students to do at least one of them, and to check what the duties are of the job they're applying for," Kerri adds. "Wouldn't it be nice to go into an interview and say, yes, I'm Microsoft certified? That holds some weight with employers as it shows legitimate competency in your skill set, and it might just be that edge that gets you hired."
Find out more by visiting our Microsoft Office Specialist Certificate webpage.