Centennial graduates help black youth tell their story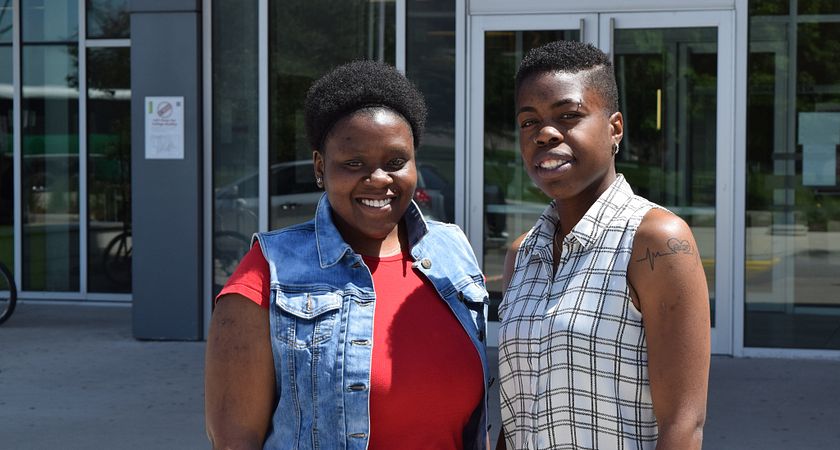 One of Centennial College's commitments is to enable its students to create positive social change. That's why we give students the opportunity to engage in projects that really matter. This was the case with Denise Dunn and Priscella Millwood. Both are graduates from the college's Child and Youth Care program. Thanks to the opportunities the program gave them, the two now work for the Office of the Provincial Advocate for Children and Youth, on something special called the Hairstory project, designed to help those that make laws understand the experience of black youth in care.
Coming to Centennial
Denise's decision to enter the child and youth care field came from seeing her aunt on the job during a Take our Kids to Work Day. In addition, her mother had graduated from Centennial for law, so Denise decided to combine the two educational paths and come to the college.
For Priscella, it was something more personal. "I wanted to be a child and youth worker because I grew up in the system," she explains. "I came into the child welfare system at the age of ten. From there, I've been to group homes and foster homes, so I got an up-close vision of how a child and youth worker is supposed to be."
This inspired her to enter the field herself, to give others the treatment she had wanted. "Being a child and youth worker," she continues, "I'm able to listen, be attentive and be different to youth who are in care, because I didn't get that support."
Child and Youth Care at Centennial
"For me, it was about having a positive role model around, and that was the teachers and the community I was in," Priscella says of her time in the program. "Centennial College was like my second home, and helped me survive in different situations."
"It was the teachers that made it a huge success," Denise says in agreement. "Having that rapport helped a lot. College can get stressful, especially when you have other commitments outside of school, and just having the teachers there, you were able to sit down and talk to them, have understanding and just be open with them."
Out of all the skills learned in the program, Denise considers communication to have been the most valuable. "How to interact with youth is the biggest thing," she says, "because we've seen how people interact with youth in care. It helped us to understand youth, provide support and to listen. That's what any youth in care wants: Someone to listen, not tell them what to do, but listen."
Their experiences were enhanced by the field placements available in the program, which were designed to be convenient for the students. "They try and pair you somewhere that's close," Denise continues. "Mine was within walking distance of my house." She credits that with helping her success, since she didn't have to travel far.
Advocates for Change
The pair first connected with the Office of the Provincial Advocate when Priscella was invited to be a guest speaker at a conference in Barrie for Child and Youth Care Day, where he had the opportunity to tell the story of her experience. She invited Denise along with her for support.
"We met some of the management from the Office," Denise explains. "From there, it was just a connection. We introduced ourselves, let her know that we were graduating from school, and we'd read up on the office, so I was asking her questions on their current projects." From that, they'd submit applications, and got hired on.
"I was nervous, but I decided I could do it," Priscella says about starting the job. "We travelled to many places, and interacted with many youth across Ontario. Working at the office has given me the privilege of pushing myself to do more."
The Hairstory project launched in October 2012. "It started with black youth in care calling the office, talking about their hair," Denise explains. "They weren't getting the right products for their hair, and with that, the project launched, taking it to more than just their hair."
Aside from giving the project its name, hair would be used as the springboard for the next phase. "The youth were able to go to a salon or barbershop," Denise continues, "where they were able to experience getting their hair done, as youth in care don't always get to go to a salon, sit down and just share their personal experience with each other. The following day, they sat down with community leaders and government policy makers, and they were able to express their concerns, and what recommendations they'd have for change."
"Out of the data we realized they were lacking awareness of their culture and their identity," Priscella says. "As a black youth in care, it's hard to identify yourself as black and also go through the experience of not having the proper resources or necessities that can help a black youth function properly in care."
"With that data," Denise adds, "We're going into our third phase, called Untangling the Roots, where we're putting together a forum for these youth where they are able to share their stories. By the end of the forum, they're able to present what they'd like to see changed in the care system directly to policy makers, governments, community leaders and so forth. That's what the office really pushes: The youth voice."
The Future
Currently, Denise is also planning to go to York University for History and African Studies, thanks to what she's been learning on the job. She's hoping to become a youth advocate in the future. Priscella is also going to York, for Latin American and Caribbean studies. Her work with the Hairstory project has also given her a new career path. "I want to run my own youth centre," she says, "to provide guidance and necessities for black youth in care."
For other students looking to pursue the same career, Denise says they need to be ready to take their job seriously. "Kids can tell if you're here to help, or you're here for the paycheque," she says, "So make sure you're there to help, because they can tell."
"Trust yourself that you can do it," Priscella adds. "It takes effort, and it takes great knowledge, and even if you don't know or understand, there's always teachers and professors that are here to guide you. Just be humble, patient, understanding and determined."
By Anthony Geremia