Building a business: New Centennial College program creates student entrepreneurs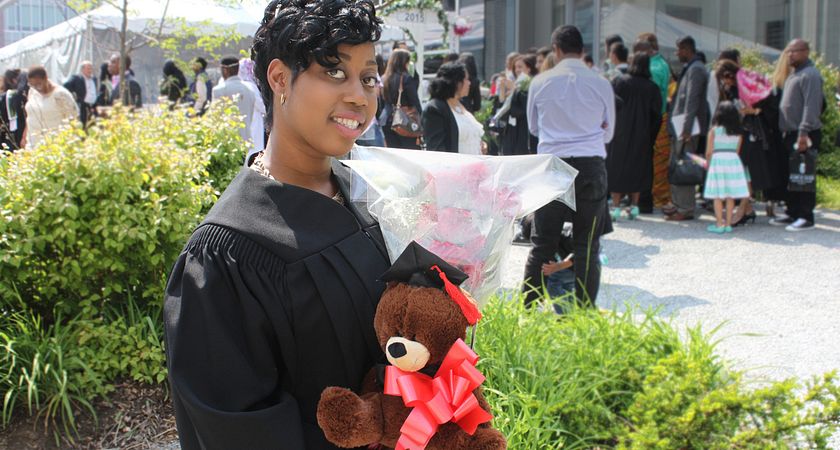 Centennial's Business Administration, Entrepreneurship program began in 2012 and is designed to provide students with the business knowledge they need to put their ideas into motion. Celebrating its first graduating class this summer, Charlene Crawford was among the first students to complete the Entrepreneurship program. A mature student, Charlene came to Centennial to make her dream of developing an ethical children's clothing company come true. Here's how the school helped her out.
Back to School
"Originally I was doing sales, working for Bell. I was there for almost six years," Charlene says of her career before coming back to school. "Prior to that, I was in customer service, where I felt that I could be doing a lot more by starting my own business."
Stability was another issue in Charlene's career. "There were a lot of layoffs going around and my career path would have been to make my way to head office," she says. "Unfortunately, the head office positions were not secure and it was becoming apparent that I wanted to make sure I had a long-term career path set in stone."
This was the final push that led her to pursue her business dreams. "What I decided to do was enrol in school so I could start my own business, have my own support, and fulfill what I'm passionate about," she says.
"I had a lot of friends who attended Centennial" she explains. "It was a positive experience for my friends so it was an easy decision."
As a mature student, Charlene admits she was apprehensive about going back to school. "I didn't want to feel like the old lady at school." Despite her apprehension, she says she was able to blend into college life seamlessly. "I knew that I needed to get this done. It doesn't matter what your age is going into school, so long as you're driven and determined to better where you are, then it doesn't really matter."
To her, the idea that it was a brand-new program only enhanced the experience. "It's exciting because we're the pioneers of the course," she says. "It was worth it."
The first year
"They showed you the basic overview of how a business is supposed to run," Charlene explains. "They show you the operation, the human resource parts, the finance parts, the accounting parts. They give you a good foundation to understand how a business operates, and then as the semester goes on they start to fine tune and focus on what you're interested in and what path you need to take to make your dream into a reality."
To Charlene, the teachers were the most valuable part of her experience. "I feel like accounting was challenging, but I had great teachers who were there to give me extra help," she says. "There is a lot of support and outlets offered to you if you require extra help." She specifically thanks Kerri Shields and Drew Smylie for being inspirations throughout her time at the school, and after.
The best element of this support is that it didn't end after graduation. "Even though class is running Monday to Friday, the teachers are still sending me emails after I've graduated, following up, making sure everything is still going well," she says. "Keeping that constant communication has been a big support for me."
Building the business
Centennial College was only the first phase in building Charlene's business. She's currently in the process of getting her business licence and grants. She is also working in an internship to gain first hand business skills and has completed her business plan – all things the school helped get her started on. "My teachers connected me with individuals who could help me get my dream off the ground," she says. "They showed me exactly where to go to look for grants, what I need to start writing a business plan and how to get a business license. The teachers helped me navigate my way through."
And as for the business? "I want to start up a children's t-shirt label that focuses on shirts that are created organically," she explains. "I want it to be a Canadian brand that emphasizes what it is to be a Canadian through fashion. I want to partner up with a children's group, like the Boys and Girls Club or a shelter, and do something to help children in the long-term."
Charlene's experience at the college has made her eager to encourage other students to join the program. "The program at Centennial is very thorough and the teachers are amazing, so I don't see any reason why you wouldn't want to go to a school that's your number one fan," she says. "They're there to cheer you on the entire way, and if they don't have the answer to a question, they're going to find someone who knows the answer. So choosing Centennial is definitely one of the best decisions to make."
By Anthony Geremia