How the School of Advancement gets you on track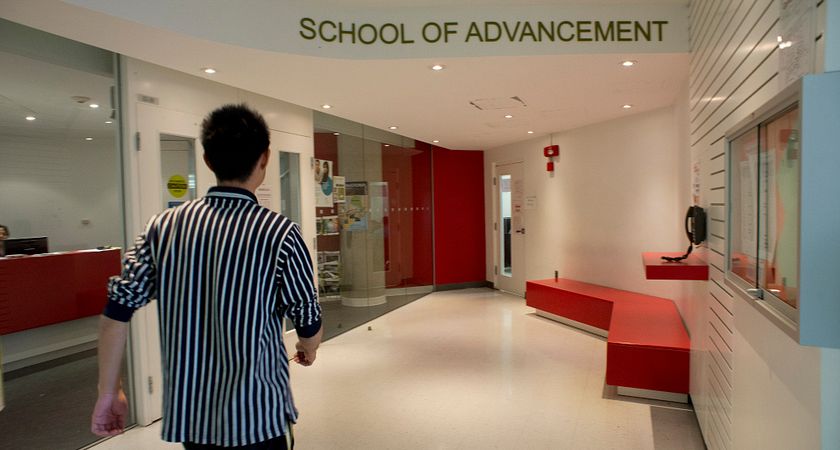 Learning is everyone's right, and Centennial College works to advance the education of every student, no matter their background or level of schooling. At the School of Advancement, the college creates programming to lead all students to a smarter place, as well as help them decide their path going forward. This was the case with recent graduate Michelle Douglas. Michelle had dropped out of high school, and wasn't sure about her career path, but still wanted to educate herself. By taking General Arts, she was able to advance herself to the university level, and discover her passion for social justice, forming the goal of becoming a lawyer. Here's how the college helped on her journey. 
Her story
"I dropped out of high school in grade 9 to work," Michelle says of her lapsed education, "because my family didn't have a lot of money, and we were struggling with mortgages. I went back to school as an adult, but my mom fell ill when I had four credits left, so I'd quit to look after her." Despite it all, Michelle realized the importance of education, and wanted to continue it. 
"I was going to go back to the adult high school," she says, "but someone said, well, why don't you just go back as a mature student?"
"I didn't want to go to university and end up being a C-student," she continues. "I always did well in school when I was there, and I wanted to prepare myself for the future, and it was just the perfect idea, because I didn't know what I wanted to do, and it showed me what I was interested in."
"I was going to do Early Childhood Education," Michelle says of her plans, "but I wasn't really sure about it, and I wanted to do something where I could make a difference. I was told that if I wasn't sure, I should look at the General Arts and Science program, and it was perfect, it was everything I was interested in: Psychology, sociology, ethics, environmental issues."
"What do I have to lose?" she told herself. "If I don't do well then at least I know. My Grandma used to say you can only fail if you haven't tried, and I did amazing. It gave me confidence to know what I want to do in the future now." 
Picking a path
General Arts and Science runs for a year for a certificate, or two years if you want a Liberal Arts diploma, which Michelle opted for. The curriculum tries to teach a mix of everything, and even includes courses taught by university professors from Ryerson. The end goal of this variety is to help students find their passion. 
"It shows you your strengths and your weaknesses," Michelle explains, "and it makes you realize what is important to you. This is the kind of program that shows you who you are as an individual. You'll know where you stand once you finish the program, especially the classes around ethics and sociology." 
In the end, the program wound up changing her viewpoint, as well as helping her find a career path. "I realized that I wasn't really the person I used to be," she explains, "that I had really strong urges to change things in the world, and I actually can do it."
As a result, she intends to pursue a career as a lawyer for social change. "It comes from being at Centennial, especially the global citizenship course," she says of her career choice. "It was just everything I was interested in: Activism, grassroots movements, talk about equality not being the same as equity."
She credits the teachers in the program with helping her change her perspective and find her path. "I had some of the best teachers I've ever had in my life there. They're human, and they want you to succeed."
Her future
Michelle graduated from the program with a host of awards, including the GPA award two years in a row, the George Wicken academy award, the TIM scholarship, and the Academic Excellence award, which she picked up at her convocation. But the lasting effect of the program is how it will affect her career going forward, beginning with the job connections that came from it.
"I actually have two jobs that came out of it," she says. "One teacher got me a job with an advocacy paper out in Scarborough, and I wouldn't have known about it if it wasn't for her. She saw how I was about these issues. Also, I worked with the School of Transportation doing their newsletter as well." 
Beyond that that, she intends to go to York University to study law, to make her legal career dreams come true. Her entry became significantly easier due to Centennial College. "They transferred the 36 credits," she explains, "so I get to start second year at York in September, and I'm not even a mature student. I'm a transfer student. Now I'm prepared."
"Don't second-guess yourself," she says as advice to others looking to pursue the same path. "You'll get scared when exams come, and it may all be new to you, but at the end of it you will come out stronger and more confident, and it will help you, especially when you want to go on to university, because you'll be more prepared. Especially for those that don't know what they want to do, but want to do something, it'll give you that foundation to realize what you're good at, what you're interested in, and what you feel passionate about. That was the key: I found my passion in the program." 
"We're all in this together," she concludes. "The sooner we come to terms with this, the sooner we can make life better."
By Anthony Geremia