Social media for social good: Leslie Hetherington and Senior Care Share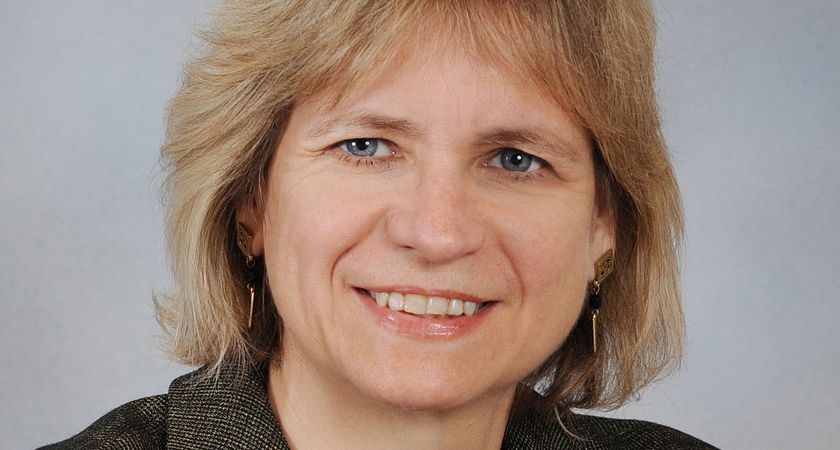 No matter where you are in your career, it's never a bad time to upgrade your skills. Centennial College's programming reflects this, with a number of postgraduate certificates aimed at giving professionals a refreshed set of skills. One such program is Interactive Media Management, designed to give its students digital media skills over the course of a single year. Programs like this are for students who want to keep their skills current. That's why Leslie Hetherington, a veteran of the public relations field, joined. But she'd wind up doing more than just learning. She'd use her skills to develop an online solution for an underserved community in the form of Senior Care Share, a niche social media network designed to help adult Canadians taking care of older family members.
Before Centennial
"I spent more than 20 years in public relations, marketing and communications, both in agencies and working client side in corporations as well as the public sector," Leslie says of her history.
"Much of my recent work was in healthcare," she adds. "It's the sector I like the most, especially where it intersects technology, because there's huge opportunities for us to improve the quality of life and patient outcomes."
In the end, she recognized that the field was changing, and she sought to update her skills to stay competitive. "My background was successful in PR, but communications is changing radically, and you want an increasing amount of skill sets," she says. "So while I had done some digital, with web and content strategies and social media marketing, I wanted to hone more tools in a more formal sense." Looking to update her user experience (UX), analytics and other digital skills, she'd come to Centennial for the postgraduate program.
Centennial College
"The program was very broad, and it covered a lot in only a year," she says of Interactive Media Management. "I liked the fact that it had a field placement at the end, so I could actually get some real world experience in digital. I was also pleased that it was postgrad, so I was dealing with people who had work experience and were closer to my peers than someone just out of high school. Obviously having it all in one year was useful."
On top of the programming itself, she also praises the instructors. "I looked at the coordinator's background, and was impressed with her credentials, because she still seemed to have her hand in the sector," she says. "It looked like a program taught by people who were up to speed on industry standards and progressive, rather than people who'd been teaching forever who were out of the sector."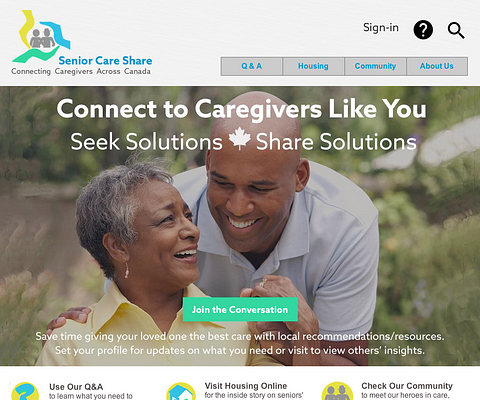 Filling a need
Senior Care Share first came about thanks to the program's senior project. "All the coursework feeds into the senior project," Leslie says. It was group work, so students would help with things like graphic design and wireframes. "The core of the assignments in second term pertained to the project," she adds. She'd decide to develop the network from the project based on needs the observed in her previous career.
"Because of my background, I had done work for Community Care Access Centres (CCACs) and become aware of the challenges we have in Ontario, caring for the rising number of seniors with limited dollars and resources," she says. "I also learned about the informal or unpaid caregivers, generally the children, relatives or close friends of these aging seniors who oversee their care."
She further elaborates on these caregivers, and their plight. "There are about 6 million informal caregivers in Canada, between 45 and 65, the sandwich generation," she explains. "They're building their careers, and sometimes raising their own kids, and at the same time, they have to oversee the care of their aging parents or other family members."
There's a personal angle to her decision, too. "I have a mother who is 91, and I'm the sibling who's in Toronto," she says. "So while she's in great health, I'm still responsible for stepping in, when needed. So I realized how challenging it is from a personal and professional perspective to care for an aging adult, when the information you can find online is not really centralized, difficult to search, and from the perspective of the organizations, and not people."
This information gap would inspire her to begin work on Senior Care Share. "Many of the solutions I found were from word of mouth. We've got social networks for everyone from knitters to engineers. Why not have one for caregivers?" Since it didn't exist in Canada, she'd work with the college to soon create it.
How it works
"It's a niche social media network that will connect unpaid caregivers across Canada with each other, so they can exchange practical insights and localized recommendations," Leslie explains. "Particularly unique features are it's searchable, responsive to varied screen sizes and it's user-generated so that it has proven insights as opposed to biased information from an organization that stands to profit."
The network is also Canadian, making it practically and locally relevant, customizable based on the user's needs and interests, and contains user reviews of services, products, senior's apartments, assisted living, and long term care.
Leslie gives an example of the service it could provide to help find an assisted living home. "Let's say they want something in Toronto," she says. "They want an assisted living home that has caregivers that speak fluent Mandarin. They could find that out from another caregiver on the network, who has already been through a similar search."
What's next
Senior Care Share's development went so well that she got the opportunity to show a live prototype off at Digifest 2015. "They have this digital festival every year in collaboration with George Brown," Leslie says, "where colleges and universities nominate students to attended. So Pamela, the coordinator, had seen our projects, and asked a couple of us if we wanted to showcase our solutions at the event. I decided to proceed with it, and the College provided support for us to enter."
Currently, Leslie is connecting with contacts and former clients in senior care and CCACs, and showing the solution, looking to get further input. It's another thing the college has helped her with.
"One of the components of Centennial's program is that we go out and find mentors in the industry," she says. "So I found a senior UX designer at a global experience design firm. He met with me to review my project as it evolved and give me professional input there." Another mentor gave her the chance to present a prototype to a content strategist at a global digital advertising agency, getting valuable feedback. "The mentorship helped me because I was learning as I was evolving the solution and the prototype," she adds.
She continues to evolve the program, and hopes to turn it into a vehicle for real change in the world of senior care. "If I can create something that's going to make a long term difference to help a rising number of Canadians, then that's fantastic," she says. "Wherever I can, I want to use the opportunities interactive digital offers to improve quality of life overall or to make a difference. That's my aspiration."
By Anthony Geremia