Students making their mark: Behind the scenes of Centennial's Pan Am Mural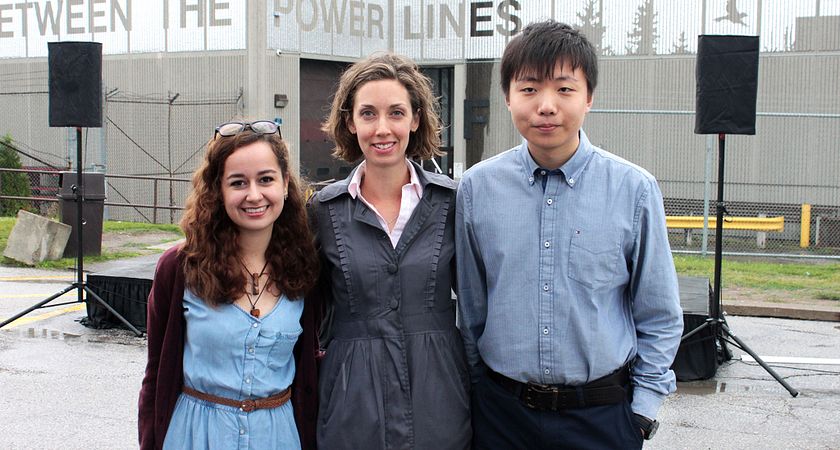 As an official partner of the Pan Am Games, Centennial College took part in a number of team efforts related to the games. Centennial is a school first, so the College takes advantage of any opportunity for its students to participate in a learning experience.
One such opportunity was the Pan Am Path Mural at Ashtonbee Campus that was created by a team of art students with the help of Toronto artist Sean Martindale and contemporary art company No. 9. We spoke to the three students on the team to find out how the collaboration came about, and what they gained from it.
Different backgrounds
It's a testament to the school's diversity that the three students come from completely different places. Troy Yin is an international student from China who had just finished our English Language Learning program. He'll be taking Art and Design Foundation Studies in September, and transferring to 3D animation after that. His motivation to join the project was to better integrate into Canada. "Because I'm a newcomer at the moment," Troy says, "I think it's a good opportunity to improve my English. It's also a good opportunity for my future studies. I'd like to know the Canadian way of doing an art project, and the Canadian way of teamwork."
Sara Vargas Nessi is an international student from Venezuela, currently studying Fine Arts Studio at Centennial's Story Arts Centre. She saw work on the project as a good opportunity to advance her studies. "It was going to be a huge project," she says, "it was going to [be displayed for] five years, I was going to work with an artist, and it was going to be a really good experience for me as an art student."
The third student was Colleen Zimmerman. A Canadian, Colleen is a mature student pursuing a Second Career in the Fine Arts program. For her, working on the project was a matter of acquiring work experience. "Centennial offers a very practical 'how do I get work in this field' component," she says. "And while I'm in school I really wanted to take advantage of all the opportunities to get in on projects. Not just classroom projects, but things that are going to be out in public as standalone works. Also, I had never been involved in a large project like this before, not even small murals, so I thought this would be a good way to get involved and get some experience under my belt."
"The Pan Am component was also a draw," she continues, "because it's pretty big, and it's something people will pay attention to, as well as working with No. 9 and Sean Martindale himself. I thought he'd be a good person to learn from."
The mural
The team agrees that the brainstorming process for the design was the most challenging aspect of the project. However, Sean helped them combine their ideas.
"Sean recorded every idea in the brainstorming part," Troy says, "and he found out that we had one direction to the project: Natural things."
"It was very open," Colleen says of the process. "We came back with a wide variety of ideas. But the one thing that showed up in everyone's work was this nature element."
With the design settled, the next step was to identify materials to use for the mural. The team wasn't allowed to paint on the wall, but still wanted to create something long-lasting. In the end, a special sort of waterproof tape was selected. "It's not affected by the rain and it's easy to get off," Troy explains, "which is good because that mural is going to stay there for five years."
The selection was suggested by Sean, and it's not the only thing he contributed as their mentor, as Sara explains. "We weren't just going there to work," she says. "He was also talking with us about what it was like to be a professional artist, and the process behind everything. I felt it was possible for us to be professional artists, too. It's not just a dream that's really far from us, it's something we can actually do."
"He's professional, he's great, and he has good ideas," Troy adds. "He gave us a lot of advice and options about our future careers."
The mural was unveiled on July 17 at a special ceremony with the whole team present. "It was the first time I saw the final mural," Sara says. "It was really exciting for me, because we'd worked on it for months and months."
"I don't think I really grasped that this was such a big deal until I was there," Colleen adds.
What they gained
Contributing to the Pan Am games wasn't the only thing the team accomplished, as each of them pulled something else out of the mural. "This project helped me with my teamwork skills for the future," Troy says. "Career-wise, I can use this in a job interview in the future, and Sean can be a reference."
"The biggest thing was getting an actual physical project that people can go and see in a public space," Colleen says. "It's a really good gig to be able to put on my resume. It's not just something with Centennial, it's also something with No.9. It's not just a small-scale thing on the inside of the school, and it's not going to be taken down in a year or so. It's a proper physical installation in a public space. So putting that on the resume is huge. But then, working specifically with Sean and getting his insight on the scope of the project was huge."
"When I graduate, I'm going to have experience," Sara adds. "Students need to be aware and to take these opportunities because it's important to us as professionals in this career."
By Anthony Geremia