Kickstart your career in Media and Business with Advertising Media Management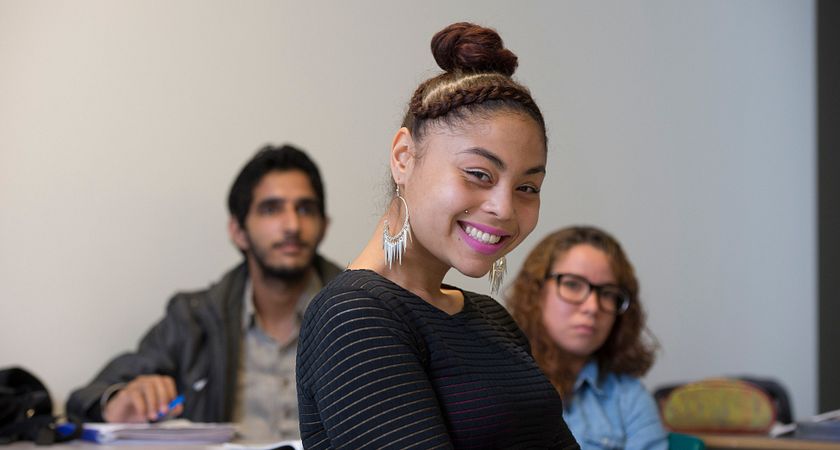 There are many different ways to be involved in the world of media and advertising, but Centennial College's Advertising Media Management postgraduate program aims to make it simple, and can give you a head start towards an exciting career. Taught at the Story Arts Centre, this program is for students with a communications, marketing or business background looking to get into the workforce with a career that combines these disciplines. Colette Brochu is the Program Coordinator, and she explains what makes it special, including, most importantly, employment prospects for graduates.
"For the past seven years, we have had a 100% employment rate," Colette says, "meaning that every graduate that goes through the program has gotten a job." Her message is very clear. "If you want a job in advertising, this is the program that will get you the job," she adds.
The program is a one-year postgrad, and is in high demand from students in the know. "We have students that will take other postgraduate programs to try and get into this one," she says, "because they know of our success rate."
About the field
"You're going to be in the advertising industry, working as a media planner or buyer, making the decisions about where to place advertising," Colette explains. "Media professionals are the ones responsible for buying time and space on billboards, television, magazines and the internet."
"The digital area is exploding," she says. "There's $15 billion spent on advertising in Canada each year, and media planners and buyers are the ones making decisions about where that money gets spent."
Connecting to a career
Advertising media management is a complicated career, and students need to be taught a broad variety of skills in order to succeed. "They will learn media planning skills," Colette lists, "understanding the cost of media, how to negotiate, dealing with suppliers, digital media because that's where the money is now, broadcast buying, marketing, professional practice, learning interview skills and resume writing."
Technology plays an important role in the field, too, and the program makes sure students have access to it. "We'll be using all the leading-edge software the industry uses," she says, "and you don't have to purchase anything, it'll be taught here. We call that media software skills."
Aside from the on-campus experience, students will do a 14 week field placement.  They also have the opportunity to work at the student-run interactive marketing agency, Tilt. "The agency works with small businesses from conception to execution," she explains. "Students have this opportunity in their second semester to work in the student agency helping clients address business and communication needs. Whatever the client needs, they can work on it."
Outside of providing students with practical experience, the program works to provide as many industry connections as possible.  "We go on agency tours that I call March Madness," Colette says. "We visit 8-10 agencies that students would most likely work at. When they go on the agency tours they get to see the working environment, and they get to see the clients the agencies work on, and it allows them to envision themselves in that market."
The right student
During information sessions on the program, Colette polls students to help them figure out if they've chosen the right career. "Are you interested in strategic thinking?" she asks. "Making decisions about where this message should be seen? Understanding media consumption habits, what are people watching or listening to and where are they spending their time online?" To her, those are the best candidates for the program.
As for the ideal academic background? "A lot of students that come into the program have a communications background, or a marketing one," she says, "and they want to fast-track their careers in advertising."
Business is inevitably linked to media, particularly in the advertising world, and knowledge of both will make you extremely employable. Enrolling in this program will give you the skills you need, and set you up for career success.
By Anthony Geremia