Heating, Refrigeration, and Air Conditioning: Why you want in, and how you can do it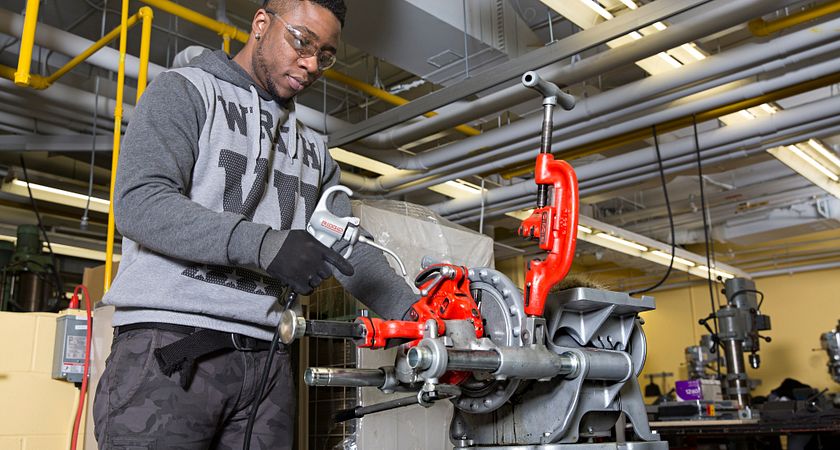 If you're looking to become a college student in this day and age, careers are on your mind. When picking what to study, many students try and aim for careers that are in demand, to secure their future after graduation. At least one answer lies in the current Toronto Heat. How are you keeping cool? If it's with a machine, you have people from the Heating, Refrigeration, and Air Conditioning (HRAC) industry to thank, and it's currently an industry in need of people. Literally any season of the year, you're in demand. Centennial College aims to connect students to this career, and offers two different ways to get involved in the program.
What's in it for you 
According to program facilitator Ronald Muntz, the appeal is in the sheer amount of jobs waiting for a graduate at the end of the program, something he knows as someone who's in that industry. "I have a refrigeration business," he explains, "so I know what it's like trying to hire people. I know there's a shortage of tradespeople, I know that for a fact, and I know it's going to get worse before it gets better, because I've been in the field."
What this means is that it's a field that's short on employees, so any student looking to enter it will find themselves in demand. "For these people, the work's there," Ronald adds. 
He tells a story about how students currently working at apprenticeships find themselves in particular demand. "I've taught apprenticeship students, and it's tough on them to come into class, because their companies are so busy.  They're coming into school in the morning, and their bosses are calling them up for help. Everyone's so busy, because all their companies are looking for good people." Joining one of the college's programs can let you become one of those 'good people.'
Two paths
The college offers two different ways of getting into HRAC, an Ontario College Diploma and a Co-Op Diploma Apprenticeship (CODA).
The standard diploma is four semesters over two years, and gives students the training they need to get their G3, or gas licence. "It's sort of an overview of the air conditioning and refrigeration trade, and the heating trade," Ronald says. "This gets them a look at the trade and the industry in general, and they can choose which way they want to go from there."
The CODA program, on the other hand, aims to connect students more directly to the workforce, via apprenticeship. "What this gives students is three levels of schooling," Ronald explains, "signs them up for the apprenticeship through MTCU (Ministry of Training, Colleges, and Universities), and gives them eight months of co-op experience. So they're work-ready when they get out. Students are attractive to employers that way."
As for the apprenticeships themselves, while it's ultimately up to the student to secure the work, the school provides them with resources to make it possible. "The Co-Op Department works with them," Ronald explains. "There's no guarantee, they still have to do their own legwork, put the work in, they have to do their resume, they have to do their interviews and be presentable. But in this industry, if you put the legwork in, you're going to get work."
The Capstone
Regardless of which program students take, it ends the same way. "They do a big capstone project," Ronald says, "where they have to design something, build it, and make it marketable to people. Marketing is a huge part of it."
It's here that students can be creative, and really make something unique. "There's one group of guys doing a heat pump system with a solar panel to heat a swimming pool, but it's all in a miniature size," Ronald says. "Another project built an air hockey table, but they didn't use air, they put it on a sheet of ice."
"The idea is to spur their creativity," Ronald says about the projects, "get their brain working, and build some independence and confidence."
In the end, that confidence will help students connect the program to their eventual career. "As long as they're willing to put the effort in," Ronald says, "there will be jobs for them."
By Anthony Geremia