Centennial enables success: Kwesi Johnson gives back to the community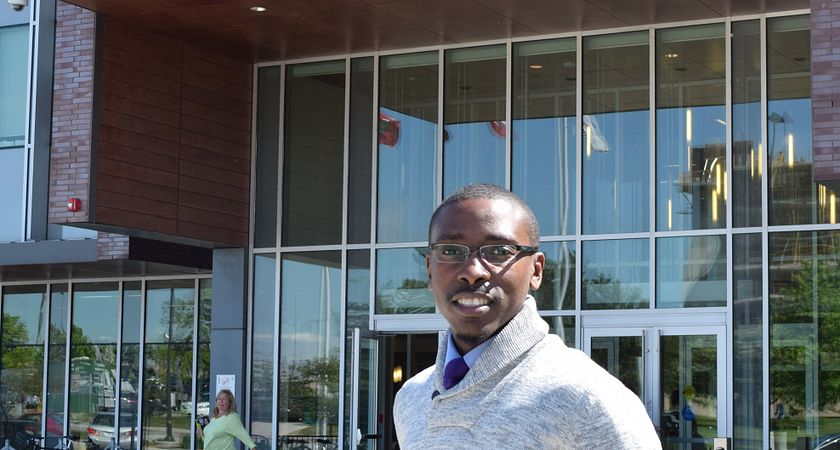 One of Centennial College's commitments is to serve the community, both local and global. Outreach and citizenship are integrated into everything we do, and we have a proud tradition of producing alumni who go on to effect positive social change. Such is the case with Kwesi Johnson, a graduate who's heavily involved in a number of Scarborough and Toronto community efforts. His most recent achievements are with the Mandela Legacy Committee, working to keep the messages of inclusion the late South African leader preached alive in the minds of Canadians. The college has recognized his efforts, and given Kwesi an Alumnus of Distinction Award for his efforts. Here's how he got to where he is today, and how Centennial helped him get there.
Coming to the college
"I met a youth worker in the Malvern community when I was younger," Kwesi recounts, "and I always sing his praises. His name was Ricky Francis. He was a basketball player, but he was also a thinker, and was always trying to get us to engage more with our minds."
Knowing him would convince Kwesi that this would be his life path, a path that would take him to Centennial, initially in a general arts program. "I continued to do well," Kwesi says, "then I applied for the Child and Youth Care program. I've always been involved in the community, but it was individuals in social services that made a difference and painted a picture of what I wanted to one day become and emulate. So the Child and Youth worker program was just a natural fit."
The practical education of the program included a field placement at Aisling Discoveries Child and Family Centre in their residential group home for young children who required treatment for psychosocial difficulties. "It was an experience seeing these younger kids," he says. "They came in with an array of challenges. It was rough but in a lot of ways it shaped me in terms of being able to be diligent, disciplined and keeping on top of things."
He credits the school and program with helping him achieve his potential. "Centennial really opened the door for me in terms of my educational journey," he says. "Everything that I've accomplished to date has been founded on the fact that Centennial was the kind of key to opening the door. They said 'we see that you have this particular potential, and we want to invest in you.'"
The college has given him recognition for his achievement as well. "A few years back, they presented me with an Alumnus of Distinction Award," he says proudly, "and I take that award as Centennial's pat on the back to say 'we've seen that you continued on and are doing well with the foundation that you laid, and that we supported you in laying.' I can't thank this college enough."
The Mandela Legacy Committee
"Since I was a young kid I've always been connected to the community," Kwesi says. His extensive history of involvement includes work with the Malvern Family Resource Centre, the East Scarborough Boys and Girls Club, the Black Community Policing Consultative Committee, the Guyanese Canadian Youth Alliance and others, using his Centennial education to work with youth in the community. But his proudest achievements are his work with the Mandela Legacy Committee. "The chair, Lloyd McKell knew of some of the work I was doing, particularly in Scarborough," he explains. He'd join the committee in July of 2014.
"The first time I became aware of Nelson Mandela, I was around 12," Kwesi says. "He came to Canada in 1998, and I was part of a program at a local school here called Change Your Future, and we had a group of us take a trip down to the Skydome to be a part of that." Because of this, he embraced the committee's mission with zest.
"They started looking at what they could do to keep the legacy of Mandela alive in the consciousness of Canadians," he explains. "One of the elements of that was the proposal to City Hall to rename a street." The committee would successfully have Toronto's University Avenue from Front Street West to College Street renamed Nelson Mandela Boulevard.
But that's not the only effort of the committee. "There is a travelling exhibit about Mandela's life created by the apartheid museum in Johannesburg, South Africa," he continues, "so the committee is working on getting a replica of that travelling exhibit to go into museums across Canada."
"We're also working on a Freedom Walk for June 20th," he adds. "We're walking on University avenue, which is also known as Nelson Mandela Boulevard, and we're going to be going up to Queen's Park, and we're going to be having a bit of a concert at Queen's Park to bring unity, and maintaining his legacy in the consciousness of Canadians." The committee also hopes to tie their effort into the 150th anniversary of Canada.
Advice for the future
As for where Kwesi is going, he says he wants to try making his efforts a bit more focused. "Over the last little bit, I've been trying to be more intentional and purposeful in the work I take on," he says. "I'm seeing that if I don't really have a mission or purpose behind the work, it just becomes scattered."
One certain goal of his is to pass his wisdom onto others via mentorship. "I need to start helping others to try and make that shift as well, as a mentor," he says, "because I know that for me, mentorship is a huge component of who I am, and how I've engaged in this life that I live."
As advice, he gives a similar plea for focus to current students, to choose an effort they can really stick with. "Be true to yourself, engage the passions that you have," he says." There's too many opportunities for you to get involved. But get involved in a focused and committed way."
By Anthony Geremia