Develop your career while you change the world with Enactus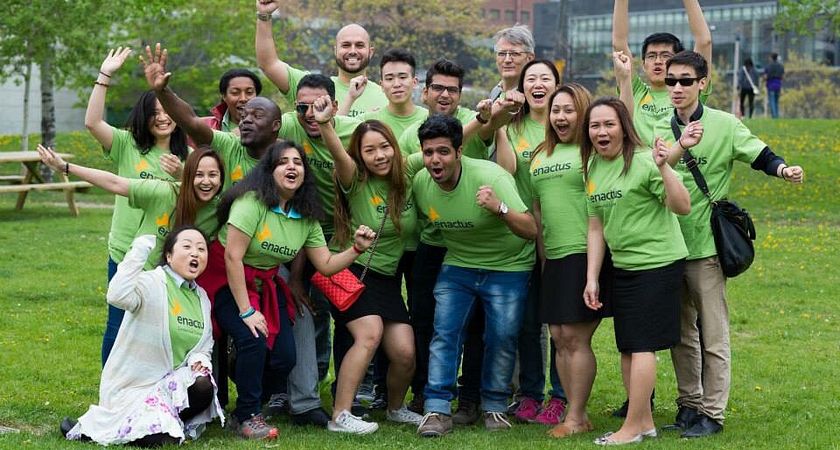 At Centennial College, there are plenty of opportunities for a student to gain experience and connections beyond their classes, connections that will get you the job and build your career. One opportunity is Enactus, an international organization that partners students and businesses to come up with special projects that empower people to advance themselves and their community, both locally and abroad. In other words, it's a charity built on special business and engineering projects. In Canada, Enactus has a presence on 70 campuses. If you're a student, joining one of its projects can hugely benefit your academic and career development.
What it is
The Centennial branch of Enactus is relatively new, just beginning its third year, and focuses on three key areas. "The first involves projects that are going to address environmental issues," explains current president Scott McWilliams. "We also have a financial literacy portion, to increase people's understanding of finances and credit. The third one is entrepreneurship, increasing the visibility and understanding of what entrepreneurship is, and what it could be for someone."
What's in it for you
"We are looking for anyone," Scott says. "If someone has a genuine interest in making the community, the province of Ontario, the nation of Canada, the world a better place. Because those are the different scales we work on, those are the people we are looking for, people looking to contribute to something bigger than what they are, and at the same time know they're going to get quite a bit out of it themselves."
One of the most important things a student can benefit from by joining Enactus is networking opportunities. "Enactus is a very recognizable piece on your resume," Scott explains. "There are 60 national partners with Enactus Canada, including Unilever Canada, Deloitte, KPMG, TD Bank, Scotiabank -some real key players in the Canadian marketplace that send their executives and VPs to our events and interact with students. So when that pops up on a resume, it's something that organization is going to be able to identify with because they support it wholeheartedly."
"Secondly," he continues, "you're able to collaborate with likeminded individuals and build your network for either school activities or post-school activities which are going to help you with your success in life. The third thing is Enactus recognizes the contributions of people every year at their national competition, and rewards people who've spent time in the organization by helping them connect to jobs in the Canadian marketplace down the road."
Previous Success
Enactus's mission and values can be found in the projects the Centennial chapter has already successfully completed over the last two years. Efforts included helping a Metis artist named Ronnie Walker turn her hobby into a sustainable business, with Enactus setting up a website, social media campaign, and a marketing effort. "We took her from someone with a hobby that made a little bit of money into an actual entrepreneurial business," Scott says.
"The other big one was Play it Smart," Scott continues, "An idea run by a gentleman who wanted to positively impact youth in the community." It was a multi-part effort involving a wheelchair basketball game with two real Paralympic athletes, an environmental effort involving turning trash into art and selling it, and a financial literacy workshop that taught youth how to save the money they'd just earned from those sales.
Upcoming projects
Currently, Enactus is looking for students to help with this year's new group of projects, including a partnership with a team of students aiming to use kinetic energy to power the college itself, and eventually the world. They were the winners of the Global Academy competition, and the details of their project can be read about on our Global Academy competition blog. "They're a super smart group of engineers, really held back with what they don't know about business," Scott says, "and that's what they'd like Enactus to help them with."
Other projects include the Renew Philippines effort, after hurricanes churned across the country and left a lot of soil unusable due to saltwater. "We want to come up with a means for farmers to avoid the impacted lands," Scott explains, "so they're not losing seeds and crops, and work with them on reclaiming that land."
Closer to home, there's a local Scarborough recording studio called Coalition Music. "They want us to continue helping them with people graduating from there getting entrepreneurial skills," Scott says, "so they can turn their music skills into an actual brand, and ultimately into something they can sell or build a business out of."
If you're a Centennial College Student looking to engage in a meaningful project that will both advance social change, and leave you with a wealth of experience and industry contacts, then you can join up with Enactus by emailing EnactusCentennialHR@gmail.com. Just send a resume, a description of the skills you want to develop, and what you're interested in doing, and you can get started on advancing global change.