How Nicholas Paddison's film went from script to screen at Centennial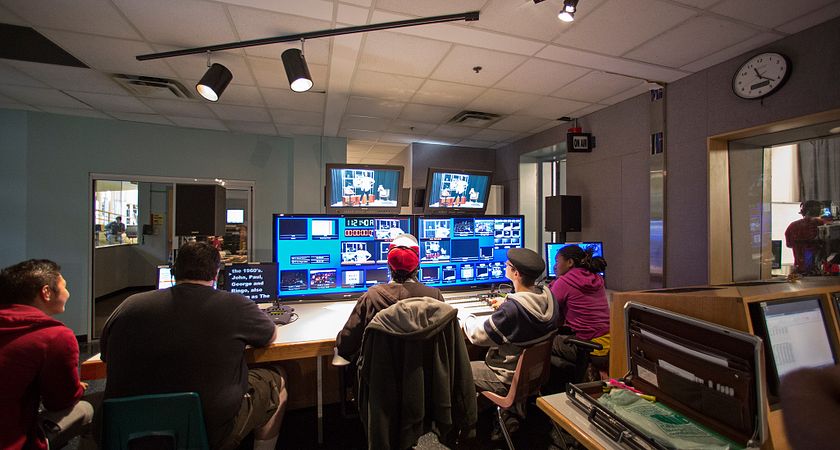 If you're an aspiring filmmaker and storyteller looking to write or direct productions on the big or small screen, you need three things: Practical experience, a portfolio and industry connections. 
To impart this to students, Centennial College recently created the Advanced Television and Film – Script to Screen program. It's just finished its first year, and the program has already connected several students to careers in filmmaking. One success story is Nicholas Paddison, who wrote and direct the program's final project, a short film called As I Like Her. Here's how the program set up his success.
History
Before Centennial College, Nicholas did a university undergrad in film production management. "Apart from schooling," he adds, "I had been making short films and theatre shows for ages, so when I came in, it was just a nice transition for me." After that education, he would end up coming to Centennial College out of a desire to bridge into the workforce. "I knew that I wanted to do a postgraduate program in film, I just thought that'd be the most direct route into that career path."
Coming to Centennial
Nicholas initially enrolled thinking he was going to be a producer, but over the course of the program, found his passion in writing and directing.
"I didn't see it coming at all," he admits. "I was very good at preproduction, so naturally I thought that's what I would fit well into. But in the first semester, we have five different classes, and each was a different discipline of filmmaking, so acting, writing, directing, producing and scriptwriting. It was in those classes that I realized I had a knack for scriptwriting and directing, and even though I really enjoyed the other disciplines as well, I was kind of surprised by how naturally I fit into those two roles, and I just decided to go with it second semester."
He would wind up using both of these talents in a big way on the student film that served as the course's final project.
As I Like Her
"Our biggest project, the one that went over the whole first semester, was to write a short 10-minute film," Nicholas explains. "Luckily, I had the concept of As I Like Her for about three years now."
He'd put his script through many different rewrites, under the supervision of program coordinator Steve Lucas. "By the end, I think we went through somewhere like 120 revisions back and forth," he says. "I think the reason mine got chosen over the others was just that I had put the most work into it, and from the time that we had it, and it was the most put-together script out of all of them." 
He also admits that his directing the film happened almost accidentally, due to the quality of the students scripts delaying the start of production while a final decision was made. "By the time we were actually ready to start preproduction, our time was limited," he says, "so it just made sense to give me the directing role as well, because I had the highest marks in the directing class, and I knew the script."
Making Connections
During the shooting of the film, Steve Lucas and the other instructors took a hands-off approach, appearing only as advisors. "The program itself acted like an advisory committee," Nicholas explains. "Each teacher really took on different focuses to guide us. The nice thing about it is that if there was a decision where myself and Steve differed on, they would always let me have the last say, because they would say this is your film, we're just here to advise."
That was a general theme of the program. "It was a lot less lectures, and more hands-on," Nicholas says. "When we came to them with an issue, it was all practical answers, and all about really getting us ready for the next step. Any answers that they didn't have, they always had someone they could send us to."
What's next
"What I got out of As I Like Her was a really good calling card," Nicholas says. "I've been going out and meeting other people who are in the industry, and I actually have something tangible that I can show and say, this is the work that I can do. That really helped me out."
Another thing that helped him out was his instructor's dedication to connecting him to a career. "If our professors felt that you had an avid interest in pursuing a career in this field," he says, "they were more than happy to sit down and introduce you to people."
Indeed, if he's had any post-graduation problems, it's having too many opportunities. "Currently, I'm doing the festival route," he says. "I'd love to work in a post-production lab. I've been introduced to many of them, and there's a couple that have offered me positions."
While the program did everything possible to set him up for success, part of it was Nicholas's own devotion to the profession. 
"I worked full-time during the program," Nicholas admits, "but it didn't feel like work to come home and do a project." Instead, he found it to be a labour of love. "I would go to class for four hours," he continues, "work for eight hours, come home and be happy to work on scripts or editing."
By Anthony Geremia