Playing for jobs: How a video game can help develop your career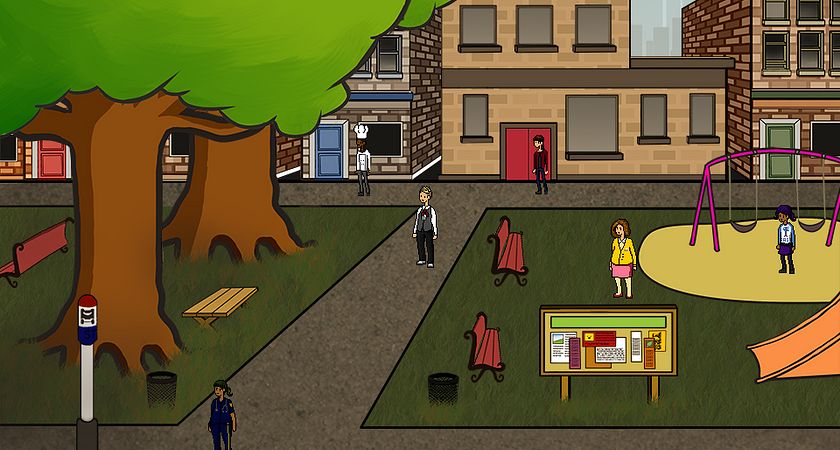 When you're graduating college and looking to enter the working world, it can be challenging to get the experience you need, especially since companies are looking for experienced workers, instead of newbies. Naturally, the best solution is to try and get that experience before school is over, which is one of Centennial College's missions.
The College knows a bit about developing careers, which was also the reason behind the creation of the Career Adventures game, debuting online in September. Not only does the game teach students about career development, but its creation itself was also an act of career development. Career Adventures was a collaboration between Career Services, the School of Engineering Technology and Applied Science, and three students. Danny Luk and Louis Smith from the Game – Programming  program did the programming, while Liesl Anipare from Game – Art did the visuals. Thanks to the college, all three of them now have relevant work experience along with a completed project under their belts.
Origins
The idea for Career Adventures initially came from Alice Hsiung, a coordinator from Career Services at Centennial. "We always try to come up with creative ways to engage students in career planning and job search activity," she says. Knowing games are where student interests lie, she decided to make one of her own. The next step would be partnering with the Software Technology program at Centennial College, securing funding from Centennial College's Applied Research, Innovation and Entrepreneurship Services (ARIES), which provides funding and resources to special projects with a social or economic good), and finding their talent.
Putting students to work
"Through our funding," Alice says, "we were able to pay for the salary to have students work for us on a part time basis."
One student was Louis Smith, a student in the Interactive Gaming program, who would serve as the programmer. "I was looking for a Co-Op Position for the winter term of 2014," he says, "and saw that the college had a student video game developer position, which I found very odd, but also a great opportunity for me. So I applied for it, did an interview, and got the job."
The students would find themselves working exactly as though they were getting a job in the software development world, complete with an application on Hire Centennial and a full interview process. Danny, Louis and Liesl were just one of many applicants, selected as the strongest.
 "They're interactive gaming students," Alice explains, "and it's not easy to find a job that's specific to gaming. There are a lot of software jobs, but their passion is in gaming." While they'd be working for the school, their real motivation would be what the job could do for them and their careers. "They want to gain some real life experience while they're gaining petty cash."
The project would last from May 2014 to March 2015, with the three students meeting on a weekly basis in the Career Centre, to develop the game using C Sharp software and Unity, and using the skills their programs had taught them. "There were quite a few classes that prepared me for the job," Louis says, "which included a game program, and software methodologies to help with the whole process of making the project."
 "It was a long project, and they were only working with us on a part-time basis," Alice admits, "so it was 15 hours a week. Considering they only had part-time hours and were going to school full-time, to put something like this together is quite amazing."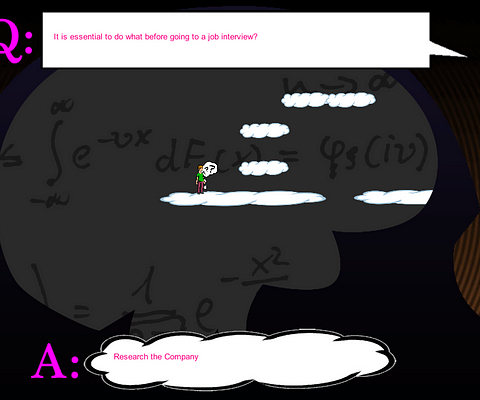 Career Adventures
 "The biggest challenge that we faced was trying to make career development fun," Louis says of the title's development. "That was our main focus, because combining career development with a video game sounds like it's doable, but we were also trying to figure out how to make this interactive, fun and appealing for the high school and college generation."
"We had around a month of planning and talking with each other to see what would be the best solution to make it fun," he continues, "and we went through all sorts of game genres to see what would be most fitting for it, and that's how we ended up deciding on making it a series of mini games inside of a game."
In Career Adventures, Players create a custom avatar for themselves, and begin the adventure in their bedroom, heading out to find a job. They head to a main town, and hop on a bus to visit four other towns (Business Town, Social Town, Media Town and Technology Town) based on different schools at Centennial. There, players get information on jobs, and play mini-games that teach them problem solving skills, teamwork skills, and the basics of resumes and interviews, with points and achievements. At the end, it encourages players to visit the Career Centre for additional help.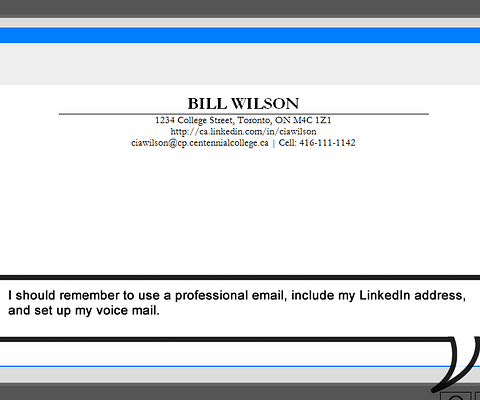 Rewards
Career Adventures made its debut at the ARIES annual symposium, to great acclaim. After that, Alice intends to have it live on Centennial's website very soon, and continue using it as a tool for students to develop their careers not only by playing it, but by continuing to develop it.
"We are hoping to put the game up on the Career Services webpage by September," Alice says, "and continue to update it, since it's a prototype, through some of the capstone projects that illia's senior classes are doing in the future."
As for the current team of three, they left the project better prepared for their future careers.
"I definitely learned teamwork skills," Louis says, "because I'd never worked with a graphics artist before, so it was really an interesting experience making my vision and their vision the same thing. And I would also say my time management skills, trying to get things done by a certain deadline."
"Compared to other college graduates who only have experience with programming and basically everything we learned in college," he adds, "I got the student video game developer position, which, compared to other students, shows that I have experience working in a group on a video game project. It gives me a little head start."
By Anthony Geremia