Malcolm You and the benefits of joining Enactus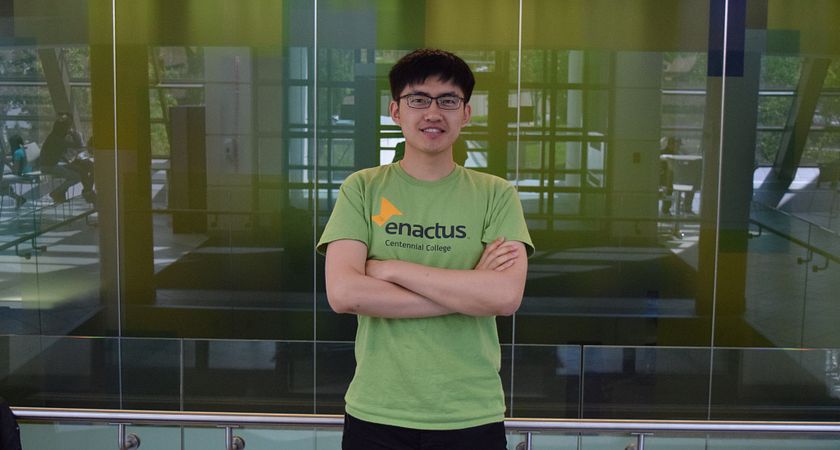 If you're a Centennial College student looking to advance your career, make valuable networking connections and participate in projects that do social good, then the college's chapter of Enactus can provide you with the experience you need. Enactus is an international charitable organization that links businesses and students together, so they can engage in special projects for social and economic good, both locally and internationally. The Centennial chapter of Enactus is new, having only been around for three years, but they've already engaged in several special projects, with new ones beginning this year.
Malcolm You is an international student who joined Enactus this year, and has already become the project lead of the Renew Philippines effort. Here's why he joined, what he got out of the program, and what his new effort is all about.
Coming to Centennial
An international student from China, Malcolm initially studied in the U.K. at the University of Manchester, before deciding he wanted to head further west. "I wanted to see North America, and I wanted to see what life is like here," he explains. "After graduation, I didn't want to stay back home in China for all my life. I decided to move on, and Canada was my choice."
He would head to Toronto, and attend Centennial College, taking the Global Business Management grad certificate program. "It's rare to find a business that's not globally linked somehow," he says, explaining what he likes about the program. "It's a pretty good course if you want to do international trade."
Since Enactus is a global organization, Malcolm had actually already worked for them while he was studying in the U.K. He was with the University of Manchester's chapter for a year, but didn't follow up with it, something he regretted. So when he found out they had a branch at Centennial College, he jumped at the chance to join, both out of a desire to finish what he started and for the sake of his career. "It was sentimental," he explains. "The other reason was personal development."
During his first year, he helped with researching the financial details of possible future projects, before handing them off to project managers. The following year, that would be a role he'd assume himself, as the project manager of the Renew Phillipines effort.
Renew Philippines
Several typhoons hit the Philippines over the last few years, and a unique problem has manifested as a result: Farmers are finding a lot of their soil unusable, due to saltwater contamination. Still in its early stages, the Renew Philippines project aims to find solutions to the problem of usable soil, through both reclaiming the land and helping farmers avoid contaminated soil.
The Centennial team entered the project in the Global Academy Competition, and the idea got enough positive feedback that they moved forward with it, with Malcolm as the project lead.
"I need to lead my team, drive the project forward and deliver impact," he says of his new role. "We need to have a reasonable expectation of when and how much impact we are going to have, because this is an international thing, and if we want to make it work, there are lots of logistics." Additionally, they have to do it with a team that's inevitably going to turn over every few years, due to the group being college students.
Nonetheless, Malcolm is confident in his team's ability to find workable answers, and is even looking for solutions that can help the country economically.  "If we did find some sort of a scalable solution, and a farmer could implement it easily," he explains, "then maybe they could make a business out of it themselves, to teach other farmers."
A Call to Action
Enactus is still actively looking for students to join and help with all their projects, including this one.
"We are looking for dedication, that's the first thing," Malcolm says about their ideal volunteer. "Then, you have to be a team player. You need people who can focus on the goal, and be ready to conduct yourself in a professional manner."
Most important, though, is a willingness to learn. "Some of us have more experience than others," Malcolm Says, "and I'm willing to learn from a team if they have more skills than me, and they need to do the same thing. You can come in here not knowing how to do something, but you need to be able to pick it up fairly quickly, and because we have a support system, you are in a good position to learn."
The Benefits
There's a moral benefit to working with Enactus, as unlike most jobs a student can have, members are working on initiatives that really make a difference. On top of that, a volunteer's career can benefit from the value and recognition that comes with working for Enactus. "We have so many sponsors, which means we're recognized as a successful student organization," Malcom says. "When an employer sees that on your resume, it's going to mean a lot."
There's also the educational and personal development that comes from working in a corporate environment, while still in the safety net of school. "We're trying to run Enactus like a corporation," Malcolm explains, "so you are learning things, you're getting experience, you're applying what you learned in the classroom to Enactus."
If you're a Centennial College Student looking to engage in a meaningful project that will both advance social change, and leave you with a wealth of experience and industry contacts, then you can join up with Enactus by emailing EnactusCentennialHR@gmail.com. Just send a resume, a description of the skills you want to develop, and what you're interested in doing, and you can get started on advancing global change.
By Anthony Geremia