Beat the traffic with the Eglinton Learning site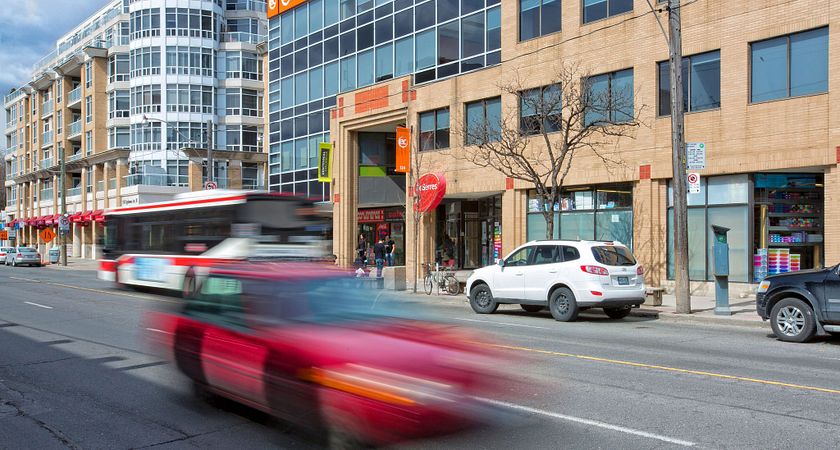 When you're figuring out your college education, picking your career path, classes, and campus, there's something that tends to be forgotten, which can have a huge impact on your education: Location. For example, during my time at Centennial College, I took classes at the Story Arts Centre. It's a great location, right next to Greektown on the Danforth, but there was one specific problem: I lived far away from the campus's location.
Now, I was lucky enough to have a car and would drive in every morning. But combine that with the typically terrible early-morning traffic, and I was looking at almost two hours of commute time, leaving school just in time for the same rush hour on the way back. Like it or not, that affects how you approach your education. Your mind isn't as sharp because of how early you have to get up, and you don't feel like sticking around after class for anything extracurricular since all you can think of is the long ride home. I can only imagine how much worse it would have been if I was taking transit.
Well, it turns out there was a better way to get my education that I didn't even know about at the time. Centennial College has opened a new campus, the Eglinton Learning Site specifically to give students to the west of the GTA a campus they can easily access.
The Eglinton Learning site provides you with classrooms and learning space at a location that suits you better. The campus is located in Toronto's midtown, walking distance from Yonge and Eglinton and the Eglinton subway station, close to the dining and shopping opportunities that come with a downtown location. The site is the home of our 2-year English Language Learning program, as well as extensive Continuing Education offerings covering subjects like Investment Services, Teaching English as a Second and Foreign Language, among others.
If you're interested in pursuing any of these subjects and live far enough west that making it to one of our other campuses will be tricky, consider one of these options. When you cut down on your travel time, you can save time, money and energy.
By Anthony Geremia