Money Talks: Don't leave free money on the table. Get your bursary!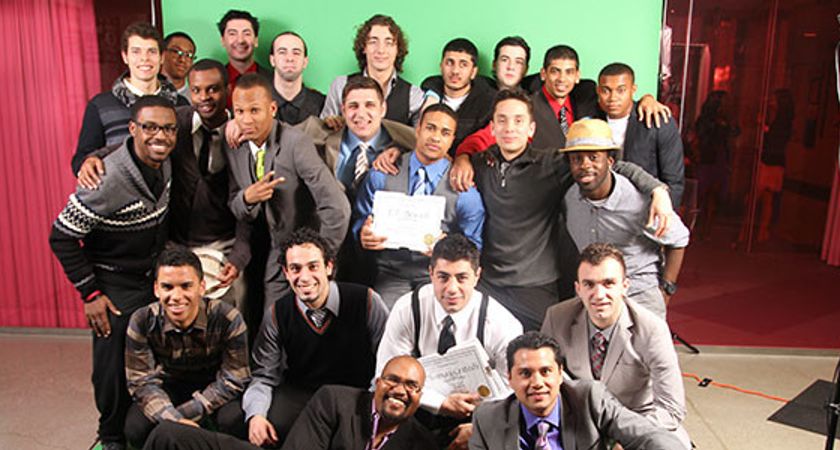 Welcome back to Money Talks, a monthly series focusing on financial issues that, as a student, you probably have on your mind. Previously, we talked about repaying student loans. But there are methods of plugging financial holes that don't require repayment. Scholarships are one, and you'd be surprised at how many you probably qualify for, something I've written about in a previous scholarship blog post.
But there's another, more direct method of gaining what amounts to free money, and a number of students are leaving that money on the table: Bursaries, monetary awards paid directly by Centennial College to students who demonstrate financial need. The school makes it quite easy to get them, but there are a few steps you need to take to make sure you qualify. It's worth taking the time to do so, because, again, this is free money in your pocket with no catches. 
Getting bursaries at Centennial College is easy. The first step is to fill out the questionnaire
The first important element of claiming your bursaries is completing and submitting the Scholarship and Bursary Questionnaire. As soon as you get a fee statement, you'll be emailed an invitation and information about the questionnaire. It's online, it's about 14-16 questions long, and it takes less than five minutes to complete. Yet, for some reason, many Centennial College students don't ever complete it, or fill it out and don't hit the "submit" button.
Here's how it works
Once you get your invitation to complete the questionnaire, sign in to myCentennial to access it. The purpose of the questionnaire is to identify your needs based on the responses to the questions, and from that determine what bursaries you're eligible for. Don't see yourself in any of the questions? Fill it out anyway, because there are still things like general bursaries and book bursaries that you can apply for once it's completed and submitted.
Once the questionnaire is submitted, and a bursary comes up that matches with the survey, you'll be sent emails in advance of a bursary becoming available, inviting you to apply. All the information you need will be sent to your myCentennial email address, so be sure to check it often to make sure you don't miss any opportunities. All bursaries are first-come, first-serve based on financial need, with most full-time bursaries opening at 7 pm, so it's important to apply while the money is still available, otherwise someone else will grab it, more reason to check your myCentennial account regularly. 
Don't ignore it, especially if you're a new student
It's easy to see why a new student might let it slide. After all, if you're just starting school, you're probably rushing to get your books, your timetable and your schedule, and you could easily miss an email about a bursary form in the massive list of emails you'll be getting from the school. But at the start of your first semester is when money is most valuable, and it's when most bursaries are available. So read the email, even if you have a million things on your mind. It may quite literally pay off later.
It's never too late, though you may miss out on some bursaries
The good news: If you're only reading about this questionnaire now, and have never filled it out, don't panic. It's not too late to submit it, as there's no deadline date, provided there are more bursaries or scholarships being offered in the same academic year. Some bursaries go unclaimed every year, so there is support waiting for you, and the survey is your doorway in. The more popular bursaries with a broader audience can be gone by the morning after they are released online, so receiving and paying attention to those email alerts is essential.
A few extra notes
First, a note on the "Pay Tuition First" policy: If you get a bursary and you still owe outstanding fees, then that money will automatically be applied to pay any tuition debt first. This doesn't happen on all bursaries, though, and specifically-targeted ones, like the Business Attire Graduation Support Bursary, or the Child Maintenance Bursary, don't have this rule, though.
Secondly, while you'll be alerted to most bursaries, there are a few that you need to manually apply for. The previously mentioned Business Attire Graduation Support Bursary, for example, as well as the Sports Journalism Bursary both require specific applications. While you still need to fill out the questionnaire, these specific applications are administered directly through Career Services or the School. 
The bottom line: Don't idle, or you could be losing cash
Students come to Student Financial Services needing additional financial support, but bursaries can help alleviate your financial stress if you take the time to apply. They don't have to be paid back and easier to get than a scholarship, so there's really no reason not to try for them. Managing your money may be a challenge in college, but taking the time to fill out and submit your Scholarship and Bursary Questionnaire, and completing and applying for any and all scholarships and bursaries that you can will optimize your chances of reducing that burden by putting some extra cash in your pocket. All scholarships and bursaries are listed on Centennial College's website for information purposes, so have a look, and see what you could be earning.
By Anthony Geremia