How Automotive Apprenticeship connects you to a career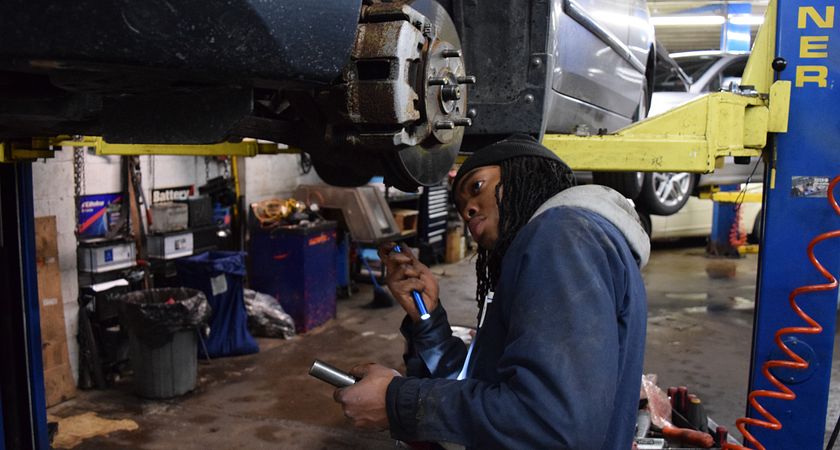 Centennial College's mission is to directly connect students to jobs, and its Apprenticeship programs are some of the most direct ways to accomplish this. I've written about Apprenticeships on the Centennial College blog before, but in brief, they consist of paid on-the-job training with an employer for two to five years. The employer collaborates with the College, who then teaches the knowledge behind the profession while students are learning hands-on at the job. At the end of the program, students obtain a Certificate of Qualification, proof they're certified in their trade of choice.
One such program is Centennial College's Automotive Service Technician Co-op Diploma Apprenticeship; which entails students working in an auto repair shop to learn the ins and outs of cars. There's a variety of partners in this venture, one being Import Auto Specialist, a shop in Scarborough specializing in international car models. They've been taking on Centennial College apprentices for almost a decade, and have frequently hired graduates as employees upon the program's completion. Here's how the collaboration works for both the company and its students.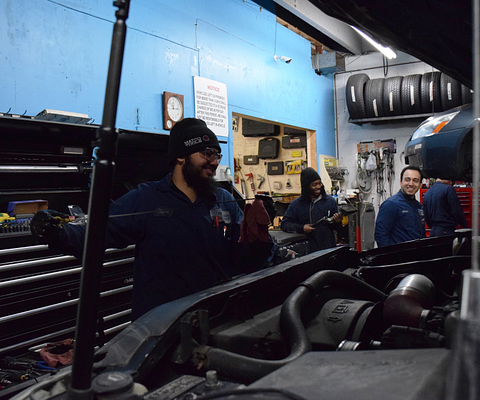 The Owners
Farid Jaan Hakimzada and Abdullah Sharefe are the owners of Import Auto. Jaan explains how the apprenticeship system works for them: "Kids start in high school, and they can go through OYAP (The Ontario Youth Apprenticeship Program). They come to us as co-op students, and we register them as an apprentice. They get their hands-on while they get their theory from Centennial College."
The goal is to give apprentices a dual education, having them learn the raw technical knowledge at school while getting experience at the shop.  "Mostly, what they're going to learn here is the practical," says Abdullah, "and Centennial is where the theory comes in." 
Another benefit to apprenticing at Import Auto is the sheer variety of cars students get to work on, including the international models the shop is known for. "There's Audis, there's Porsches, there's BMW's, so they get their hands on different cars," Jaan explains. "Most of them are a little bit different, so you bring in a guy who worked on Domestic and give them European, and they're kind of lost. But our guys are pretty quick on it." 
While this arrangement has been beneficial to the students under the program, it also helps the shop. Abdullah explains: "The thing about apprentices is that you get to train them the way you want to, rather than them getting bad habits from another shop and then coming back to us and carrying those bad habits with them." Because of this, the pair will hire apprentices that excel in the program, since they're now trained exactly the way they need them to be. 
Aside from providing a source of employees, Jaan also sees himself as having a duty to participate in apprenticeships and train the next generation of auto workers. "I started as an apprentice," he explains, "so if somebody trained me, I've got to pass that knowledge along, too."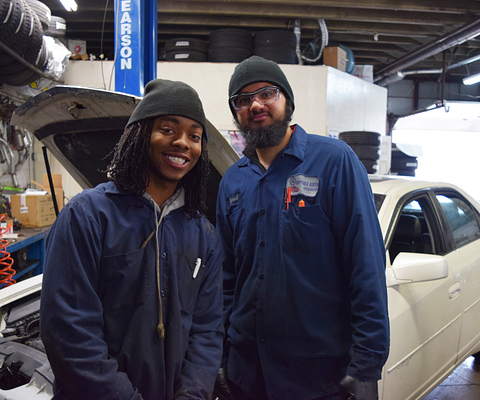 The Students
Currently, Import Auto employs two apprentices who are taking Centennial College's Automotive Service Technician Program: Nicholas Lewis, in his second year, and Umer Bhagoo, in his first.
For Nicholas, working with cars is a family tradition that he's continuing. "I have uncles who are in the Automotive Diesel trade," he explains, "and just watching them work as a young kid propelled me into wanting to be an auto mechanic."
For Umer, it was about turning an interest into a career, after his high school auto class pushed him into the automotive world. "It became more of a hobby or a passion than a job," he says, "so I just kept with it." 
Both of the apprentices speak highly of the time spent at Import Auto, and how it's provided them with unique knowledge. "I'm getting taught something new by either Abdul or Jaan every time I come in here," Umer says. "They'll be at my side, watching what I do step-by-step and telling me what to do. I can't ask for anything better than this place" 
When the two aren't in the shop, they're returning to the college for the practical half of the learning, something they place equal value on. "Centennial helped me learn how to diagnose a car," Nicholas explains, "how to look at it, and how to fully understand how the car works." 
Both of them intend to do their Red Seal certification after completing the program, which will turn them into licensed and certified technicians and are looking forward to their future. 
"It's hard work, I can't lie," Nicholas admits, "but at the end of the day, I love my career. It makes me want to come to work and actually put extra time into it, then read about it late into the night." 
By Anthony Geremia