How to build a media portfolio: Student films at the Story Arts Centre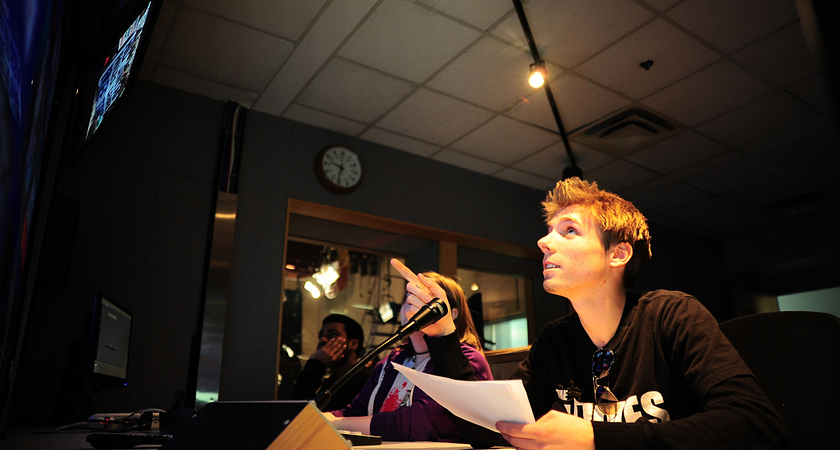 As anyone trying to break into the world of media can attest, you need a solid portfolio of work under your belt to prove your expertise, and making that portfolio will teach you those necessary skills. At the Story Arts Centre, where media and entertainment are the specialty, Centennial's students are developing their talents and portfolios.
Jared Valkki is just about to finish his second year of Broadcasting - Radio, Television, Film & Digital Media at the campus with at least one very large portfolio piece to show for his efforts: the student film, Stairs, that was produced as part of his final project. Here's how his program enabled this to happen, and how this will benefit him in the future.
The Film
"One of the projects was a 16mm 10 minute film," Jared explains. "The school rents a camera from an external company, and it's a cinema camera, which is really neat, because they film shows like The Walking Dead on it, so you get your hands on an actual production camera." Jared poured all the knowledge he accumulated during his program towards this final project. As Director of Photography, Jared worked with a team to create the student film Stairs.
"It's a comedy about a girl who's afraid of stairs," Jared explains, "and it's going to be on the Centennial onDemand website over the next month or two." Centennial onDemand is the platform for most of the College's student-generated media, and a place to show off the work made possible by the school's media programs. 
 The Program
"I like the Story Arts Centre," Jared says of the program's location. "The campus is really small, so I get to know everyone. It becomes very personal, and it's nice in a creative environment to be close to everybody."
Broadcasting and Film's first year begins with general media education including photography, editing and radio, but by the second year the curriculum turns into specialization, connecting students with resources and tools they'll be using in their eventual career. 
"There's a TV studio set up," Jared explains, "with a full control room, switchers and an audio booth. There's also studio space with lights and cameras."
The program makes use of these facilities in a way that simulates a workplace environment. "One of our classes, TV studio," Jared says as an example, "is a mock TV show. So one person directs and the 20 other people in the class fill the roles of a live television crew."
"The best thing about the program to me is the teachers," he says about Film and Television Production itself, "because a lot of them are still working in the industry. They're always very helpful, they're easily approachable and they genuinely care about the programs and the students."
Jared mentions Filmmaking instructor Malcolm Byard, who still works on Hollywood films during his summers. "He didn't just work 30 years ago," Jared says. "He's still working. You know that everything that's coming to you is fresh, because this is an industry that's always being updated." 
But the most important aspect of the instructors is simply their accessibility. "Outside of the class," Jared says, "I can go and talk to them if I want tips or advice, even for things outside of school. They remember you." 
The Future
Currently, Jared is working with the school and instructors to find a placement that fits his needs. "I'd really like to work on a set," he says, "even something small." Aside from that, a number of placements are available behind the scenes in production offices, or in television settings like TSN, Bell, or Rogers.
As for where he'll be after that, he wants to work in film production. "There are hundreds of people who work behind the scenes for a film," Jared explains, "It's not just the directors. I'm hoping to do that." 
For now though, he's striking out on his own. "A couple of college friends and I have actually just started our own little multimedia business," he says. "We have a lot of our own equipment, so we're hoping to do small wedding videos, photography, things like that, but I'm hoping that can expand in the future as well." 
By Anthony Geremia