Four ways you can stay positive in college, inspired by "What I Like About Myself"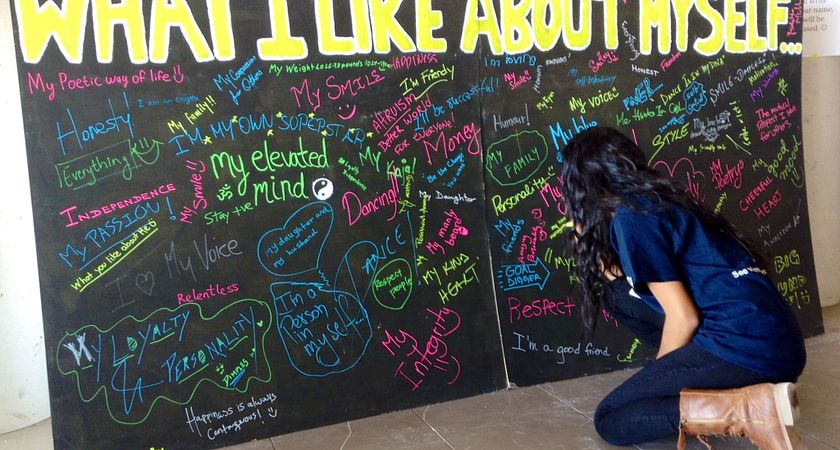 Your college years are bound to be a complicated time in your life. There will be changes and things to be anxious about. Students at Centennial College are aware of this, which is why Nickza Dalas created the What I Like About Myself board in the Ashtonbee Tunnel, which you can read more about in Centennial College's news. It's a chalkboard where students write something positive about themselves, to keep their spirits up. It's become popular on social media, joining things like the ALS Ice Bucket Challenge or No Makeup Selfies that aim to use viral trends to spread positive messages. 
What makes What I Like About Myself unique is that it's aimed at keeping college students in a positive mood. Since college is such a turbulent time, I did a bit of research on a few more ways to stay positive when classes, homework and the environment get you down. There's a lot of sources online, including articles from the Prospect, wikiHow, the Positivity Blog and School Improvement. After reading them, and thinking about my own personal experiences, I've found a few common trends.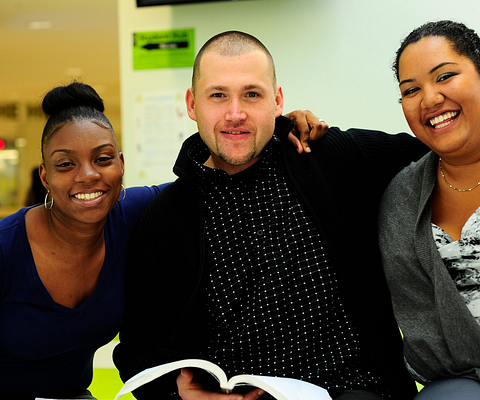 A good dose of self-maintenance, or "Treating Yourself," goes a long way 
Your mind and your body are linked, so not taking care of one can cause problems with the other. If you're never sleeping due to homework, games, or television, or you're only eating junk food, or you stay in your room and never see the sun, it takes a toll on your body, and can make you feel terrible. Taking care of yourself is the first step to self-maintenance, and has benefits besides your health. For example, getting a bit of exercise, even just going for a run on one of the treadmills at the Athletic and Wellness Centre releases endorphins, which make you feel good. Outside of that, doing something nice for yourself every day, even if it's just watching a few episodes of a show you like when your homework is done, can give you something to look forward to at the end of that day. No one can always be on the job, so time off is essential, even if you need to schedule it. 
There is always an upshot, you just need to find it
Even when times are tough, it's possible to find the positive in a negative situation. If you make a mistake, or fail at something, instead of dwelling on it, ask yourself: "What's good about this situation?" "What's the opportunity for me here?" or more importantly, "What have I learned for the future?" I've personally found that the worst-case scenario is "do I get a story to tell out of this?" Another good idea is to actively keep track of the positive things in your life, so you can think of them during the negative ones. Some people keep journals or lists of the good things. It can provide a bright spot in dark times. That's what the What I Like About Myself board is trying to do, prompt you to list the positive. 
Surround yourself with supportive people (and cut the negative ones out) 
It's not just positive things that can keep your spirits up, but positive people too. This is why making friends in college is important, and why getting away from the computer screen is an essential first step. Your peers influence you, so you have to make sure those peers are positive. More importantly, if they're only bringing you down, you owe it to yourself to keep away. One of my sources listed above, Positivity Blog, even recommends listing the three most negative people in your life, and figure out how to spend less time with them, or at least take a break from them for a bit. It may sound unusual, but it frees you up to spend more time with the positive people in your life, and placing yourself in an environment with positive people will help lift your own mood. As long as you're managing your time, goofing around with your friends isn't a waste. It's necessary. Spending time with negative people is a real waste of time. 
Like all chapters in your life, it'll be finished one day, so make the most of it.
Two, three or four years later, you'll be out of college, with a credential under your belt. Some people will read that and say that it means if you're not liking school, it will be over soon. But I see it differently. Since it isn't the rest of your life, but a few years, wouldn't you rather spend that bit of time having the best experience you can? To me, that's the most important piece of advice: Have a good time while you're learning. Hopefully, some of these positive thoughts can help make sure your journey is a pleasant one.
By Anthony Geremia