Science of the skin: The rewards of a career in Esthetics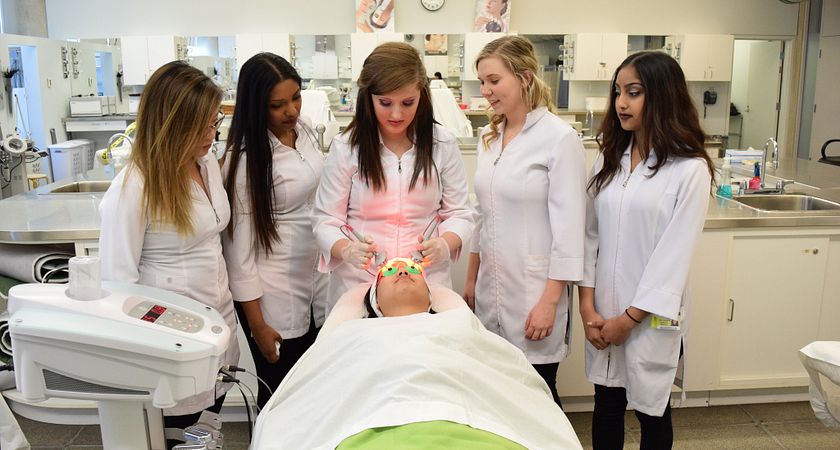 There's more to beauty than hair and makeup. It's science of the body, and Centennial College teaches that science with its comprehensive Esthetician program. As an esthetician, you're completely concerned with the health and wellness of a person's skin. It's a career with a market need, a high employment rate, and a program containing cutting-edge technology. It puts students to work with that technology, in a real-life setting. As part of the program, students work at the Censation Esthetics Student Clinic, operating out of Morningside Campus, and offering affordable skincare treatments to students and locals. I spoke to program coordinator Milica Duran, and students Althea Kamrudeen and Hannah Quibilan to find out more about this unique offering.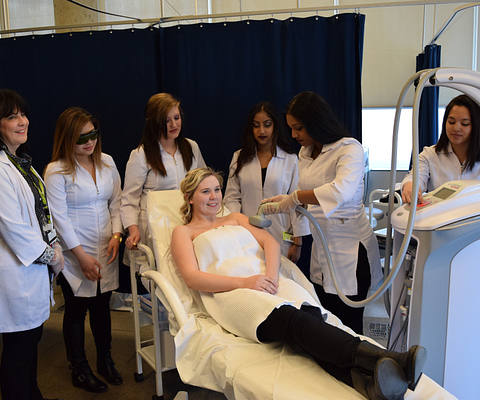 A varied experience
"It's more than just makeup," Milica says. "We cover anatomy, physiology and chemistry." The goal is to give students an idea of every aspect of an Esthetician career, rather than just the technical side of things. "We covered the practical things," Althea says, "including anatomy, customer service and all the things you need on top of the practical."
However, the practical experience remains the program's biggest draw. "The best thing about coming here," Althea adds, "was that there were so many more options for hands-on experience, especially with the clinic. Instead of sitting there and learning theory the entire time, you get an equal amount of both theory and hands-on. Compared to every other school I looked at, there was nothing like that."
An aspect of this hands-on training is time with advanced technology that's only available in Centennial's program, including a capsule for body treatments, laser and IPL, a Dermapod for light lifting therapy or microdermabrasion and a Soli-tone for "photofacial" light therapy.
"These are all things you normally have to go outside the program and receive additional training for," Milica proudly says. "We're the only Esthetic program that includes this type of training." Of course, this technology requires a setting to use it in.
Censation Clinic
"The clinic is once a week," Althea says of Censation, "and it's split between the second and third years. It's for the public to come in and get any services they'd want done at a discounted price, but it's not work for us, it's a class so we can learn more hands-on experience, and actually be able to deal with clients before we graduate."
"Since it's an open classroom, we get to see what everyone is doing," Hannah adds. "It's easier for me to learn that way."
Milica pegs this as an important aspect of her educational strategy. "They're already dealing with outside clients," she explains. "Exactly what is needed out there, they do in here. We function just like a real spa."
A path to employment
Censation may make the program special, but it's the fact that a clinic and a placement are both offered by the program that makes it unique.
"We really try to find each student a placement that's personalized," Milica says, citing examples of placements that were found in Windsor and St. Catharines, due to students living there. "We know who's looking for what,"she adds, due to the small class size of the program. "Now there are more placements than students."
Employers are taking notice of the type of trained professional Centennial's program creates, too "We have a 100 per cent graduate employment rate," Milica Duran says without hesitation.
The students, who have enjoyed what they've learned so far, are equally positive about their employment prospects. "I want to find a steady job in aesthetics," Hannah says, "just because I love what I do."
Althea echoes this affection for the career. "It's a 10 to 7 job where you don't have to bring anything home with you," she says. "You just go meet with your clients, you come home, and that's it until the next day."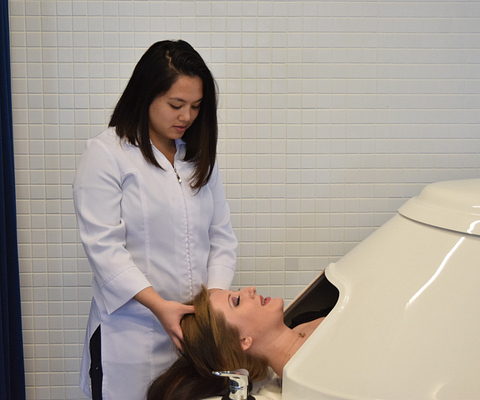 By Anthony Geremia