Daniel Sommer: Changing career paths, being a mature student and massage therapy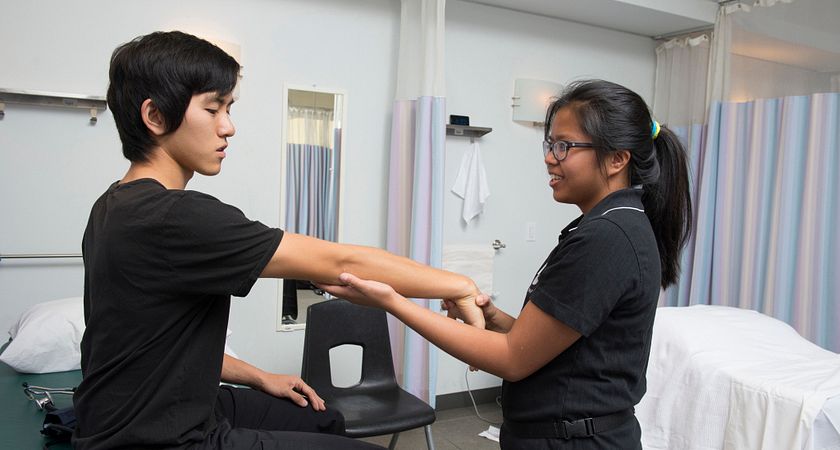 When deciding where you want your career to go and what you want to be, it's important to remember that there isn't really one set educational and career path, and that it's never too late to find your dream job. We all figure out what we want from a career at a different speed, and an important aspect of colleges like Centennial is that they help you reach that goal, no matter where you are in life.
This was the case with Daniel Sommer. Attending university straight out of high school, Daniel trained in computer science before working as a computer programmer for 13 years of his life. But he began to realize that the career didn't suit him, and made a complete left turn, attending Centennial College's Massage Therapy program in 2007.
The shift
While it seems as though Daniel jumped into an unrelated career, he'd thought about getting into medicine earlier in his life. "Throughout high school," he explains, "I'd been toying with the idea of going to med school, so I'd had the idea of the profession in general in the back of my mind." Both his brothers were physicians, but seeing what they'd gone through to get to where they were had convinced him the field wasn't for him at the time, at least until he decided to shift his career later in life.
It takes a certain mindset to uproot your career, something Daniel tries to explain. "It was a matter of weighing my fear versus weighing the soul-crushing dissatisfaction of the job I was at. It was actually my massage therapist that suggested it might be a good field for me."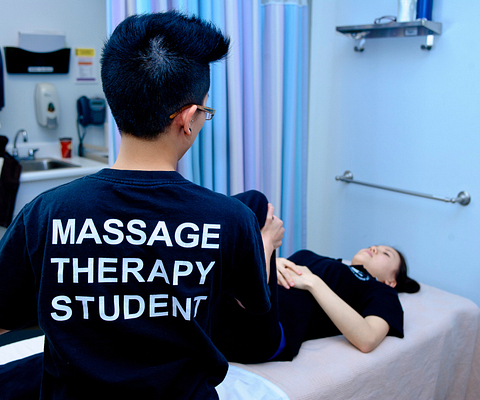 Massage Therapy
Coming back to school later in his life was an unusual adjustment. "It was definitely a switch in the way I had to think, being back in an academic environment," Daniel admits. "I've always kind of thrived in that scholastic environment, so I enjoyed myself, but it was very different being one of the more mature students in the group."
Adding to this was the fact that his previous experience has been in a university setting, with Centennial College representing a different environment to him. "In university," he explains, "it wasn't very personal. My smallest classes were 200-plus people, so it was a big shift when I got to college, where I was on a first-name basis with my teachers, where I knew them and they knew me. It was a much more humane kind of environment."
Additionally, the program itself was no cakewalk, and also challenged him. "Being prepared for the amount of work that was actually required for the program is an initial shock," he says, "just because of how based in science and evidence-based practice it is."
Nevertheless, he was satisfied with how well it prepared him to enter the industry. "Specifically in the massage therapy program, it's geared directly towards a career," he says. "It prepares you really well for the registration exams we have at the government level, which then will allow us to go into practice as massage therapists. All of the practical settings in our lab and clinic, and the outreach that was available to us gave me a good idea of what the real life of a massage therapist is."
After Centennial
"Seven years later, it seems to have been a good fit," Daniel says of his decision, which has led to a fulfilling career. "You never know who's going to come through the door at any given moment, and it's nice to have a variety of patients."
"Right now," he says, "I'm working at a clinic owned by a chiropractor six days a week, working on quite a wide variety of patients, from office workers sitting at a desk all day, to athletes and runners." That clinic is Health Quest Toronto, and when he's not working there, he occasionally returns to Centennial College to teach students, giving back to the school that set his career up.
Advice
For other potential mature students thinking of making the jump into massage therapy, Daniel advises that students do so for the right reasons. "Make sure that you're getting into it to help people," he says. "It's one of those great careers where you have an actual impact on people's lives, and you can see that as you treat someone." 
However, there's challenges you also must be prepared for. "It's not a standard 9 to 5 job that some people might think of it as," he explains. "Being in an industry and treating people, you need to be available when people are available, so sometimes hours can be a bit long."
As for taking the risk of going back to school, leaving one career behind for the potential of a better one, he advises courage and conviction. "Just face the fear, and jump in wholeheartedly," he says. "It's a scary prospect, but I think once you weigh the choice of why you want to change careers versus what the impact of not going in would be, it'll mitigate that fear." 
By Anthony Geremia