How to make a difference: Amy Coady, Community Development, and a summer camp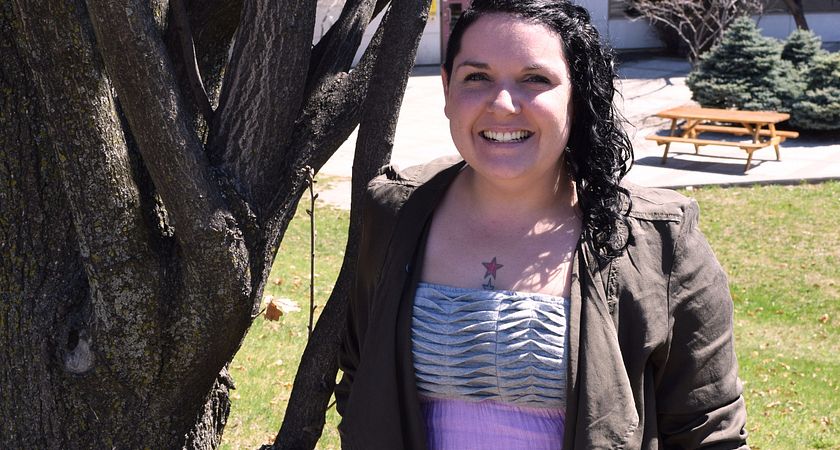 Centennial College enables its students to make a real difference in the world, and our Community Development Work program gives students the experience and tools they need to become agents of social change, all while developing their career. One such student is Amy Coady, who would use the program's field placement to create something positive, a camp aimed at educating youth about HIV/AIDS, STIs and LGBTQ issues. Not only would it be a success, but the camp would become an annual event. Here's how the program set her up for success. 
A personal connection
Amy's decision to enrol in the Community Development Worker program came out of her own personal struggles after losing a job as a single mother. "I was working for a call centre for about five years," she explains, "and it turned into a really awful experience," In the end, it went to mediation, and she had to advocate for herself.
"I've had a lot of advocating I've had to do as a single mom," she explains, "for myself and for my son. I can advocate for myself so easily, so why not put that to work and do it as my career? That's the beginning of what got me there, because I think about people that have gone through similar situations to what I have, but couldn't use their voice, and couldn't advocate." 
The program itself teaches students a mix of politics, economics, research and cultural diversity to prepare them for their role, but Amy has a different explanation of it."It's more like the back end of social work," she says. "If we look at it as a play, social workers are the actors, and community development is the stage managers and the logistical stuff." 
The Placement
As a part of the program, Amy would participate in a field placement with the AIDS Committee of Durham Region, which offers prevention education and support for people living with HIV/AIDS. Amy credits the Community Development Worker program with preparing her for the role. 
"Within my first couple of weeks," she says, "there were so many things that were happening that I learned about in school, and now I was seeing them and how they worked. Even things like evaluation methods, or organizational stuff, I had prepared for in my classes. I couldn't have done that program without the in-class stuff I got from the community development program."
Youth and LGBTQ issues are a huge part of the ACDR's programming, which also includes a weekly youth drop-in, and sitting in on the Pride Prom Committee  ("It creates a safer space for these kids who for, whatever reason, didn't feel like their own Prom was a safe place," Amy explains) both of which Amy actively participated in. But while there, she would get the opportunity to pilot another project that would prove extremely important to her. 
The Camp
"We get an influx of calls from parents and students that are graduating from high school during March Break," Amy explains. "They want their [community service] hours, but there's a gap in finding meaningful work." 
This would prove to be an opportunity to tackle another problem facing the youth community. "We also noticed a lack of education in the community among youth in terms of safer sex, drugs, safer partying, LGBQT issues, and things like that," Amy continues, "so we decided to make a camp where we could do workshops on different topics, and have it be very interactive."
This would lead to the creation of a special March Break Camp, and despite being a student intern, Amy would become the project's lead. "I was in charge of the whole thing," she explains. "So I designed it, I implemented it, I facilitated, and I evaluated it."
It was a passion project of hers, and she became heavily invested in its creation. "We looked at all the things we teach in terms of prevention and put that together," she explains, "we had each of our educators do a presentation and we had as many youth as possible doing presentations, because it's for the young people and I really wanted them to be speaking. It was really fun for the kids to learn about, because they've never learned about it in school." 15 kids would attend the three day camp, and according to Amy, "Their biggest complaint was that it wasn't long enough." 
The Future
The camp would prove to be so successful that the ACDR would decide to pick it up and make it into an annual event. "It was pretty exciting," Amy says, "because I designed it." She intends to continue being involved in the camp. 
As for Amy herself, she graduated from the program with high honours, something of personal importance to her. "I came from addiction, she explains, "I've spent most of my life failing, not doing things well, getting into trouble and being the daughter my parents were always worried about. And now I've gone from that, and used those experiences to empower myself and get to where I am now, where I'm graduating with high honours. I'm excited about that." 
She'll continue advancing her career in community development work, with a focus on advocacy and making the voices of the oppressed heard. "In this type of work," she explains, "our personal stories are so empowering, and so often, no matter what our stories are, they're suppressed. The more that we talk about those things, the more chance there is that we can make the world a safer place."
By Anthony Geremia