How Centennial College cares for parents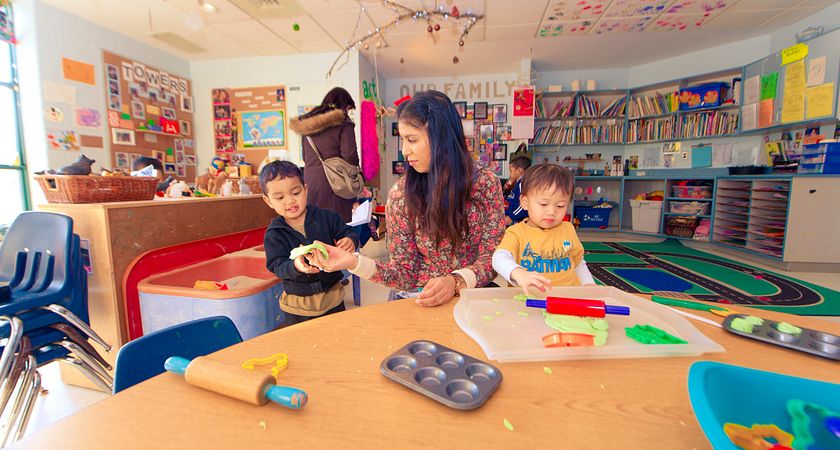 In light of Mother's Day, it's worthwhile to remember those at Centennial College who have the dual role of students and parents. Getting an education while raising a family can be a challenging balancing act, with some parents feeling that their education days are over once they have a child to care for. But being practically educated with job skills is a solid investment in both your future and your children's future. Just as mothers care for children, the college does what it can to care for parents, and ensure that they can get their education -even an education that involves caring for children. The college itself has a strong belief in child development and health, as well as family advocacy, and does what it can to support the mothers and fathers that consider walking through our doors. This includes…
Child Care
If you're attending the college, then you're close to one of our Early Childhood Education Centres, located at Progress Campus and near the Story Arts Centre in East York. They're licensed by the Ontario Ministry of Community and Social Services, and are open to the public, but aimed at the children of students and staff of the college. The centres are open on weekdays year-round, from 7:30am to 6:00pm, except for statutory holidays, Easter Monday and the last week in December. They feature programs for children ranging from newborns to five-year-olds. The centres feature purpose-built and spacious facilities, a dedicated staff, and a welcoming environment and programming.  There's also a hot lunch and two snacks daily, all of which are healthy. 
The Centres also provide an opportunity for experiential learning, as they serve as lab schools for the Early Childhood Education programs at Progress and Ashtonbee campus. This is the hallmark of a great Early Childhood Education program and an extension of the academic programs offered. As the summer semester begins, the Centres will host second semester students at the Progress campus in classes and field placement. This is the first of three field placements for the ECE students. As Mother's Day approaches, and Father's Day is on the horizon, Centennial College, the Early Childhood Education programs and the Child Care Centres are providing an important and essential opportunity for our students to become professionals in the field and to ensure that they provide high quality care for children.
Second Career 
For busy parents that want to find employment, there's also financial aid available in the form of the Second Career program, where the Government of Ontario will assist your journey by providing you with cash for books, school expenses and even tuition. If you're eligible, you can receive up to $28,00 towards expenses. The idea is to ease the financial burden of parents supporting a family while they try to advance their career, and this includes skills training. Over 85 programs at Centennial College qualify for Second Career funding, so if you're a parent trying to get that second career rolling, we can certainly help you out. 
Education is everyone's right, and it represents a surefire investment to improve your future. It doesn't matter where you are in life, you're still entitled to expand your mind and career opportunities. Community colleges like Centennial are all about providing the most direct route to success, and will actively help you achieve your developmental goals, regardless of your circumstances or setbacks.
By Anthony Geremia with contributions from Maria Roberts