Getting a career that matters: Karima Panjwani the Developmental Services Worker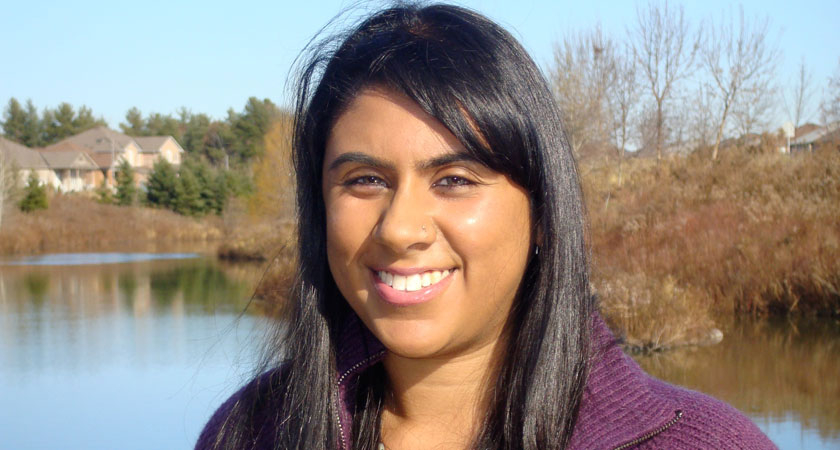 Every student at Centennial College aspires to having a rewarding career, and the college works to prepare them for those careers. Some students aspire to a career that has personal value to them, like Karima Panjwani. Karima studied the Developmental Services Worker program, and lives with epilepsy, making her personally invested in the career. The college would reward this investment, and connect her to a career working with the developmentally and intellectually disabled at L'Arche Daybreak.
A personal connection
Karima initially studied health at university for three years, but had found that it didn't really suit her. "I took a year off to figure out what I wanted to do and where I wanted to go," she says. "I searched online programs, I was applying to colleges, and I found the Developmental Services program at Centennial. I thought it was really cool, because it was a program focused on helping people with developmental or intellectual disabilities." 
Living with epilepsy was her reason for wanting to enter the field in general, and Centennial College specifically. "When I first entered the disability field, it was because I was really getting into learning about me as a person," she explains. "I had gone to a lot of conferences about youth with epilepsy, and it was all about advocating for yourself, and supporting people. I want to help people like me."
"It's definitely a big part of me because I have epilepsy," she continues, "so I always had this inner passion either to help out in the field, or help out wherever I can."
Not only did the college help her enter the field, but it made the journey smoother with the accommodations provided by the Centre for Students with Disabilities. "A nice thing about Centennial is that it's very supportive of people with disabilities," she says. "Even the program itself was very supportive. I'd always had trouble in high school, and even in university I had trouble, because I'd always need accommodations. Centennial was very easy to go to about getting those accommodations, and I really liked that."
Time in the field
Karima's direct link to career success would come from one of her field placements, at L'Arche Daybreak. In her own words, "It's an organization that supports adults with disabilities, and they have group homes and day programs. It's an international organization, and we're actually the first and largest in Canada." 
She chose it because, to her, it represented an ideal work experience. "The way it was taught to me when you're picking your placements," she says, "is that the first one is for experience, and the other one was for something you would want to work in. So I chose a school as my first placement. For my second one, I chose L'Arche, and I thought, hey, maybe that would be a good place to work."
Centennial's Developmental Service Worker program would give her the necessary skills to excel. "Everything I was doing in this house was everything I learned in school," she exclaims. "Seeing a person as a person as opposed to a disability, building relationships, focusing on the rights of a person, how we were trained over there was how we were trained in school."
Building a Career
Karima graduated in 2013, and would almost immediately be employed by L'Arche. "I ended up really liking it," she explained, "so the coordinators convinced me to apply for it and see how it goes, and I got the job right away."
Her decision to stay was motivated by the fact that a lot of volunteers move on after a short amount of time, meaning residents tended to see new faces far too often. "I wanted to stay in this, because I don't want them to have to deal with a new person every year," she explains, "and I want them to build a relationship and go forward and help people like me with epilepsy, and help people who just need someone there to help them." She's now been there for two years, and has advanced from relief staff to working full-time in the L'Arche community to support people with disabilities. The connections she's built with the residence continue to motivate her. "My favourite part is the relationships I've built with everyone at the house," she says. "If I didn't have such strong relationships, I may not have moved in." 
Wisdom for the next generation
"Stay calm and go into it with an open mind," Karima says to aspiring students, particularly those with a disability of their own. "Sometimes when you go into these things, you really are close-minded and nervous that no one knows what you're going through. Really, you get there, and the program makes you understand. The teachers and coordinators, they really understand and are willing to help in any way possible, whether it's extra-credit assignments or just extra tutoring after school. They're always there to help you."
By Anthony Geremia