Make a difference with the Developmental Services Worker program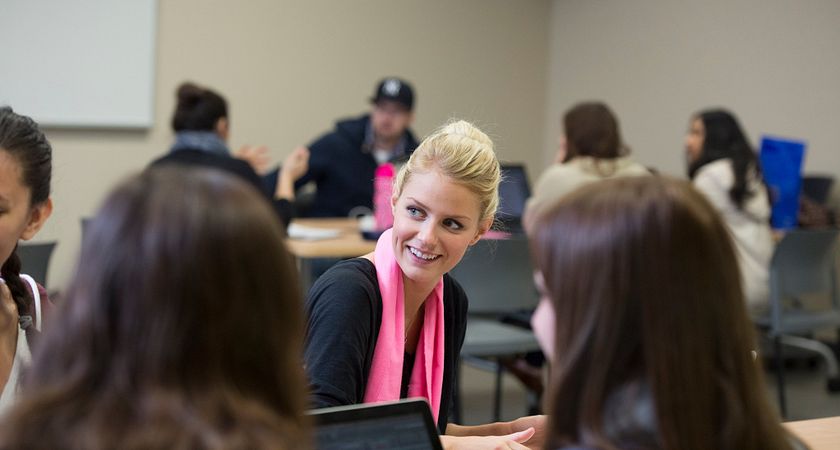 "The most rewarding day in my entire career was when I taught a young woman to tie her shoes," says Heidi Reynders. "It was something no one else had bothered to try. This young girl was 22, and she didn't want velcro shoes anymore because that's what children wear."
"We worked for months, and she finally learned to tie her shoes, and she got to buy her first pair of lace-up running shoes," she continues. "The excitement that she had, in my 18 years, was the most rewarding for me. It's the smallest things." 
Heidi Reynders is the chair of the Program Advisory Committee for the Developmental Services Worker Program at Centennial College, meaning she provides input to organize and maintain the program. But more importantly, she's a veteran of the profession, having worked in the field of Intellectual Disability for those 18 years. She brings her experiences to the students in the program, along with strong ideas of what the job itself means.
"It's really about giving back to people," she says, "and making them feel the way you would want to be feeling in that same situation." 
A changing field 
"I'm a DSW graduate myself," Heidi says of her background. "I started working with people with disabilities when I was 14, so when I moved back into the Toronto area, I got involved with Centennial. I'm super-passionate about this program, and how much it's changed since I've gotten involved."
Those changes involve the program reflecting how the career is now more focused on social inclusion and personal autonomy. "There's fewer institutions," she explains. "We're seeing group homes being shut down to have more inclusive community residences. Previously, the training for DSW was that you support people to make their own choices, but you had all the power. Now the training is much more individual-focused. It's more about the person themselves, what they want, what is it their role is. Promoting them to be a member of their community is much more in the forefront."
Preparing students 
It takes a certain kind of person to become a Developmental Services Worker. "Patience, empathy, creativity and energy are very big," Heidi says. "You can try the same thing three days in a row and it won't work, but on the fourth day, it will. You have to be resilient."
Teachers work to give students these abilities, something that's helped by the smaller class size. "It's a very tight-knit program," she says. "The teachers and the skilled professionals that are helping these students learn are very involved and committed. The students themselves have told me that the teachers here make it fun. They bring that energy."
There's a persistent attempt to get students out of the classroom and connected to industry professionals as well, including Heidi herself. "We did a couple of open talks with students where they got to ask questions about what it's really like in the field, and how to deal with issues," she says. "That's one of the most exciting things I've gotten to do, sitting in with some of the first and second year students and answering their questions and talking to them about what it's really like."
This attempt to connect students to the industry itself extends to field placements, an integral part of the experience. "You can teach someone all you want from a book, you can talk to them, you can role-play in class, but until you're actually in the field with an individual with challenges, it's very hard to navigate that," Heidi says. "Setting it up and looking for quality placements is important. We're not just sending these students to anywhere that will take them. We monitor the placement and work really hard to develop a personal care policy that will protect the student."
Planning for the future
As someone who's witnessed change in the industry, Heidi considers it her job to help the DSW program continue that positive change. "This generation of DSWs have the capability to leave a completely different legacy behind," she says. "So what are we going to leave for the DSW's in 20 years? What are we leading the way for? We'll say we don't want group homes, they're just smaller institutions, so let's pave the way for community living situation, where individuals can have their own apartments and roommates. Centennial is one of the leaders when it comes to strategies for community inclusion."
Despite the lofty goals of social change, she also stresses that the career itself is simply gratifying to each person who enters it. "It's one of the most rewarding careers there is," she says. "I've never stayed in a job I don't enjoy. Within this field, you've got opportunity to move and grow."
By Anthony Geremia