Script to Screen: One year of lights, camera and action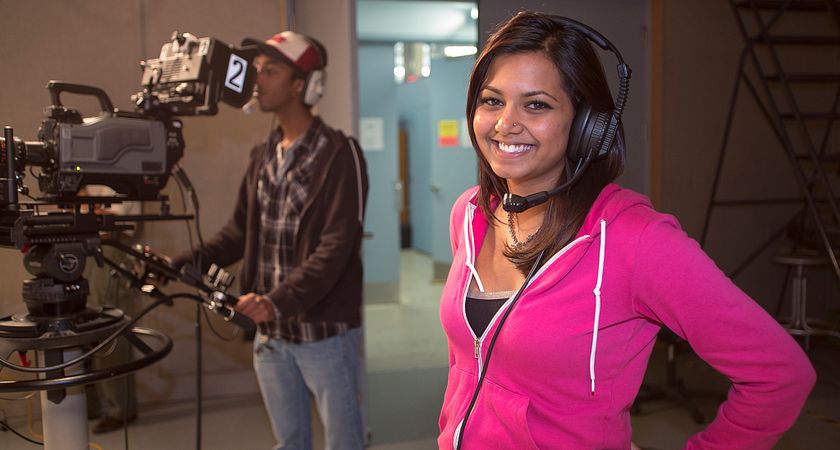 Perhaps more than any other career, breaking into television and film is all about showing your work. Having a portfolio of productions in the bank provides employers solid look at what you've done, and what you're capable of doing. Centennial College's Advanced Television and Film – Script to Screen program aims to do just that: Enable media students to actually create that media. It's a new program at Centennial and one that just finished its first year, graduating a group of students with real achievements to show for their work.
Script to Screen is designed to take young professionals who already have education under their belts, and give them practical training in a postgraduate program that runs for eight months. "You need a university degree, a college diploma or some combination of post-secondary education and media industry experience to get in," says Steve Lucas, program coordinator. A 35-year veteran of the industry, Steve Lucas's credits include writing for The Border, co-creating and showrunning Blue Murder, and writing documentaries like JFK: The Smoking Gun and the Academy-Award-nominated After the Axe, which he also produced. Other faculty members in the program have similar backgrounds, with IMDB pages to match. Steve and the faculty conveyed their expertise to the students of the program, and it's something they noticed and appreciated.
"Steve Lucas is probably the most invested educator I have come across," says Lianne Gluck, a graduate of this first cohort, and winner of the Peter Dickinson Award for students who think outside the box. "I never knew that one individual could have such a powerful, positive impact on one's confidence and self-esteem. Although my resume now has a ton of new tangible skills thanks to this program, the support and earned the trust of an industry professional has helped me in ways far beyond what can be put on a piece of paper."
"This is the furthest thing from a theoretical film and television program you can imagine. It is hands-on, comprehensive and intense." Steve says. "At the risk of sounding corny, it's about helping people discover their passion: Do they have enough of it to do all the things they need to do to succeed or even to be in this business or don't they? The great thing about the program is it only takes eight months to find out."
The first year's cohort consisted of both domestic and international students, who wound up with a portfolio of practical experience. "I came out of this program with three short films and an added dimension to my insight," says graduate Arjun Chopra. "I have emerged a more confident actor, editor, producer, screenwriter and director, the latter two being the dormant seeds I intend to nurture and hope will blossom."
The most prominent of these films was As I Like Her, a short created by the entire class as the final project, after it was selected as the most popular script written by the class. The short film screened for the first time at the Annual Donny Awards recently and serves as an excellent portfolio piece for everyone involved. Here's a short clip:
"The group short took 45 hours to shoot over four days," Steve says. "Directing instructor George Mihalka, production instructor Mehernaz Lentin and I were there every minute. This is rare in college and university film school circles – and it shows up in the often-dubious quality of the end products."
Student Nick Paddison, writer and director of the short, says that it couldn't have happened without this hands-on involvement of the professionals teaching the program. "I never tried as hard in school as I tried in this program. The instructors inspired me to start giving everything 100%," he says. "I learned how to take advice and when not to. As I Like Her would not be what it is without the constant notes and our billions of emails being sent out. I've never been more proud of something – I still can't believe we did that. The past year has been more than incredible."
"All indications are, most of the people who took the program this year found out they actually do have a passion for this business," Steve Lucas concluded. "Some are working in the industry. Some have been working in the industry all along. Some are pounding the pavement looking for work. Some are planning to take more courses in the fall." Regardless, he deems this first year of the program to have been a stunning success and looks forward to what next year's students will be able to accomplish with his help and guidance.